Article
Photographing Lighthouses
Lighthouses are a part of our heritage that is nearly always in attractive locations, but not always easy to photograph. What will first strike you when you start to look at photographing lighthouses is the variation that exists, from small to large, from tall to short, and from stood in the sea to being some way from the sea.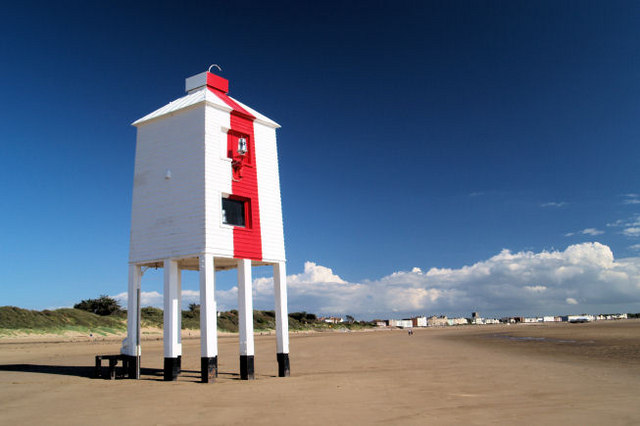 Burnham-on-Sea Low Lighthouse


Photo by Steve F

Nearly all the land based lighthouses and some of the lighthouses that stand in the sea, can be viewed and therefore photographed. Many can be seen from the extensive number of coastal walks that we have as well as cliff top walks, beaches and other places nearby. In many cases they can also be photographed from boat trips. Quite a few are also open to the public, many of these are lighthouses with tall towers, allowing you, in these cases, to not just get you to the outside, but to go up the tower allowing you to see the works and to also get an aerial view of the surrounding countryside.
Some are in locations where you can get a higher viewpoint, so can take an aerial like photograph without leaving the ground. South Stack Lighthouse

on Anglesey is good example, but there are many more.
You will find there are works of art, like the rusting Iron Whiteford Lighthouse

in Glamorgan, idyllic dream images like Llanddwyn Island Lighthouse,

Anglesey, magical contraptions like the Longstone Lighthouse

on the Farne Islands and alien like craft like Blacknore Point Lighthouse

in Somerset, the space rocket at St Catherine's Oratory

on the Isle of Wight, in addition to the variety of land sea based tower lighthouses. All of these are in England and Wales. Scotland also has many magnificent lighthouses and in some of the most stunning scenery anywhere on the planet, just looking through them all is a treat, visiting and photographing them could of course be far better.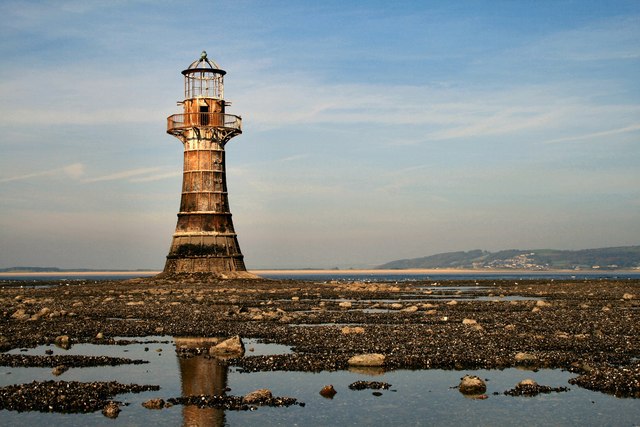 Whiteford Lighthouse


Photo by Martin Edwards

We have included, with many, restored old photos showing how they looked in the past, and will over time add more of these. Offering you the scope of a then and now photo opportunity as well. If you are good at creative editing, the challenge of creating a photograph taken now of how it would have looked had you jumped in your time machine and popped back to take it, how about the Mumbles Lighthouse,

Glamorgan, without the fort and two fires one burning above another or St Catherine's Point Lighthouse,

on the Isle of Wight with its original far taller tower.
Its my view that lighthouses will not generally be with us much longer, see What are Lighthouse For,

and that you may not have the chance to photograph some of them in a few years, simply because they may not exist any more. This is particularly the case of some of the smaller older metallic lighthouses, there were many more of these and many have now gone.
Identifying a lighthouse to photograph
Within the Lighthouses Section

we are producing location guides for all the lighthouses we can find, we have already found and detailed several hundred. We also have interactive maps that allow you to find a lighthouse by location, and both feature lists containing all the lighthouses we have written up or plan to, and a secondary listing for those that are not on the maps and have not written up yet. The bar at the top of this and all pages in the lighthouse section allows you to access a lot of this very fast. The Lighthouses topic index

provides the most complete listing of all resources and includes all articles as well as the location guides.
With the interactive maps, you will find the lighthouses that are open are shown with a red square, while others are shown with a yellow square. Placing your mouse over the square tells you what the lighthouse is called and clicking will take you to the location guide. The feature lists also have lighthouses that are open clearly identified.
Planning your trip
The location guide has links within the planning grids that take you to maps, and in most cases also link to aerial photos. With many of the location guides we also have aerial photos shown on the page, as well as photographs others have taken, the grids also tell you where it is and if we know, how you can get to it.
If the lighthouse of interest is in the water, you want to photograph it from a beach or you want to include the sea then you will need to consider the state of the tide on the dates you have in mind on making your visit. We don't provide tide tables, but if you go to the reference section, you will see a page of links to tide tables, these all link you to a wide range of sources that will provide you with the tide information. Tide times are approximate, although the main influence is the moon and sun, they are also affected by the weather.
On the bottom of the same link page you will see a link to a site that shows where all large ships are in the world, zooming in and looking around can be interesting, but this site also offers tide tables and has a map that zooms to identify the points they are available for, and you will find you can easily generate a monthly chart for tide times, for some time or for a year at a time.
The BBC tide predictions are only a few days ahead, difficult to print out, but are available at a very much greater number of points.
Next look to see what coastal paths there are, we have a listing of Long Distance Coastal Paths

and are working to expand the coverage of these. There are also very many short coastal walks, and we have a Walks

section, this includes articles on coastal paths and much more. If the lighthouse is near or on an island also check in our Islands

section, to see what we have on this.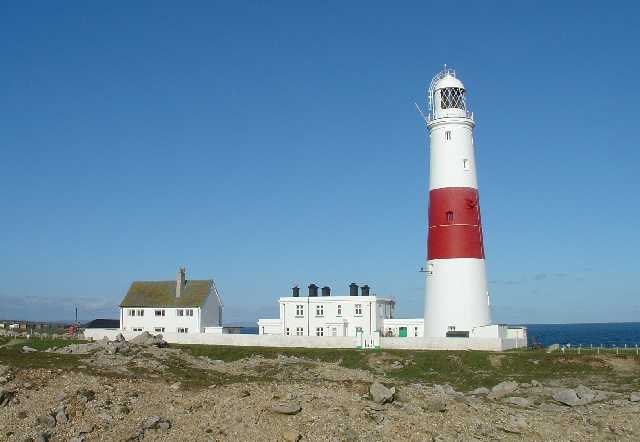 Portland Bill Lighthouse


Photo by Pete Chapman

Photographic Considerations
Its difficult to offer standard advice for photographing lighthouses, as they vary so much in location, size and in just about everyway possible.
We have a number of articles on coastal photography generally and many of these may be helpful to you, these include:-
Coastal Paths and Heritage Coasts (Overview)

What you can photograph/see on Coastal Paths

Time planning for coastal photography

Coastal Lenses

Coastal Water and sand proofing

Filters for Coastal Photography

Photographing Seawater

Making Buildings Stand Up Straight.

Overcoming the problem of buildings sloping backwards
Spirit levels

With tall towers getting back further, where you can and then zooming in will allow you to get the tower more upright, otherwise shoot wide enough to have the tower upright and section the image later.
Also with tall towers you may find a problem of over exposure of higher parts, especially when looking up, consider the use of a low value ND graduated filter.

Consider the perspectives available to you, checking out Geograph links you will find in most cases directly from the location pages, also look at other image storage services, this will give you an idea of what others have found worked for them. Also look at the aerial photos and maps to see where else you can get, there are often good views others have not spotted, some times a little further away and up slightly higher, you can never tell for sure without visiting the site as you don't know what hedges, wires and other obstacles are in the way. The exception is where Google 'street view' is available, and in these cases, you can move along the roads and look in all directions to see what you can see from many locations. Street view, like aerial photography differs in coverage from area to area, so never assume it will not be available just because you are not going to be in a city.
Lighthouses are one of the most undervalued and least known of all of our heritage structures, and not high on many photographers shooting list, so why not take up this challenge, and get out and make a portfolio of lighthouse photos. They may be a disappearing part of our heritage in the future, so capturing them now will mean you won't miss out on such a photographic opportunity.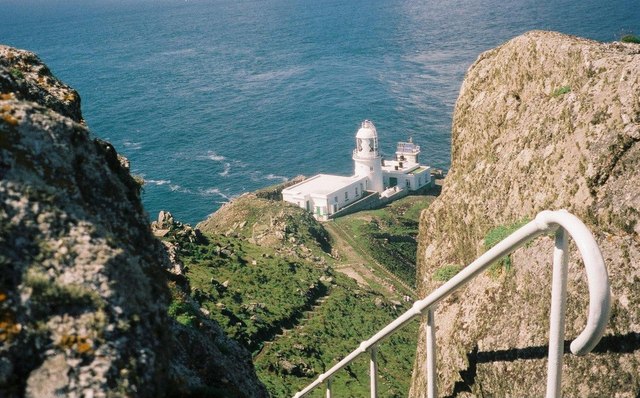 From the steps down to the lighthouse

photo by Chris Dowser