Portland Bill Lighthouse

Portland Bill, Isle of Portland, Dorset

Featured Location Guide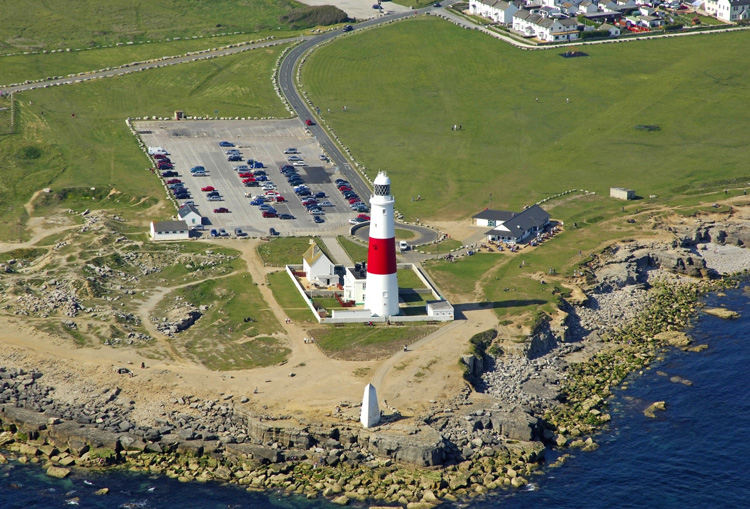 Aerial photo above and below by Marinas.com

(more images are available)
For approaching 300 years lighthouses have stood on Portland Bill to guide vessels heading for Portland and Weymouth and acting as a waymark for vessels navigating in the English Channel. Now also a red sector light warns mariners of the hazardous Shambles Bank lying three miles offshore.
Today you can visit the working lighthouse at Portland Bill, and see two former lighthouses put to other uses. Like many places up until later times, lighthouses came in pairs a high and low, the current tall lighthouse built in 1906 followed at least 3 sets of double lighthouses. In addition to this there is a 23ft tall white obelisk that predates all the lighthouses being placed at the extreme tip in 1844.
Lighthouses come in many shapes designs and sizes, but Portland Bill lighthouse is what many think of when a lighthouse is mentioned, a tall cylindrical tower with a light high up.
Information below is in the form of sets of photos for each of the items, with only brief information, a history, followed by a summary of what there is there today, followed by two grids that concentrate on the current tall tower lighthouse and visiting it.
---
The current (tower) Lighthouse
Portland - Tower Lighthouse at grid reference SY677683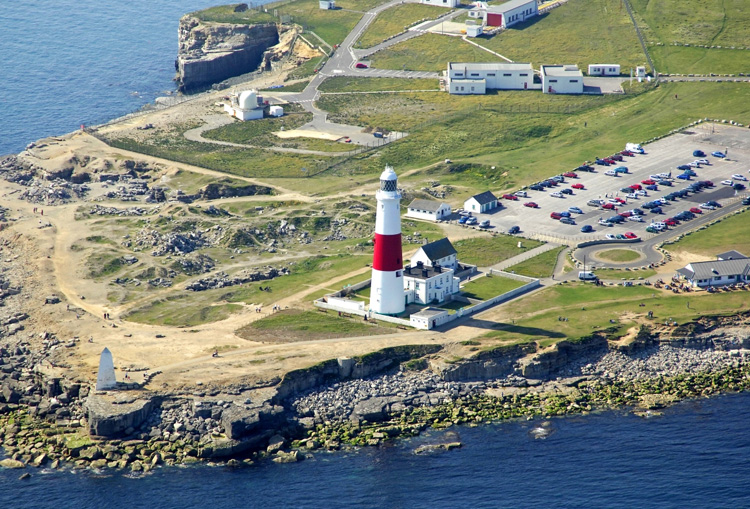 The last of a series, but first for along time, that was a single lighthouse rather than a pair. It was built in 1906, and stands 41.5m or 136ft high. It is a round sandstone tower, painted white with a single broad red horizontal band, attached to a large 2 storey keeper's house. It is open to visitors and has a visitor centre connected to it.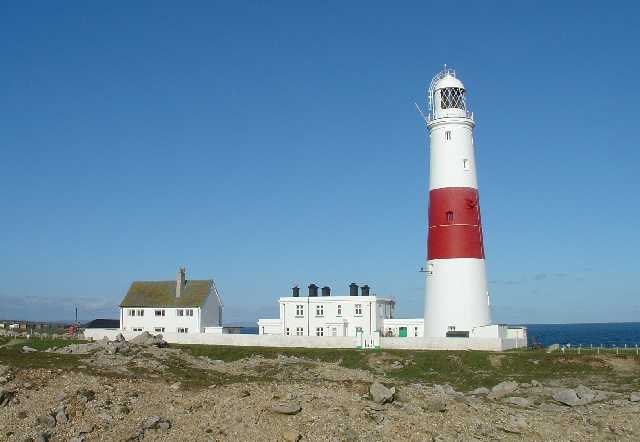 Photo by Pete Chapman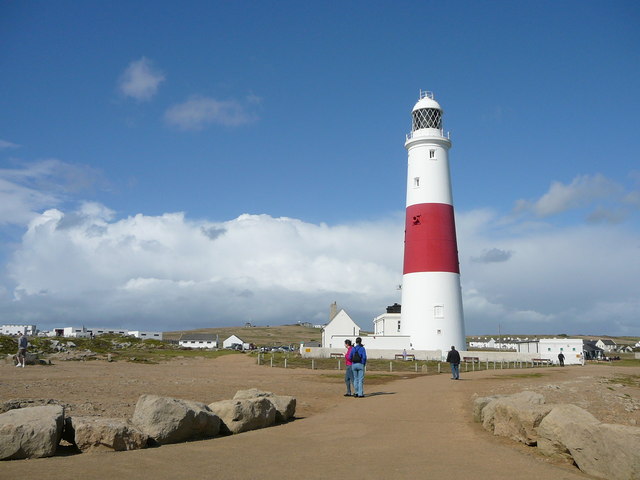 Photo by Colin Park

---
The Lower Lighthouse
Portland: The Lower Lighthouse at Grid Ref: SY678684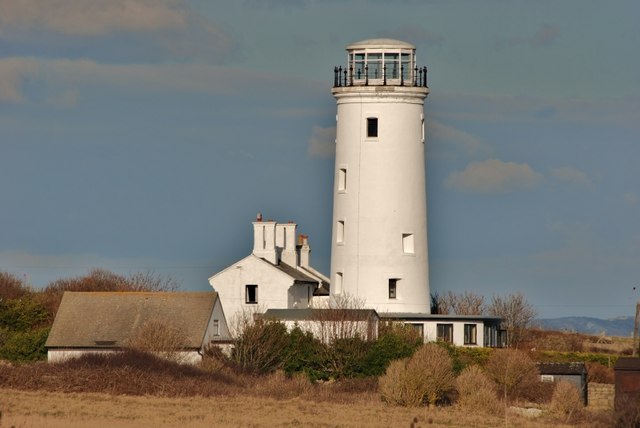 Photo by Eugene Birchall

The lower lighthouse was opened on 29th September 1716 but was rebuilt several times. The version we see today was built in 1869, it has not been used as a lighthouse since 1906. Later after decommissioning, the lamp room was removed. What we now see is a new lamp room/observation room. Some of the buildings that were around it, were also cleared.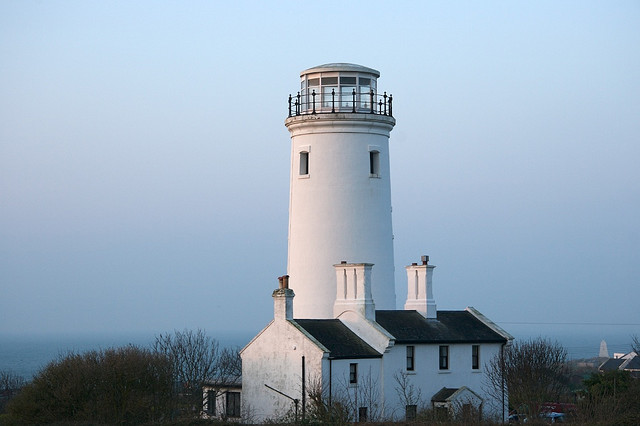 Photo by Peter Pearson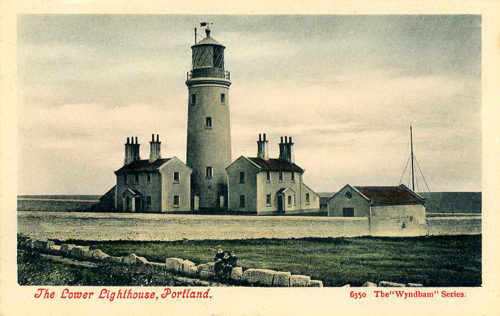 Two old postcards show it with a taller lamp room on the top
It didn't look quite like this when in use, it was prettified up by this point.
---
The higher lighthouse
Portland - higher lighthouse at grid ref SY677692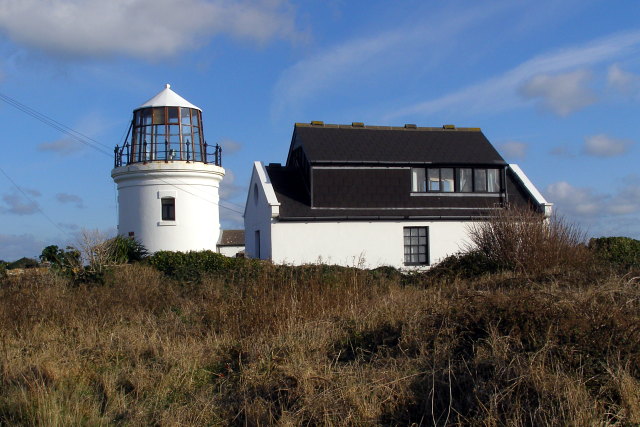 Photo by Jim Champion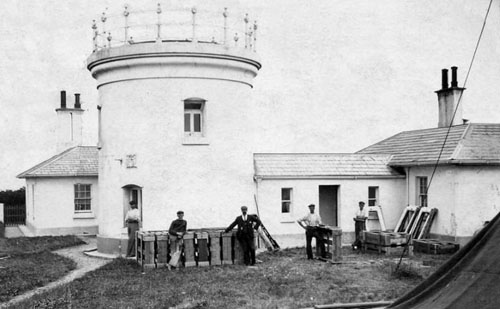 Photo taken in 1920's
So far I have been unable to find any photos or illustrations of what it looked like when in use.
---
Obelisk
Grid reference SY677682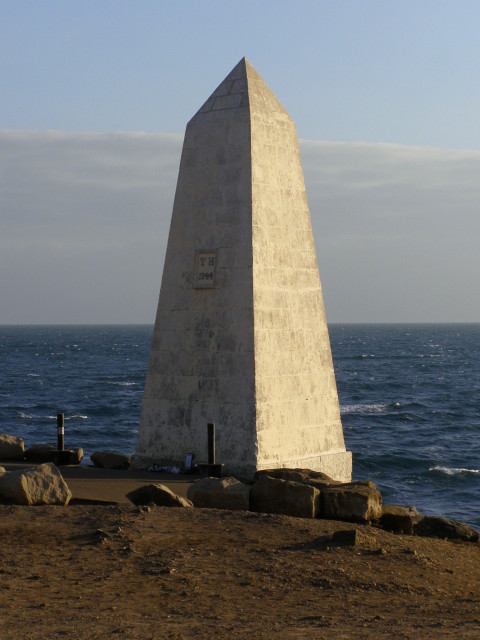 Photo by Jim Champion

This twenty three foot or seven metre tall white stone obelisk was built in 1844 at the southern tip of Portland Bill as a warning of a low shelf of rock extending 30 metres south into the sea.
---
History of Lighthouses on Portland Bill
Portland Bill sticks out into the English Channel, with the Shambles sandbank about 3 miles to the south east. The Portland Race is caused by the meeting of the tides between the Bill and the Shambles, causing strong currents to break the sea so fiercely that from the shore a continuous disturbance can be seen. Due to this, the rocks at Portland Bill and Chesil Beach run from here for several miles, it became the graveyards of many ships that failed to reach Weymouth or the Portland Roads safely.
The Portland Bill Lighthouses have existed to guide ships heading for Portland and Weymouth through these hazardous waters, as well as acting as a waymark for ships navigating the English Channel. Today the Shambles sandbank is marked by a red sector light.
Sir John Clayton was instrumental in lighting the east coast, (see Cromer Lighthouse

). In 1669 Sir John Clayton was granted a patent to erect a lighthouse, at Portland Bill, but his project fell through, most likely due to the problems he was having in getting those who wanted the lights to actually pay for them. Contribution at the time being voluntary.
Next early in the 18th century came Captain William Holman, supported by the ship owners and Corporation of Weymouth, who put a petition to Trinity House for the building of a lighthouse at Portland Bill. Trinity House opposed it suggesting that lights at this point were needless and ship owners could not bear the burden of their upkeep.
The people of Weymouth continued their petition and on 26th May 1716, Trinity House obtained a patent from George I. They in turn issued a lease for 61 years to a private consortium who built two lighthouses with enclosed lanterns and coal fires.
The lights were badly kept, sometimes not lit at all, and in 1752 an inspection was made by two members of the Board of Trinity House who approached by sea to find "it was nigh two hours after sunset before any light appeared in either of the lighthouses". With the termination of the lease the lights reverted to Trinity House.
In 1789 William Johns, a builder of Weymouth under contract to Trinity House, took down one of the towers and erected a new one at a cost of £2,000. It was sited so that it served as a mark by day or night to direct ships moving up and down the Channel or into Portland Roads clear of the Race and Shambles. An inscription: on a marble tablet over the doorway reads "Anno 1789".
In August 1788 Argand lamps were installed, Portland being the first lighthouse in England to be fitted with them. In the upper or old house there were 14, made up of two rows, seven in each row, lighted with oil and furnished with highly polished reflectors. Low light tests were made by Thomas Rogers with his new lens light, and six Argand lamps were installed, their lights increased by lenses.
In 1798, when Napoleon threatened invasion, two 18lb canons were installed at the lighthouse.
A 7 metre tall white stone obelisk was built in 1844 at the Southern tip of Portland Bill, as a warning of a low shelf of rock extending 30 metres South into the sea, which still stands near the current lighthouse.

In 1869, new high and low lighthouses were built, but very early in the 1900's Trinity House announced its intention of replacing them with a single tower - the present lighthouse.

The old towers can still be seen from the outside - the low light, which is now a bird observatory and field centre, the high as a collection of holiday accommodation. Both have replacement lamps or observations rooms.

The present optic at Portland Bill is very unusual as due to the arrangement of the panels the character gradually changes from one flash to four flashes between the bearings 221°and 224° and from four flashes to one flash between bearings 117° and 141°.

Portland Bill Lighthouse was demanned on 18th March 1996 when monitoring and control of the station was transferred to Trinity House at Harwich, in Essex.

The current 1906 tower being constructed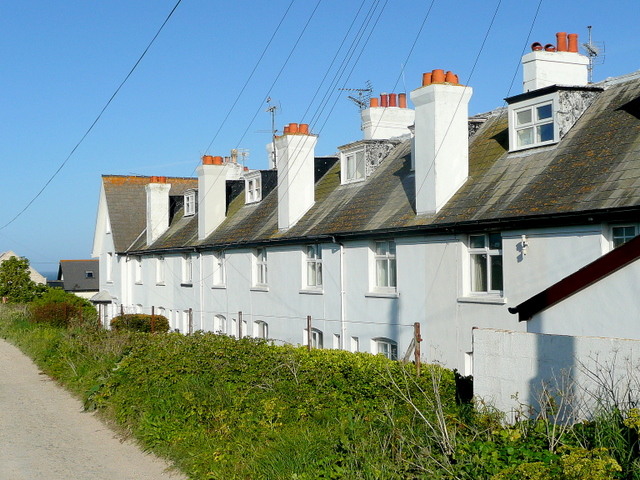 Light keepers Cottages at grid ref SY679687

Photo by Jonathan Billinger

---
Summary of what can be seen today
Three pairs of range lighthouses, built in 1716, 1759, and 1869, followed by a single tower lighthouse in 1906, of these we see the remains of the two from 1869 plus tower of 1906, and a stone obelisk from 1844.
While stone obelisk 1844
High Lighthouse 1869 - lantern removed
Low Lighthouse of 1869 - now bird observatory and field centre
Current Tower Lighthouse 1906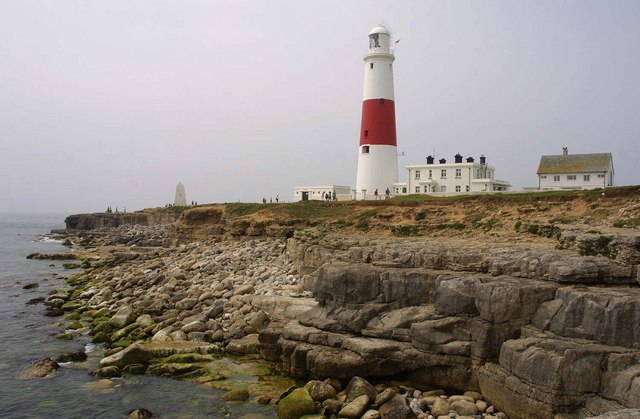 The obelisk can be seen on the left of the picture

Photo by Steve Daniels

---
Lighthouse information Grid

Name:

Portland Bill Lighthouse - 1906 tower lighthouse

Current status:

Lighthouse is in use. Open to visitors - see below

Geographic Position:

50° 30'.82 N 02° 27'.30 W

Grid Reference:

SY677683

Ceremonial County:

Dorset

Appearance:

Tall tower lighthouse with single red band.

Map Link:

Aerial photo:

Marinas.com

Other photos:

Originally built:

1716

Current lighthouse built:

1906

Height of Tower:

41m

Height of light above mean sea level:

43m

Character of light:

White Group Flashing 4 Times Every 20 Seconds
Due to the arrangement of the panels the character gradually changes from one flash to four flashes between the bearings 221° and 224° and from four flashes to one flash between bearings 117° and 141°

Character of fog signal:

3.5 Second Blast Every 30 Seconds

Range of light:

25 nautical miles

Owned / run by:

Trinity House

Website:

TH - Portland Bill

Other Useful Websites:

Routes:
South West Coastal Path

Notes:
.
---
Lighthouse Visit Planning Grid

Name:
Portland Bill Lighthouse - 1906 tower lighthouse
Grid Reference:

SY677683

Location:

Getting there:
Portland Bill Lighthouse is located on the Southerly tip of the Isle of Portland, 1.2 miles south of the village of Easton.
Access:

Parking:

Parking on site

Address:

Portland Bill Lighthouse Centre

The Lighthouse

Portland Bill

Dorset

Postcode:

DT5 2JT

Telephone:

01305 821050

Email:
info@portlandbilllighthouse.co.uk

Opening times:

See Trinity House for opening times.

Charges:

Visitor Centre and Light House: Adults £7; Child (up to 16) £5; Concessions £6; Family (2+2) £20.00

Visitor Centre Only: Adult £3; Child (up to 16) £2;
Concessions £2.50; Family (2+2) £9

Best Times to Visit:
Check opening, access and tide times.

Facilities:

Things To Do, See and Photograph:

Lighthouse, coastal, wildlife, plants, possibly ships.

What to take:

Shoes suitable for climbing many steps, small bag with necessary items, Camera, selected lenses and filters.

Nature highlights:

Coastal birds

Photo Restrictions:

None Known

Other Restrictions:
None Known
Nearby Locations:
Other Relevant pages:
Please let us know any other information that we can add to the Further information and Planning Grids or page and any errors that you discover. Before making a long trip to any location it is always wise to double check the current information, websites like magazines may be correct at the time the information is written, but things change and it is of course impossible to double check all entries on a regular basis. If you have any good photographs that you feel would improve the illustration of this page then please let us have copies. In referring to this page it is helpful if you quote both the Page Ref and Topic or Section references from the Grid below. To print the planning grid select it then right click and print the selected area.
Please submit information on locations you discover so that this system continues to grow.