Cromer Lighthouse

Foulness, Cromer, Norfolk

Featured Location Guide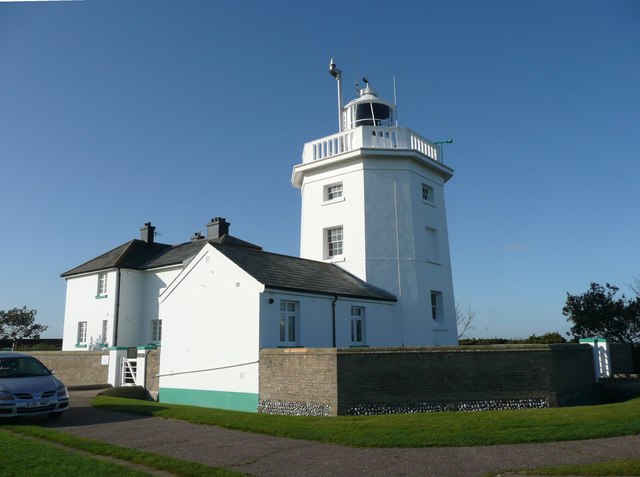 Photo by Humphrey Bolton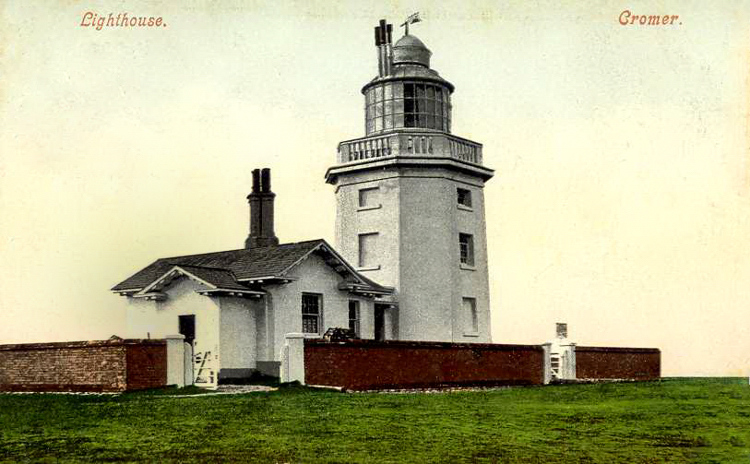 Over the years changes have occurred, the lamp housing is now much
smaller and the house attached to it has got far larger.
The Photochrome postcard above is from probably around 1905, maybe a little later.
Photo from Camera Images GBPictures archive
Lighthouse history goes back, at least, to the Romans if not before. In this part of the country like many others in medieval times, if not before, a number of ecclesiastical lights were shown around the coast, most fires in parish church towers. These were small, but served a useful purpose for many years. One of these lights was shone from the top of Cromer parish church to act as a guide to passing shipping.
During the first twenty years following Charles II's restoration in 1660 many proposals were put forward for lighthouses on all parts of the coast. One of the petitioners, Sir John Clayton, suggested five lighthouses on four different sites - at the Farne Islands,

off Northumberland, Flamborough Head

in Yorkshire, Foulness at Cromer and Corton near Lowestoft.
In 1669 Clayton, along with his partner George Blake, received the comprehensive patent for the four sites and work began to erect the lighthouses. Each tower had cost the men £3,000 and their patent would last for 60 years with specified rates due to be paid to partners by the owners of passing vessels, although dues were only paid voluntarily at that time.
The cost of maintaining the lighthouse proved to be very high and this, plus reluctance on the part of ship owners to part with their voluntary payments, lead to a situation were Clayton and Blake could not afford to keep the fire kindled at the top of the Cromer tower. Nevertheless the Cromer Lighthouse was still of some use as a beacon and was marked on Admiralty charts of 1680 as "a lighthouse but no fire kept in it".
The Clayton tower falling into disrepair, the owner of the land at Foulness, Nathaniel Life, was convinced that a Lighthouse repaired and maintained was essential at the site. Some think that he built a tower in 1717 hoping to be granted a patent for the light, but others say it is more likely, that Nathaniel Life was lighting the shell of Clayton's tower. Some say that Claytons tower fell into the sea in 1700 due to costal erosion and a second tower was constructed.
Nathaniel Life, considered that the situation required a lighthouse and Assisted by Edward Bowell, a Younger Brother of Trinity House, he persuaded the Brethren to apply for a patent. In 1719 a new patent was granted. Dues were set to shipping at the rate of a farthing per ton of general cargo and a halfpenny per chaldron (25 cwt) of Newcastle coal. Nathaniel Life and Edward Bowell jointly received a 61 year lease from Trinity House at a rental of £100 on the undertaking that Nathaniel Life would pass the lighthouse plus one acre of land in to the ownership of Trinity House at the end of the 61 years. The lighthouse now maintained a coal fire enclosed in the Lantern. They started to display a coal fire enclosed in a lantern on 29th September, 1719.
In 1792 Cromer Lighthouse was in the possession of Trinity House and was fitted with a second flashing light, five reflectors and Argand oil fired lamps on three sides of the revolving frame. Aimé Argand had perfected his cylindrical wick lamp which provided a central current of air through the burner, thus allowing the more perfect combustion of the gas issuing from the wick. Sperm oil, costing 5s. to 8s. per gallon, was used in Cromer lighthouse. This new and recurrent and rapid obscureness of the light was a constant bugbear of some seamen who described it as an "ignis fatus" or will'-o-the-wisp.
The first keepers of the Cromer Lighthouse were two young women who jointly received a pound a week for their wage with certain perquisites.
The lighthouse's position at Foulness was becoming precarious due to rapid cliff erosion along this part of the North Norfolk coast. The seas encroachment at the base of the cliff caused several land slips with serious slides recorded in 1799, 1825 and 1852. Large masses of the cliff slipped down into the sea. The lighthouse finally slipped down into the sea in 1866.

With the expected destruction of the old lighthouse plans to build a new lighthouse had been put into place long before the loss in 1866. The light on this eight sided tower is shown 24 hrs a day.

The present lighthouse was built half a mile from the cliff edge and came into operation in 1833. It is constructed of masonry and the tower is octagonal in shape and is 59ft (18m) tall. Electricity was installed in 1958 to power the light. The Light is 275ft (84m) above sea level. In June 1990 the lighthouse was converted to automatic operation and is monitored from the Trinity House Operation Control Centre at Harwich in Essex.

As a consequence of automation the lighthouse keeper's cottage alongside the tower is now let out as a holiday apartment although the property is still owned by Trinity House. The lighthouse tower is not open to the public but visits can be made by appointment.

Photo by Raymond E Hawkins
---
Lighthouse information Grid

| | |
| --- | --- |
| Name: | Cromer Lighthouse, Foulness, Norfolk |
| Current status: | Currently in use |
| Geographic Position: | 52° 55'.45 N 01° 19'.10 E |
| Grid Reference: | TG230415 |
| Ceremonial County: | Norfolk |
| Appearance: | octagonal cylindrical brick tower with lantern and gallery, painted white, attached to two 2 storey keeper's house |
| Map Link: | |
| Aerial photo: | Multimap Google satellite view |
| Other photos: | |
| Originally built: | 1st 1680 pos 2nd 1719, 3rd 1833 |
| Current lighthouse built: | 1833 |
| Height of Tower: | 18m |
| Height of light above mean sea level: | 84m 276ft |
| Character of light: | 1 flash every 5 seconds |
| Character of fog signal: | |
| Range of light: | 23 nautical miles 43km |
| Owned / run by: | Trinity House |
| Getting there: | |
| Access: | |
| Website: | TH |
| Other Useful Websites: | |
| Routes: | |
| Other Relevant pages: | |
| Notes: | The houses are available for holiday/overnight accommodations |
Please let us know any other information that we can add to the Grid or page and any errors that you discover. Before making a long trip to any location it is always wise to double check the current information, websites like magazines may be correct at the time the information is written, but things change and it is of course impossible to double check all entries on a regular basis. If you have any good photographs that you feel would improve the illustration of this page then please let us have copies. In referring to this page it is helpful if you quote both the Page Ref and Topic or Section references from the Grid below. To print the planning grid select it then right click and print the selected area.
Please submit information on locations you discover so that this system continues to grow.