Article
Lenses and Perspective Considerations
for Coastal Photography
When taking coastal photographs we can use our lenses to get both the viewing angle and also the perspective. We can also use them to offer a number of other opportunities to capture interesting photographs.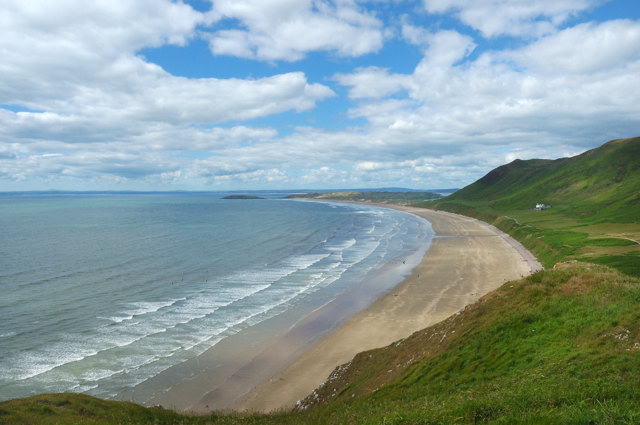 Rhossili Beach on The Gower Peninsula
In some cases a wider than normal angle will be useful to allow us to capture a large scene, a bay or large cliff close up. At other times a mid length lenses will allow us to get everything we wish in.
We have more scope than this, lets explore a few possibilities:-
A wide angle lens can have a very large depth of field, and allows us to have something near to the camera perfectly in focus and the distant view as well. For example a 12mm lens at f22 focused 2 feet away on a DX camera (a Nikon DSLR except the D3) will show everything from 7 or 8 inches to infinity in focus. So we could have a gull or even some seaweed close up and the scene behind.

A longer telephoto lens can be used to close up distance. If we select a position that allows us to line up two items, then with a long telephoto they will appear closer together, however we should not be near the nearest item and will have to watch our restricted depth of field. Perhaps we could line up a lighthouse with a bay behind, or close up a range of cliffs to make them more interesting.

There is a special modified fisheye lens, the 10.5mm that I find really useful this can include a view 180 degrees wide, while at the same time pulling the centre forward to look natural. We have to try and keep this lens level or the earth becomes curved, and it is best applied in scenes where there are no obvious straight items in the sides of the view or they will become curved. You may have seen us use this lens to photograph stone circles while stood right next to them or to achieve other near miracles, and with coastal situations this can also prove a bonus allowing us take photographs where ground to stand on is limited and also to pull forward the centre of a wide view.
I have read of people using both wide angle lenses and the modified fisheye with a narrow tube to get extreme close ups within an inch or two, while still retaining a lot of the background in focus. My smallest tube is 12mm and neither of these lenses will focus with this, so if this technique was going to be experimented with, it would be necessary to source a far narrower special tube. I have seen 5mm tubes in some specialist catalogues but not tried one.