Bryn Gwyn Standing Stones

nr Brynsiencyn, Anglesey

Location Guide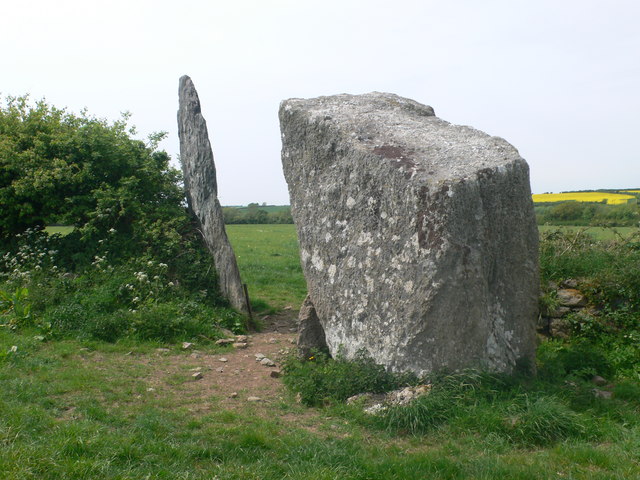 Photo by Eirian Evans

Bryn Gwyn Standing Stones are the remains of a stone circle. They are two of the tallest standing stones in Wales. The taller stands at over 13 feet (4m), and the other at 10 feet (3m). There are many sites of standing stones in Anglesey.
The Bryn Gwyn stones are located about 280 metres to the north-east of Castell Bryn Gwyn.

In 1723 Rowlands described them as part of a ruinous circle of eight stones, some 16 metres across. An account of 1797 says that "ignorant country people supposing money was hid under them tore them up" and today only two stones, one slab and one pillar, stand in a modern field bank. Nothing else is visible on the ground, but recent excavation has found three pits of standing stones, two containing stone stumps, consistent with the record by Rowlands. One other standing stone was not part of the circle.
From the Bryn Gwyn Stones the midsummer sun rises over the centre of Castell Bryn Gwyn

and through both entrances to the Castell.
Further to the north east at Tre'r Dryw Bach, another large circle was reported by 18th century visitors but has since been cleared away.
The Christian church in earlier times was particularly keen to destroy all Pagan sites and symbols and in many places were the driving force in the destruction of many stone circles. Here, if the legends are correct, they only had to suggest that there could be treasure under them to entice the locals to smash them up.
One of the stones has sections cut out of it suggesting it formed the gable of a peasant's cottage and notches were carved in it to hold the roof beams. Its therefore more likely that these two stones are the remains of a cottage, and this may have been what protected them from destruction.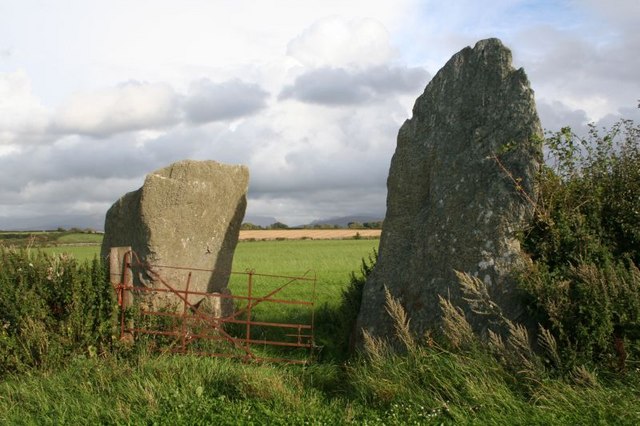 Photo by Bill Nicholls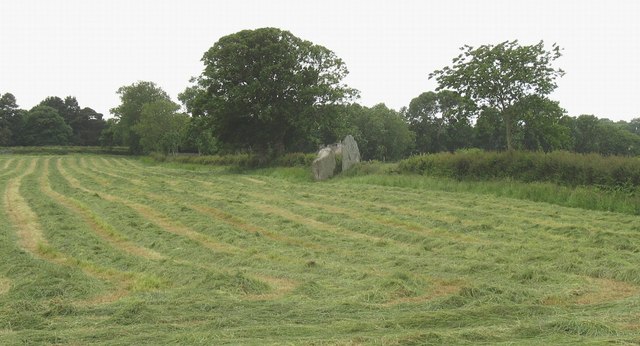 Photo by Eric Jones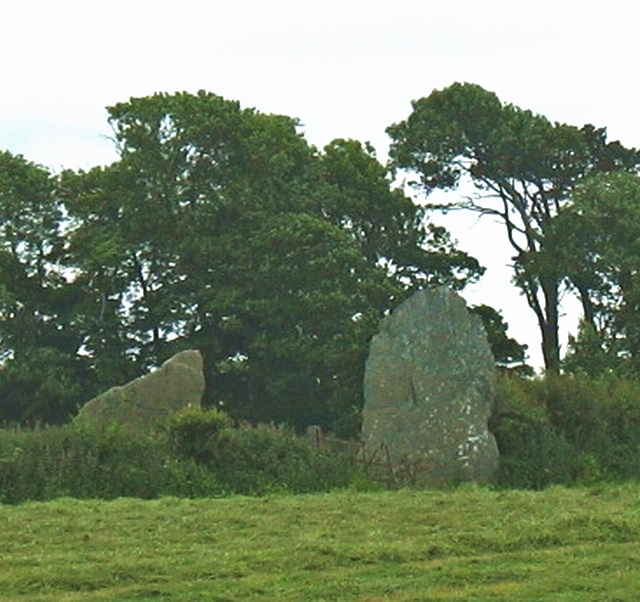 Photo by Eric Jones

---
Location: Bryn Gwyn Standing Stones, nr Brynsiencyn, Anglesey

Grid Reference: SH462669
Ceremonial County: Anglesey

Map Link: Multimap

Aerial photo: Multimap

Getting there: From the A4080 at Brynsiencyn continue west towards Newborough, about a mile along there is a lay-by on the right hand side, where you can park.

Access: The site is accessible from the roadside by footpaths. One path follows the low ridge, southwest over stiles to the Bryn Gwyn Stones, or northeast, past the site of the former stone circle of Tre'r Dryw Bach, some 800 metres to Caer Lęb.
Website:
Other Useful Websites: Geograph Wales Directory Megalithia Anglesey Info
Email:
Address:
Postcode:
Telephone:
Opening Times: All Year

Charges: None

Nearby Locations: Castell Bryn Gwyn Caer Leb

Other Location Pages:
Other Relevant Pages: Anglesey Attractions Anglesey Attractions Map

Notes: Stones are visible from road in hedgerow and accessible via a footpath, up the side of a field, opposite Bryn Gwyn Hall
Please let us know any other information that we can add to the Grid(s) or page and any errors that you discover. Before making a long trip to any location it is always wise to double check the current information, websites like magazines may be correct at the time the information is written, but things change and it is of course impossible to double check all entries on a regular basis. If you have any good photographs that you feel would improve the illustration of this page then please let us have copies. In referring to this page it is helpful if you quote both the Page Ref and Topic or Section references from the Grid below. To print the planning grid select it then right click and print the selected area.
Please submit information on locations you discover so that this system continues to grow.