Caer Leb

nr Brynsiencyn, Anglesey

Location Guide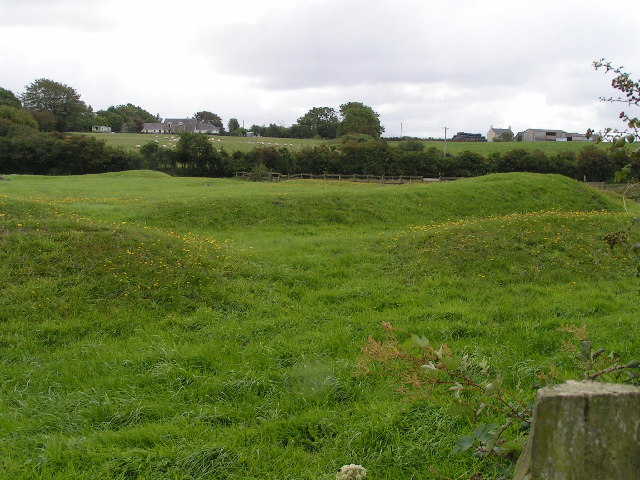 Photo by Dave Dunford

Caer Leb is a rectangular settlement enclosure, with double ditches and banks enclosing an area 200ft by 160ft. Some have interpreted it as a mediaeval homestead with moat, and now some of the ditches get very water logged, and the ground (in places) appears to be boggy much of the time.

Above 6 photos by Bill Nicolls


Click on any of the small photo above to see a larger version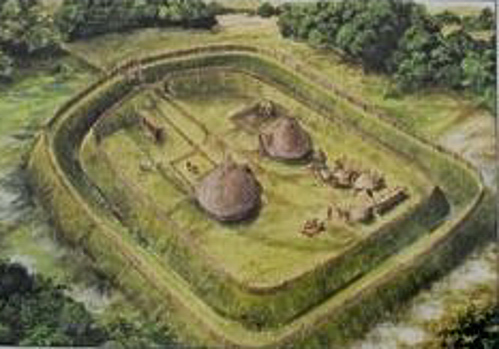 What it may have looked like, although the ditches were probably
filled with water, so moated.
Caer Leb is a prehistoric site west of Brynsiencyn on Anglesey.
Its name means "Leaven Castle". It is a low lying site near the Afon Braint (River Braint) with a double row of pentangular banks (some parts now levelled) and marshy ditches. It measures about 200ft by 160ft. The original entrance was on the east, other gaps are modern and caused by animals. Based on the excavation of a similar site elsewhere on Anglesey, it may date from the 2nd Century BC.
Excavations in 1865 found structures within the enclosure, rectangular buildings on the east and a circular one on the south. There is also a hut circle, which was paved, and had a hearth. Nothing of these can now be seen on the ground. Finds include a 3rd Century AD brooch, a 4th Century Denarius of Postumus, and Roman pottery and quernstones. Pottery from the 2nd century to the 4th century was found, and on the north side a layer of periwinkle shells and a mediaeval coin, under a layer of peat.
It is assumed from the design and finds that is was built around 200BC, and was in use through the Roman period and up until the middle ages.
Nearby Settlement at Pont Sarn Las
500 metres north west along the road, by Pont Sarn Las (Green Causeway Bridge), the foundations of three round houses may be visible after a dry summer. A large settlement was recorded in the 19th century, and destroyed in the 1870's by agricultural improvement.
---
Location: Caer Leb, nr Brynsiencyn, Anglesey

Grid Reference: SH473674
Ceremonial County: Anglesey

Maps

Aerial photo: Multimap (good) Google

Getting there: From the A4080 at Brynsiencyn take the minor road to Llangaffo a short way along the road is a parking area on the left where you can park up.

Access: There is a parking area, sufficient for 4-5 cars, by the roadside. A footpath goes southwest from Caer Lęb over stiles, past the site of the former stone circle of Tre'r Dryw Bach, some 800 metres to Castell Bryn Gwyn and on to the Bryn Gwyn Standing Stones
Website: CADW Photo of Notice Board
Other Useful Websites: Geograph Megalithic Wikipedia
Email:
Address:
Postcode:
Telephone:
Opening Times: All the time

Charges: None

Nearby Locations: Bryn Gwyn Standing Stones Castell Bryn Gwyn

Other Location Pages:

Other Relevant Pages: Anglesey Attractions Anglesey Attractions Map

Notes: Good footwear is required as the ground can be very boggy in places, for much of the time.
Please let us know any other information that we can add to the Grid(s) or page and any errors that you discover. Before making a long trip to any location it is always wise to double check the current information, websites like magazines may be correct at the time the information is written, but things change and it is of course impossible to double check all entries on a regular basis. If you have any good photographs that you feel would improve the illustration of this page then please let us have copies. In referring to this page it is helpful if you quote both the Page Ref and Topic or Section references from the Grid below. To print the planning grid select it then right click and print the selected area.
Please submit information on locations you discover so that this system continues to grow.