Castell Bryn Gwyn

nr Brynsiencyn, Anglesey

Location Guide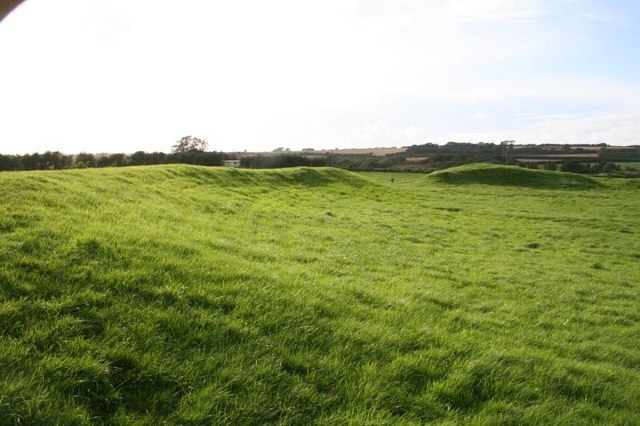 Inside

Photo by Bill Nicholls


All above 6 photos by Bill Nicholls


Click on any smaller photo to see a larger one
The site sign says it dates from the Neolithic period around 2500-2000BC and was reoccupied and reinforced in Roman times and later.
Castell Bryn Gwyn, the name means "White Hill Castle", is west of Brynsiencyn on Anglesey.
It consists of as single bank and outer ditch 130ft (39.5m) in diameter. Today part of the outer area is covered by farm buildings and an access way goes through it. Originally it was thought to have been a henge used for ceremonial use but a number of factors suggests this is wrong. Firstly the ditch on a henge is nearly always inside the bank, while a defensive structure it is outside, and scattered postholes and occupational debris within it suggests it was an occupied area. It may have had a number of uses through history.
The Bryn Gwyn Stones are the remains of a stone circle, located 280m away, and an alignment from them uses Castell Bryn Gwyn for its rising mid summer sun alignment perhaps suggesting an earlier use.
The earliest bank and ditch belong to the end of the Neolithic period (2500-2000 BC), and this is supported by pottery and flints from this period.
During the Iron Age the present wall was built, and refortified in Roman times and later. A very small amount of pottery from the 1st century was also found.
The circular clay and gravel bank, still some 1.5m high, surrounds a level area some 54 metres in diameter, now revetted by stone walls.
About 280 metres to the north-east of here are the Bryn Gwyn Standing Stones.



These are two of the tallest standing stones in Wales. The taller stands at over 13ft, and the other at 10ft. There are many sites of standing stones in Anglesey.
---
Location: Castell Bryn Gwyn, nr Brynsiencyn, Anglesey

Grid Reference: SH464671
Ceremonial County: Anglesey
Aerial photo: Multimap

Getting there: From the A4080 at Brynsiencyn continue west towards Newborough, about a mile along there is a lay-by on the right hand side, where you can park, and the entrance to the site.

Access: Accessible from the roadside, follow the trackway some 500 yards to the entrance of this site. It is also accessible via two footpaths. One path follows the low ridge, southwest over stiles to the Bryn Gwyn Stones, or northeast, past the site of the former stone circle of Tre'r Dryw Bach, some 800 metres to Caer Lęb.
Website: CADW Site sign Photo
Other Useful Websites: Wikipedia Geograph +1 sq south
Email:
Address:
Postcode:
Telephone:
Opening Times: All year

Charges: None

Nearby Locations: Bryn Gwyn Standing Stones Caer Leb

Other Location Pages:
Other Relevant Pages: Anglesey Attractions Anglesey Attractions Map

Notes:
Please let us know any other information that we can add to the Grid(s) or page and any errors that you discover. Before making a long trip to any location it is always wise to double check the current information, websites like magazines may be correct at the time the information is written, but things change and it is of course impossible to double check all entries on a regular basis. If you have any good photographs that you feel would improve the illustration of this page then please let us have copies. In referring to this page it is helpful if you quote both the Page Ref and Topic or Section references from the Grid below. To print the planning grid select it then right click and print the selected area.
Please submit information on locations you discover so that this system continues to grow.