Bodowyr Burial Chamber

nr Brynsiencyn, Anglesey

Location Guide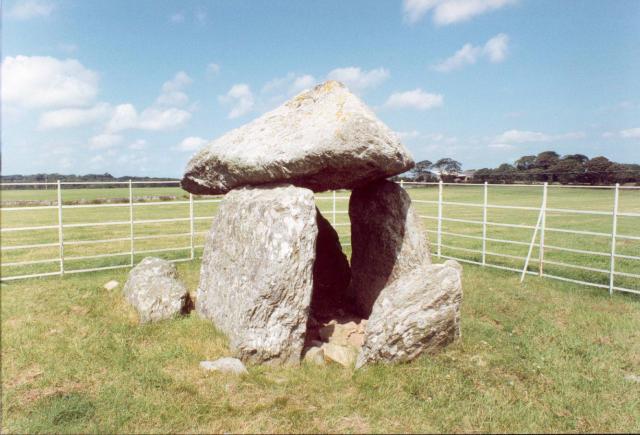 Photo by Paul Allison

This is thought to have originally been a passage grave with a short entry passage from the east. It would have been covered by earth or turf, which has eroded away leaving just part of the internal stone structure. This mound may have had edging stones and other features none of which can now been seen.
Cairns or passage graves of this type were around between 2000BC and 4000 BC.
A far as I am aware there is no evidence that links this to a grave, other than its similarity of design, so it could equally well be the remains of some other ancient structure.
The remaining stones are a capstone balanced on three uprights.
The capstone is 8ft (2.4m) long and 6ft (1.8m) wide, and pyramided shaped. Besides this there are four upright and one fallen stones.
This site has not so far been excavated.
One visitor to this site reported, "This is the gorgeous (and possibly important) view from the 'front' of Bodowyr burial chamber, down the sloping field, and across the Menai Straits towards the noticeable dip in the mountains of North Wales mainland. I would imagine the dip would be the gap between Snowdon (on the right) and Glyder Fawr (left), where the Llanberis Pass runs. Maybe the sun rose in that dip at Midwinter Solstice".
This might be worth further research, possibly allowing comparison to Newgrange (Ireland) and other locations labelled as passage tombs where the direction of the entry passages is related to the midwinter sun rising.
Now fenced off in the middle of a field with easy access from the road.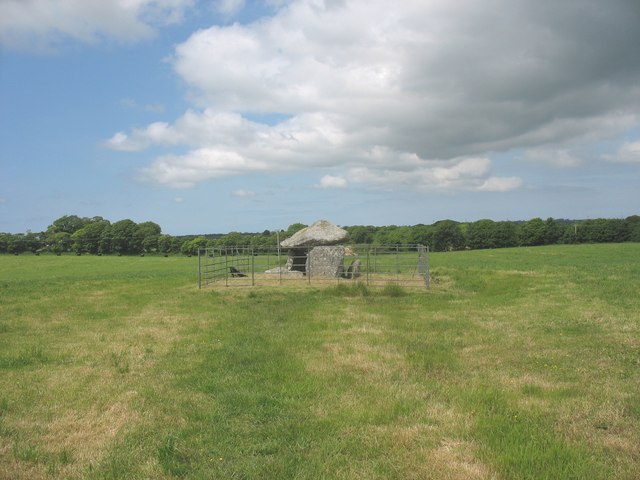 Photo by Eric Jones

---
Location: Bodowyr Burial Chamber, nr Brynsiencyn, Anglesey

Grid Reference: SH461681
Ceremonial County: Anglesey
Aerial photo: Multimap

Getting there: From the A4080 at Brynsiencyn take the minor road to Llangaffo at the next crossroads continue straight over the burial chamber is in field by road, see map for detailed location.

Access: Small gate from road, into field.
Website: Cadw

Other Useful Websites: Wikipedia Megalithic.co.uk megalithics.com

Geograph

Email:
Address:
Postcode:
Telephone:
Opening Times: Open all the time

Charges: None

Nearby Locations: Caer Leb Bryn Gwyn Standing Stones

Other Location Pages:
Other Relevant Pages: Anglesey Attractions Anglesey Attractions Map

Notes:
Please let us know any other information that we can add to the Grid(s) or page and any errors that you discover. Before making a long trip to any location it is always wise to double check the current information, websites like magazines may be correct at the time the information is written, but things change and it is of course impossible to double check all entries on a regular basis. If you have any good photographs that you feel would improve the illustration of this page then please let us have copies. In referring to this page it is helpful if you quote both the Page Ref and Topic or Section references from the Grid below. To print the planning grid select it then right click and print the selected area.
Please submit information on locations you discover so that this system continues to grow.