Islands
Isle of Wight
Introduction

The Isle of Wight is today a county, historically part of Hampshire, and at one point in the 15th Century a kingdom of its own.

It is the largest island of mainland Britain, located near the middle of the south coast. It is 3 to 5 miles off the coast separated from the mainland by the Solent. Ferries to and from the island have routes ranging from 5 to 10 miles.

At the end of the days of the Roman Empire it was known as Vectis, and it became a Jutish kingdom ruled by King Stuf and his successors, until AD 661 when it was invaded by Wulfhere of Mercia and forcibly converted to Christianity at sword point. When he left for Mercia the islanders reverted to Paganism.

In AD 685 it was invaded by Caedwalla of Wessex and can be considered to have become part of Wessex. Following the accession of West Saxon kings, as kings of all England, it then became part of England. The island became part of the shire of Hampshire. In AD 686, it became the last part of the country to convert to Christianity.

Map Links: Multimap Multimap Aerial

FREE Map Downloads

Isle of Wight Attractions Map

Isle of Wight Visitors Map

Isle of Wight Cycling Maps

Ise of Wight Walking Maps

Isle of Wight Bus Network
After the Norman Conquest the position of Lord of the Isle of Wight was created. Carisbrooke Priory and the fort of Carisbrooke Castle were founded. The island did not come under full control of the Crown until it was sold by the dying last Norman Lord, Lady Isabella de Fortibus, to Edward I in 1293.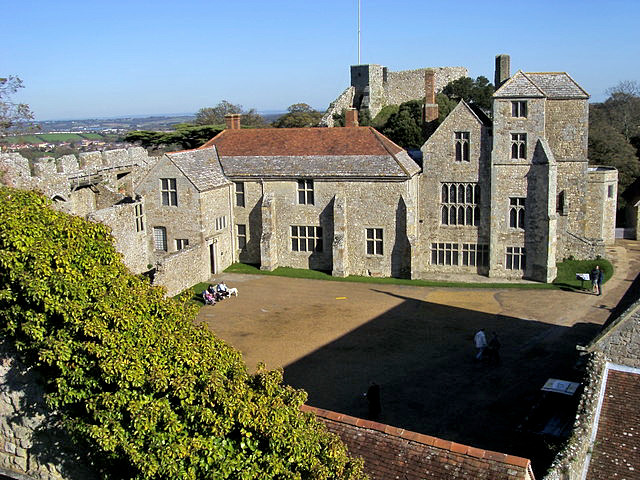 Carisbrooke Castle by Shaun Ferguson

The Lordship then became a royal appointment, with a brief interruption when Henry de Beauchamp, 1st Duke of Warwick was crowned King of the Isle of Wight in 1444. As King Henry VI assisting in person at the ceremony, placing the crown on his head this was a most unusual event. With no male heir, the regal title expired on the death of Henry de Beauchamp and it returned to the English Crown.
Henry VIII, who developed the Royal Navy and its permanent base at Portsmouth, fortified the island at Yarmouth, East and West Cowes, and Sandown. Much later, after the Spanish Armada in 1588, the threat of Spanish attacks remained and the outer fortifications of Carisbrooke Castle were built between 1597 and 1602.
During the English Civil War King Charles fled to the Isle of Wight, after getting lost in the New Forest and missing his boat to Jersey, believing he would receive sympathy from the governor, Robert Hammond, but that was another mistake and he was imprisoned in Carisbrooke castle.
The island has continued to play a major part in history, and Queen Victoria made Osborne House on the Isle of Wight her summer home for many years and, as a result, it became a major holiday resort for fashionable Victorians.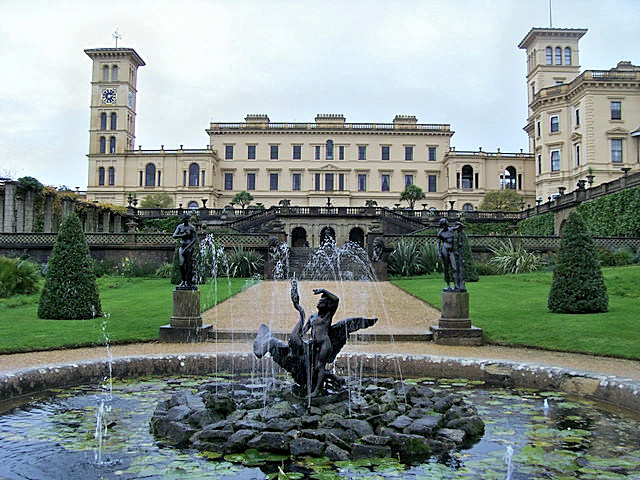 Osborne House by Shaun Ferguson

Scientific and industrial developments have also featured in the islands history. In 1897, the world's first radio station was set up by Marconi, at the The Needles Battery, at the western tip of the island. Nearby later was the site for testing and the development of the Black Arrow and Black Knight space rockets, subsequently launched from Woomera, Australia. Aircraft and hovercraft developments have also occurred on the island.
There is a strong agricultural tradition on the island, with a longer growing season than most of the UK, it has managed to grow a lot under cover, allowing it to cover the additional costs of marketing and transport accosted with the island location. Dairy farming (milk production) however has declined from around 150 dairy framers in the mid 1980's to just 24 in 2010. There are still a small number of marine related businesses like boat builders, where historically this was a major part of the economy. The island's major manufacturing activity today is in composite materials, used by boat builders and the wind turbine manufacturer Vestas, which has a wind turbine blade factory and testing facilities in Newport and East Cowes.
Today the largest industry is tourism. In 1999, the 130,000 island residents were host to 2.7 million visitors. Of these, 1.5 million stayed overnight, and 1.2 million were day visitors, and only 150,000 of these visitors were international visitors. Between 1993 and 2000, visits increased at a rate of 3% per year, on average. So it is a popular destination for home grown visitors.
---
What to See

Coastal and other views, with 489 miles (787km) of roads there are plenty of opportunities to explore. Wildlife, geology and holidays focusing on natural heritage are a major element. There are no motorways and many of the roads are smaller roads or lanes some not well maintained, so getting from one place to another is not fast. There are many bus routes but of these many radiate from Newport. There are bus stations at Newport, Rye and Yarmouth.

Other Nearby Islands

Brownsea Island, Poole Harbour, Dorset

Hayling Island

Portsea Island
There are many paths, including many that have used disused railway lines across the island. The Isle of Wight Coastal Path


is a 67 mile circular route. There is an annual Walking Festival

which takes place in the Spring usually during May, see our diary for details on the exact date.
There are two railway lines that connect at Small Brook Junction, one the Isle of Wight Steam Railway,



this is a heritage steam railway and the second, the Island Line,



a modern line based on trains similar to those used on the London underground. You can get a combined ticket for these as well as a ferry to and from the mainland as an option on the Isle of Wight all in One ticket

a Tourist Pass and Discount Card.
Being an island it uses its maritime heritage and assets to their full advantage, and by far it's most internationally renowned annual event is Cowes Week,

where over 1000 yachts take part in the longest running annual regatta having begun back in 1826 with just 7 yachts. Today it usually takes place around August time and attracts thousands of visitors and is a boost for the local economy. Take a look at our July/August diary each year to identify when it is on. There is also the annual Round the Island Race

which takes place in June. The start and finish line is at Cowes and due to the tide conditions in 2010 the 909 entrants will start off at 5am, so there should be so good sunrise images to capture.
Some of the major attractions and prominent landmarks include:
The Needles

Needles Lighthouse, Isle of Wight, Hampshire


Alum Bay

Osborne House

Carrisbrooke Castle

Blackgane Chine

Bembridge Windmill

We also have a list of the Top Attractions

on the Island.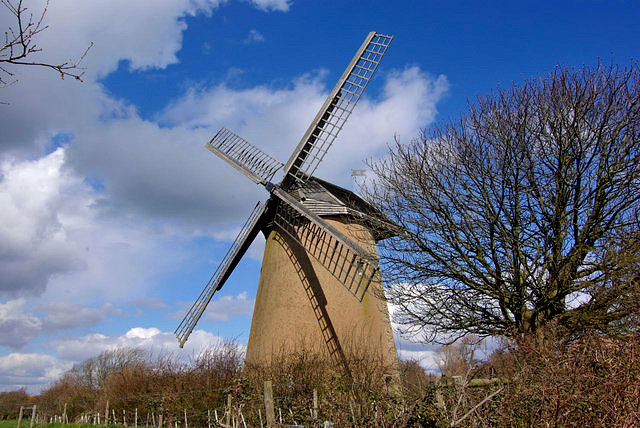 Bembridge Windmill by Stephen McKay

Whilst some of it's major events include Cowes Week

and for the more energetic there is the annual Walking Festival

---
How to Get There
Currently there is no road or rail links to the island from mainland UK, the vast majority of people arrive by ferry as they have historically. The main entry points for ferry users are Cowes, Yarmouth and Ryde. There are two small airports, and marinas and landing places for private boats. You can find information on ferry ships modern and over time in an article by clicking here.

.
Today there are ferries operated by Wightlink,

running passenger and car services from Portsmouth to Ryde and Fishbourne but also Lymington to Yarmouth. Red Funnel

run passenger and vehicle links from Southampton to Cowes and Hovertravel,

run from Southsea to the Ryde Esplanade. While the first two use boats the last operates using Hovercraft, and is the only passenger hovercraft operator left in the UK and is the oldest in the world. The hovercraft service is the fastest getting from one side to the other in 10 minutes, but getting to the terminal in Southsea can make it a longer overall journey.
There have been many proposals to link the island to the mainland, but this has always been unpopular with residents, who value their isolation and way of life above the convenience of lower cost and improvements to the economy and more jobs.
Unlike previous fixed link proposals, more support from island residents has been seen to a newer proposal as it would not involve large increased volumes of traffic on island roads. This proposal first presented in March 2008, is for a tramway linking Ryde to Gosport, linking existing rail networks on both sides. As well as the tramway, the plans would also include a new harbour at Ryde, stretching out to the length of the current pier, with berthing facilities for four car ferries, four passenger ferries, two container ships and replacement facilities for the existing Ryde Harbour.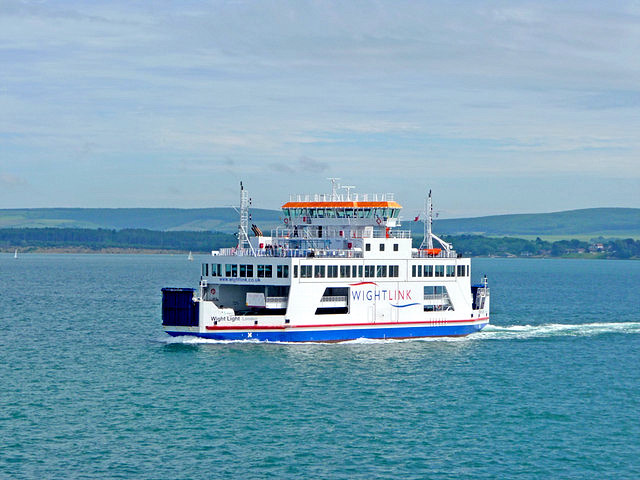 Wightlink Ferry by Christine Matthews

---
Links and Lists
.
---