The Winkie Light

Point of Ayre, Isle of Man

Location Guide
This is a second light at Point of Ayre, known as The Winkie. Some 70 years after the Point of Ayre Lighthouse

was built it was felt necessary to build an additional small tower 250 yards seaward from the main tower. As a result The Winkie was erected. Due to continuous gravel build up it had to moved further seaward again in 1951.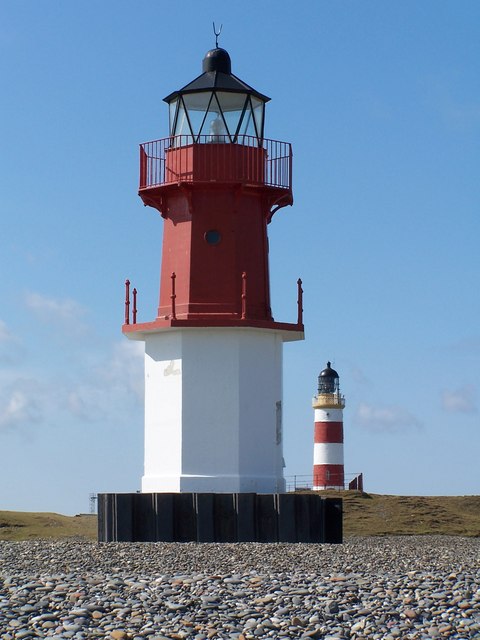 The Winkie in the foreground with the main Point of Ayre Light behind

Photo by David Martin

---
Lighthouse information Grid

Name:

The Winkie Light, Point of Ayre, Isle of Man

Current status:

Working

Geographic Position:

054° 025.1'N 004° 21.8'W

Grid Reference:

NX467051

Ceremonial County:

Isle of Man

Appearance:

Two-stage octagonal cylindrical tower with lantern and double gallery. The cast iron upper half of the tower has a smaller cross-section than the concrete lower half. Upper half of tower painted red, lower half white; lantern roof is black on a black base

Map Link:

Aerial photo:

Other photos:

photo

Originally built:

1888

Current lighthouse built:

Height of Tower:

10 metres

Height of light above mean sea level:

10 metres

Character of light:

Flashing White every 3 seconds

Character of fog signal:

Range of light:

8 nautical miles

Owned / run by:

Northern Lighthouse Board

Getting there:

Near the north eastern point of the island at the end of the A16.

Access:

Surrounding area is privately owned and accessible only with permission of the owner. Site and Tower closed.

Website:

NLB

Other Useful Websites:

Point of Ayre Low ("Winkie") - Further Information

Routes:
Other Relevant pages:

For more articles, lists and other information see the Lighthouses Section

Featured list of lighthouses - IOM

Point of Ayre Lighthouse

Notes:
Please let us know any other information that we can add to the Grid or page and any errors that you discover. Before making a long trip to any location it is always wise to double check the current information, websites like magazines may be correct at the time the information is written, but things change and it is of course impossible to double check all entries on a regular basis. If you have any good photographs that you feel would improve the illustration of this page then please let us have copies. In referring to this page it is helpful if you quote both the Page Ref and Topic or Section references from the Grid below. To print the planning grid select it then right click and print the selected area.
Please submit information on locations you discover so that this system continues to grow.