Point of Ayre Lighthouse

Isle of Man

Location Guide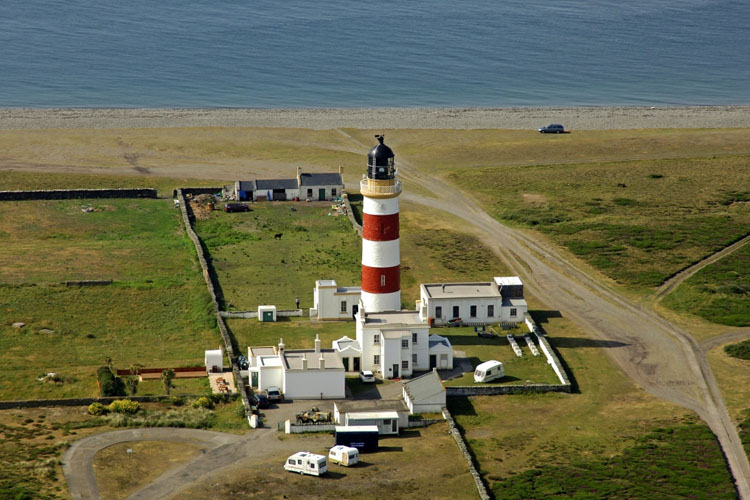 Aerial Photo Marinas.com

(more images available)
A bill was passed in Parliament in 1815 to erect a Lighthouse on the Isle of Man, at Point of Ayre. It's position was selected to make the west coast channel completely safe for shipping. Because of other build commitments at the time loans had to be obtained in order to build it and for this reason construction was slow. It was also further delayed as the position of the light had to be altered from the original plan because it was found that the coast was eroding at a rate of 7ft per year. It's 70ft tower was eventually completed and became operational in 1818.
The main light at Point of Ayre was established in 1818, but some 70 years later it was found necessary to build an additional small light tower some 250 yards seaward from the main tower. However due to continuous gravel build-up, this tower had to move a further 250ft seaward in 1951, and now stands out on the gravel bank. This light is referred to as The Winkie.

In favourable wind conditions, it's fog horn can be heard at the Mull of Galloway, 26 miles away.
It became automated in 1993.
Thirteen selected lighthouses, of which Point of Ayre is one, send regular reports to the Met Office as many of the stations are vanguards to the Atlantic weather system. Three hourly reports are submitted to the Met Office at Ronaldsway, and these are incorporated in the international broadcasts.
---
Lighthouse information Grid

Name:

Point of Ayre Lighthouse, Isle of Man

Current status:

Working

Geographic Position:

54° 24.959'N 004° 22.111'W

Grid Reference:

NX464048

Ceremonial County:

Isle of Man

Appearance:

White tower with 2 red horizontal bands. There are 124 steps to top of tower. Gallery painted buff, lantern black. 2-storey keeper's house and other buildings.

Map Link:

Aerial photo:

Marinas.com Marinas - Point of Ayre Minor Light

Google Aerial

Other photos:

photo

Originally built:

1818

Current lighthouse built:

Height of Tower:

30 metres

Height of light above mean sea level:

32 metres

Character of light:

Flashing (4) White every 20 secs

Character of fog signal:

Fog horn (3 blasts every 60 s).

Range of light:

19 nautical miles

Owned / run by:

Northern Lighthouse Board

Getting there:

Near the north eastern point of the island at the end of the A16.

Access:

Surrounding area is privately owned and accessible only with permission of the owner. Site and Tower closed.

Website:

NLB

Other Useful Websites:

Point of Ayre (High) Further Information

Routes:
Other Relevant pages:

For more articles, lists and other information see the Lighthouses Section

Featured list of lighthouses - IOM

The Winkie

Notes:
Please let us know any other information that we can add to the Grid or page and any errors that you discover. Before making a long trip to any location it is always wise to double check the current information, websites like magazines may be correct at the time the information is written, but things change and it is of course impossible to double check all entries on a regular basis. If you have any good photographs that you feel would improve the illustration of this page then please let us have copies. In referring to this page it is helpful if you quote both the Page Ref and Topic or Section references from the Grid below. To print the planning grid select it then right click and print the selected area.
Please submit information on locations you discover so that this system continues to grow.