Orfordness Lighthouse

Orford, Suffolk

Location Guide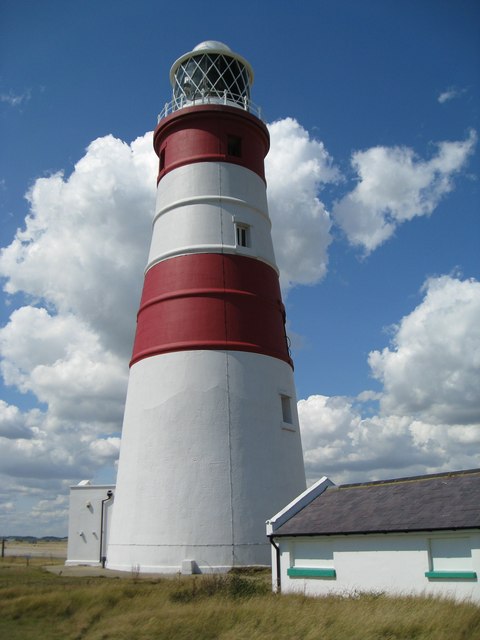 Photo by Alison Rawson

Orfordness Lighthouse, in Suffolk, is on a 13 mile (20km) long spit which runs parallel to the coast. Like much of the east coast it was hazardous to shipping, but there are additional dangers in this area including swift tides, banks and shoals. On one night alone, in 1627, 32 ships were cast up on Orfordness with hardly any survivors amongst their crews.
In February, 1634 John Meldrum was granted a patent to build two temporary lights between Sizewell Bank and Aldeburgh Napes. These lights were soon disposed of by Meldrum, so he could concentrate on others he had at North Foreland

and South Foreland.

Meldrum's successor at Orfordness was Alderman Gore who, under a further patent granted during the reign of Charles II, constructed two timber towers to indicate a safe passage through the narrow gap between the Sizewell Bank and Aldeburgh Napes.
Sir Edward Turnour was the next owner and he strengthened his position by buying the land on which the lighthouse stood and also a large area of Lantern Marshes to give him access.
After Sir Edwards death in 1676, his son, also named Edward became the owner. The lights were badly maintained at this time and he had many complaints from the masters of vessels passing the light.
On June 23rd 1707, while Britain was at war with France, the Orfordness Lighthouses were attacked by a French Privateer who severely damaged a lantern and stole various goods, including the keeper's beds.
In 1720 the lighthouses came into the ownership of Henry Grey who replaced the wooden lighthouses with brick towers at a cost of £1,180.
In 1792, Lord Braybrooke, of Audley End, who was the owner at this time, had a new brick tower built much further back which became the Great Ore High light and the previous great light then became the small or lower light.

The high lighthouse was designed by the architect William Wilkins, the son of a Norwich plasterer and stucco worker, the high tower built in 1792 is the one that remains today.

The 1792 low lighthouse was lost to beach erosion in 1887.
In 1836 an Act of Parliament gave Trinity House the right to compulsorily buy out all private individuals who owned lighthouses, and Trinity House paid the third Lord Braybrooke £13,414 for Orfordness Lighthouse.
In 1888 major alterations took place at the great light or high light as it was now known. The light was made occulting and red and green shades were fitted to form sector lights.
In 1914 a new revolving lens was installed, it is this lens which is still in operation. Three vertical circular lenses are mounted on a circular platform which floats on a trough of mercury. The lens revolves around the lamp at a speed which appears as a flash every five seconds.
At the same time as this light was installed another light was brought into operation half way up the tower. This is the sector light which is a fixed light showing through red and green windows facing south east and a red window facing north east.
These lenses and all other lenses fitted over the years were installed by the firm of Stone-Chance.
It was attacked by German machine gun fire and flying bombs, but survived.
In 1959 the lighthouse was converted to electric power and the 2 keepers cottages, which were attached on either side of the tower were demolished.
A standby generator was then installed, followed by remote control equipment. Time switches came into operation and on 6th July 1964 the station became fully automatic and under remote control from the Trinity House Depot at Harwich in Essex. On 20th September 1965 the keepers were withdrawn.
At this time the main navigation light was a 3KW 100V filament lamp. Recently new equipment has been installed and the lamp is now a 1KW 240V Mercury Vapour Discharge lamp.
Having stood here for a long time, its future now is bleak, since 2004 there has been more beach erosion, and the BBC

reported in August 2004 that Trinity hHouse was concerned about the survival of the lighthouse, suggesting it could fall within 5 years, unless replaced or the foundations strengthened, but a Trinity House spokesman, Mr Keith Seaman, said "I'm assured by my superiors at Trinity House that a navigation aid will remain here, whether it is in this tower or in another structure to be erected." However in January 2010, in a BBC report)

it was announced that the light would be discontinued, and Trinity House confirmed this decision in May despite public protests. BBC report.

The National Trust want Trinity House to take out any hazardous materials and turn it over to them, they then propose to strip out some parts for exhibition elsewhere and then allow the rest to fall into the sea over time. No date, as far as I am aware, has yet been set for anything to happen.
The Ness was a restricted military area for many years, it was opened to the public by the National Trust in 1995 as a nature reserve and historic site. Site open, tower closed.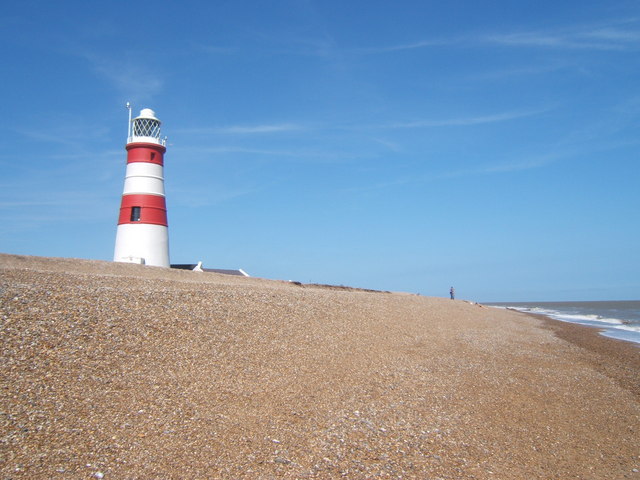 Photo by Roger Miller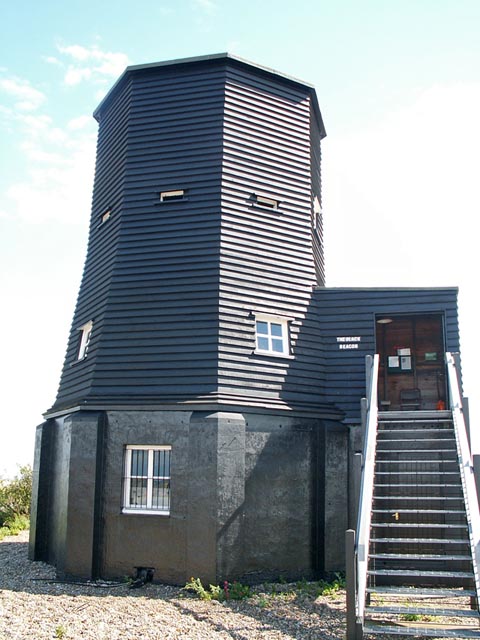 Photo by Phil Champion

Black Beacon. This building was erected in 1928 by the Royal Aircraft Establishment
to house an experimental navigation beacon.
---
Lighthouse information Grid

| | |
| --- | --- |
| Name: | Orfordness Lighthouse, Suffolk |
| Current status: | Currently in use |
| Geographic Position: | 52° 05'.0 N 01° 34'.6 E |
| Grid Reference: | TM450488 |
| Ceremonial County: | Suffolk |
| Appearance: | Round brick tower with lantern and gallery, painted white with two horizontal red bands |
| Map Link: | |
| Aerial photo: | Multimap Google satellite view |
| Other photos: | |
| Originally built: | 1637 |
| Current lighthouse built: | 1792 |
| Height of Tower: | 98ft 30m |
| Height of light above mean sea level: | 92ft 28m |
| Character of light: | White Flash Every 5 Seconds |
| Character of fog signal: | |
| Range of light: | 25 nautical miles |
| Owned / run by: | Trinity House |
| Getting there: | |
| Access: | Located about 5 km (3 mi) southeast of Orford; accessible by passenger ferry and walking path. |
| Website: | TH |
| Other Useful Websites: | |
| Routes: | |
| Other Relevant pages: | |
| Notes: | |
Please let us know any other information that we can add to the Grid or page and any errors that you discover. Before making a long trip to any location it is always wise to double check the current information, websites like magazines may be correct at the time the information is written, but things change and it is of course impossible to double check all entries on a regular basis. If you have any good photographs that you feel would improve the illustration of this page then please let us have copies. In referring to this page it is helpful if you quote both the Page Ref and Topic or Section references from the Grid below. To print the planning grid select it then right click and print the selected area.
Please submit information on locations you discover so that this system continues to grow.