North Foreland Lighthouse

North Foreland, Kent

Location Guide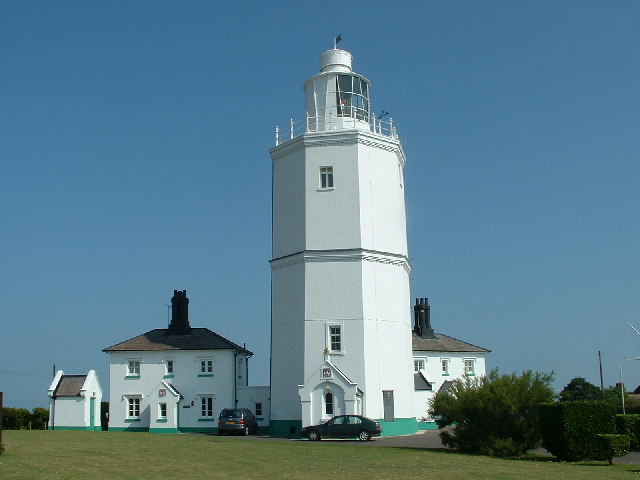 North Foreland Lighthouse
The North Foreland is a chalk cliff that forms the eastern end of the Isle of Thanet in Kent. The lighthouse marks the beginning of the approach to the Thames Estuary and the Port of London.
The tower was privately built and privately maintained until it was purchased by Trinity House in 1832. It was the last manned lighthouse in Britain, finally automated in November 1998.
Aerial photo from Marinas.com

More images are available
History
The first light we know of was first shown on North Foreland in 1499.
Later in 1636 the first lighthouse was constructed, a wooden octagonal tower, 2 storeys high with a Iron coal burning grate on the top. The timber tower structure was completed with lathes and plaster. This was destroyed by fire in 1683.
To replace this a lantern containing a candle was hoisted up a pole but was not effective. It may only have been intended as a stop gap measure.
In 1691 a new 12m tall tower was constructed of brick, stone and flint. In 1698 the lighthouse is recorded as using 100 tons of coal a year.
The Trustees of Greenwich Hospital acquired the lighthouse in 1719, and used the surplus from the light dues for the upkeep of a hospital for the benefit of seamen.
In 1719, they enclosed the fire in a glazed lantern, but this was removed in 1730 after complaints from shipping.
In 1793, the height was increased, two storeys were added to the tower and the coal fire was replaced by 18 oil lamps. There is at this point no mention of a lamp house.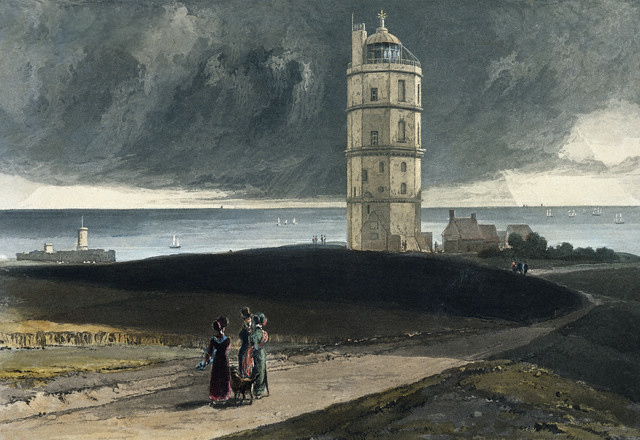 Photo of a painting by William Daniell, around 1820, said to be of North Foreland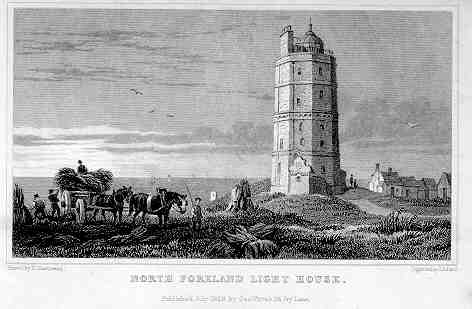 old engraving - date not known
In 1832, Trinity House purchased the lighthouse.
In 1890 a separate room known as the lantern house, was built on to the top of the tower to accommodate the light bringing it up to its current height. From the images above it may have been the remodelling and a new lantern room to replace what was already there.
Automated in November 1998, North Foreland was the last Trinity House Lighthouse to be automated. This was marked by a ceremony attended by his Royal Highness, The Duke of Edinburgh.
---
Lighthouse information Grid

Name:

North Foreland Lighthouse, Kent

Current status:

Currently in use

Geographic Position:

51 22'.5 N 1 26'.8 E

Grid Reference:

TR398696

Ceremonial County:

Kent

Appearance:

Octagonal cylindrical stone tower with lantern and gallery, painted white, attached to two 2-story keeper's houses

Map Link:

Aerial photo:

Marinas.com Google satellite view

Other photos:

Originally built:

1499

Current lighthouse built:

1691 then extended a number of times the last time in 1890

Height of Tower:

85ft 26m

Height of light above mean sea level:

187ft 57m

Character of light:

5 Red And White Flashes Every 20 Seconds

Character of fog signal:

Range of light:

White 19 nautical miles
Red Sector (150-181 ) 16 nautical miles
Red Sector (181-200 ) 15 nautical miles

Owned / run by:

Trinity House

Getting there:

on North Foreland Road 2 km (1.2 mi) north of Broadstairs.

Access:

Website:

TH

Other Useful Websites:

Wiki

Routes:
Other Relevant pages:

Notes:
Please let us know any other information that we can add to the Grid or page and any errors that you discover. Before making a long trip to any location it is always wise to double check the current information, websites like magazines may be correct at the time the information is written, but things change and it is of course impossible to double check all entries on a regular basis. If you have any good photographs that you feel would improve the illustration of this page then please let us have copies. In referring to this page it is helpful if you quote both the Page Ref and Topic or Section references from the Grid below. To print the planning grid select it then right click and print the selected area.
Please submit information on locations you discover so that this system continues to grow.