South Foreland Lighthouses

aka Langdon Cliffs Lighthouse

aka St Mary's Lighthouse

St Margaret's at Cliffe, Kent

Featured Location Guide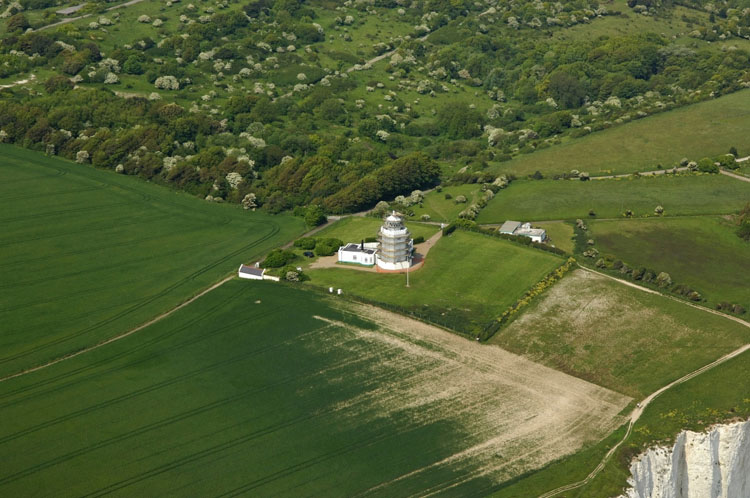 Aerial photo by Marinas.com

more images are available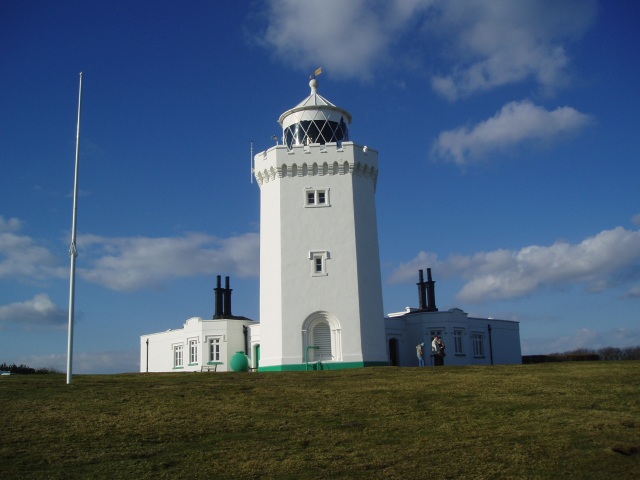 Photo by Hywel Williams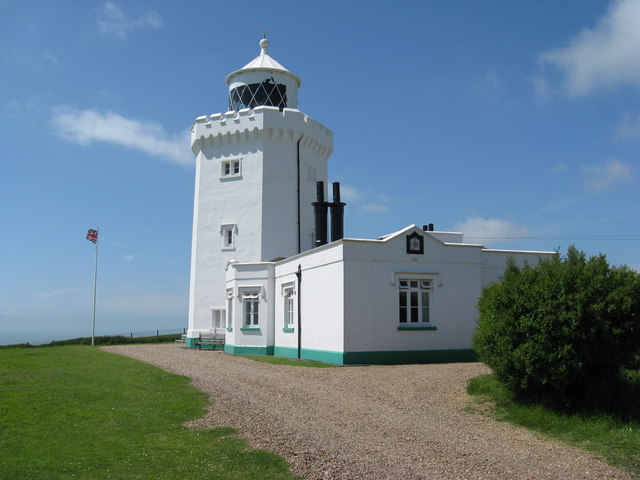 Photo Alan Swain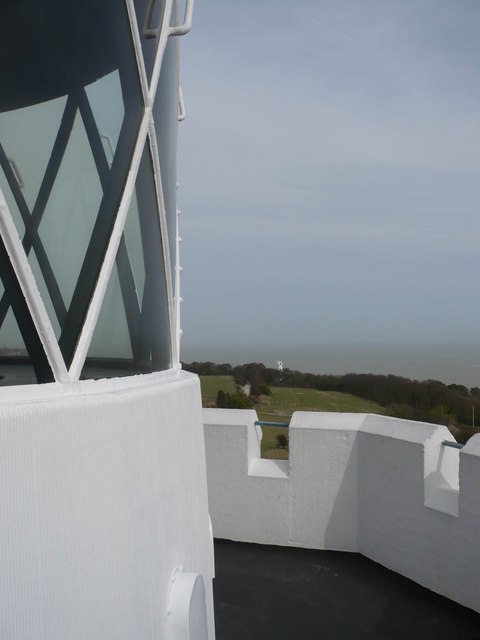 Looking towards the Windmill

Photo by Pam Frey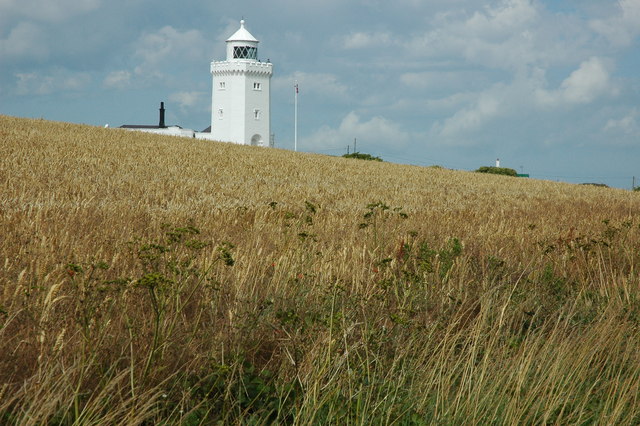 View of lighthouse from Coastal Path

Photo by Phillip Halling

South Foreland Lighthouse stands on the top of a white cliff on the headland where England is nearest to the rest of the European continent, the gap across the English Channel at this point is the narrowest at 21miles or 34km.

This lighthouse is known by at least three names, the South Foreland Lighthouse, Langdon Cliffs Lighthouse, and St Mary's Lighthouse. The light warned ships of the notorious Goodwin Sands - huge sandbanks known as "the great ship swallower".

Today its owned by the National Trust and open to visitors

Photo Remi Jouan
History
Whilst the White Cliffs of Dover offer an attractive and inspiring sight from the land, by sea they are a perilous affair. Britain's oldest known shipwreck, a Bronze Age ship from around 31 centuries ago carrying axe-heads, is located near the eastern arm of Dover Harbour and many more wrecks were to follow its fate.
At first beacons were lit along the cliff top to warn mariners away from the cliffs and the treacherous Goodwin Sands, the Romans replaced these with lighthouses to guide sailors into port. The remains of one now forms part of the church in Dover Castle.
The National Trust say that records show that a light was first displayed from the cliffs in 1367.
The first more modern lighthouses on this site were here in 1793, but the two that still survive today are the low from 1793 and high 1843.
The low lighthouse went out of service in 1910, while the high continued in use until 1988.
It is the high lighthouse that we are looking at in detail here, and the low is covered in summary at the bottom of this page. The tower of the low, but not its houses, survive, and low is not open to the public.
The South Foreland High, or Langdon Cliffs Lighthouse helped mariners navigate into port for more than 300 years until it was closed. It is now owned by the National Trust and open to visitors.
Records state that the lighthouse was the first lighthouse, in December 1858, to show an electrically powered light. Another National Trust owned lighthouse, Souter Point Lighthouse,


was the first to be built to use electricity in 1871.
The South Foreland was not just the first lighthouse to be powered by electricity but also the site of the first international radio transmission.
The South Foreland Lighthouse was the recipient of the world's first ship-to-shore transmission on Christmas Eve, 1898, when Guglielmo Marconi succeeded in contacting the lightship 'Goodwin Sands', nine miles off shore, using his newly invented radio equipment, which later proved its use when it alerted the lifeboats at Ramsgate to a ship in distress, the first time a lifeboat was alerted by telegraph. Again in 1899 the lighthouse set another first when it exchanged wireless messages across the Channel to Wimereux near Boulogne in France.
More recently it was the landing place for the rocket man who came across the English Channel with a wing on his back.
This distinctive, historic landmark has unrivalled views well worth the walk along the White Cliffs.
The light
The light is now fully functional, although no longer in use, it has an operational 1° Fresnel lens mounted in the lantern. In 2004 the rotating mechanism

of the lens was restored and returned to the tower, the task of getting the large, 200kg mechanism up hundreds of spiral stairs to the lamp room, with little room to spare was handed by 1st Parachute Regiment, from Dover's Connaught Barracks. Then engineers reconnected cables and weights for the optic to rotate again using the original clockwork system - similar to that of a grandfather clock but larger. The weights, weighing a quarter of a tonne, need to be wound up by hand each hour.
---
South Foreland Low

At grid ref TR362433

Built 1793 inactive since 1904.

A 49ft or 15m octagonal cylindrical stone tower with lantern and gallery, painted white.

The tower stands but the light keepers cottages have been removed.
There are few modern photos available, I did discover photo,

and photo,

the area can be viewed on Geograph.

Looking from above we can use Google satellite view

to locate it.
---
Old Images - What they looked like soon after 1900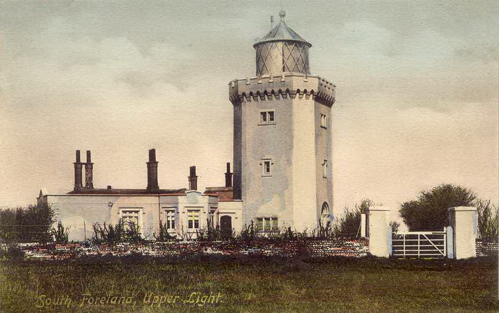 An old postcard showing the upper light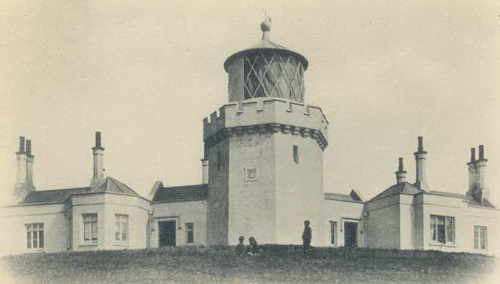 This shows the lower light was a similar design, just much shorter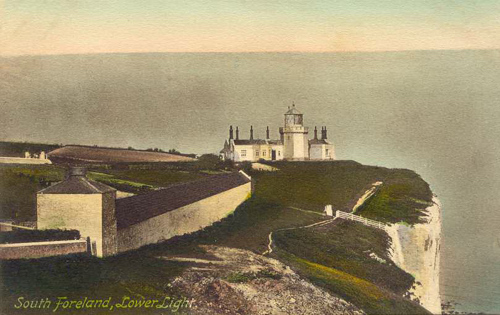 The Low lighthouse was also always very near the top of the cliff,
as shown in this old postcard view.
---
Lighthouse information Grid

Name:

South Foreland Lighthouse (High), Kent

Current status:

Inactive. Open to visitors - see below

Geographic Position:

Grid Reference:

TR359433

Ceremonial County:

Kent

Appearance:

Octagonal cylindrical stone tower with lantern and gallery, painted white, attached to 1 storey keeper's houses.

Map Link:

Google Map

Aerial photo:

Marinas.com Google satellite view

Other photos:

Originally built:

1793, the National Trust say records show that a light was first displayed from the cliffs in 1367.

Current lighthouse built:

1843

Height of Tower:

21m 69ft

Height of light above mean sea level:

Character of light:

Character of fog signal:

Range of light:

Owned / run by:

National Trust

Website:

NT Open (High)

Low on private property - one field from a public footpath

Other Useful Websites:

Wiki

Routes:

Notes:

One cottage available - self catering accommodation at the lighthouse
.
---
Lighthouse Visit Planning Grid

| | |
| --- | --- |
| Name: | South Foreland Lighthouses, Kent |
| Grid Reference: | TR359433 |
| Location: | |
| Getting there: | on public footpaths 2½ miles from Dover, 1 mile from St Margaret's |
| Access: | |
| Parking: | no access for cars, but possibly some for disability vehicles, call to check. NT say nearest parking 1 mile away at St Margaret's |
| Address: | The Front, St Margaret's Bay, Dover, Kent |
| Postcode: | CT15 6HP |
| Telephone: | 01304 852463 |
| Email: | southforeland@nationaltrust.org.uk |
| Opening times: | Check website for opening times as they vary at different times of the year. |
| Charges: | Adult £6, Child £3, Family £15 |
| Best Times to Visit: | Check opening, access and tide times. |
| Facilities: | |
| Things To Do, See and Photograph: | Lighthouse, coastal, wildlife, plants, possibly ships. |
| What to take: | Shoes suitable for climbing many steps, small bag with necessary items- Camera, selected lenses and filters. |
| Nature highlights: | Coastal birds |
| Photo Restrictions: | None Known |
| Other Restrictions: | None Known |
| Nearby Locations: | |
| Other Relevant pages: | |
Please let us know any other information that we can add to the Further information and Planning Grids or page and any errors that you discover. Before making a long trip to any location it is always wise to double check the current information, websites like magazines may be correct at the time the information is written, but things change and it is of course impossible to double check all entries on a regular basis. If you have any good photographs that you feel would improve the illustration of this page then please let us have copies. In referring to this page it is helpful if you quote both the Page Ref and Topic or Section references from the Grid below. To print the planning grid select it then right click and print the selected area.
Please submit information on locations you discover so that this system continues to grow.