Turnberry Point Lighthouse

Turnberry Point, Ayrshire

Location Guide
Turnberry Lighthouse marks a dangerous part of the Ayrshire coast and is situated close to the 9th hole of Turnberry Golf Course in what was once the moat of Turnberry Castle. It has unusual surroundings with plenty of scope for nature study and very early observations of bird migrations were recorded by lightkeepers long before observatories were established on the Isle of May


and Fair Isle on Shetland.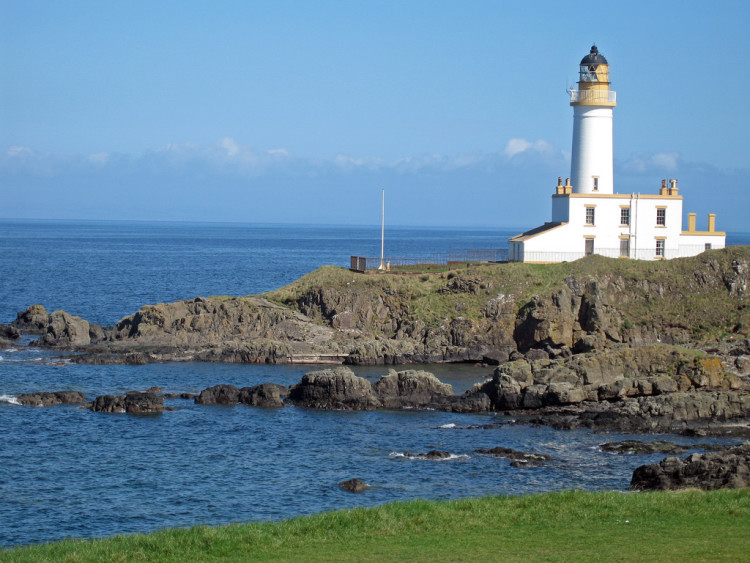 Photo by

John Mundy

The lighthouse started to be built in 1871 and was completed in 1873 at an estimated cost of £6,576. It was built to warn ships away from the Bristo Rock offshore, after it had been responsible for many wrecks. The initial idea was to build the lighthouse on the rock iself, but engineers David and Thomas Stevenson advised that this was not a good idea, and the place place to put it was on Turnberry Point. The light was first exhibited in 1873, the character of one flash every 12 seconds was decided upon to distinguish it from Corsewall

and Davaar

lights. It was automated in 1986 and is now remotely monitored from the Northern Lighthouse Boards offices in Edinburgh.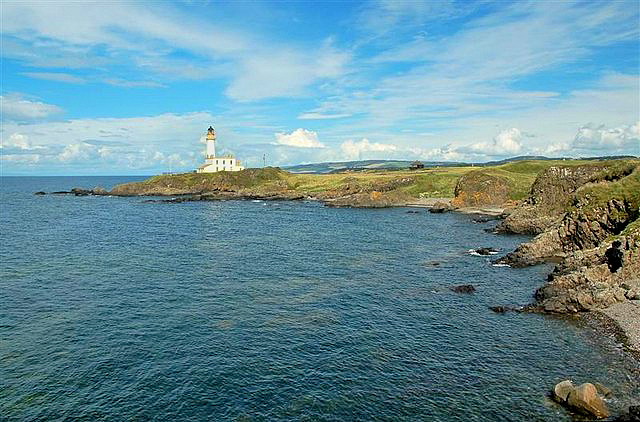 Turnberry Lighthouse View
Viewed from the northern edge of Turnberry Point.
Situated in a photogenic stretch of the Ayrshire coastline in a position which makes it ideal for sunset shots all year round. Look out of the afterglow when the lighthouse starts sending it's signal.
---
Lighthouse information Grid

| | |
| --- | --- |
| Name: | Turnberry Point Lighthouse, Turnberry, Givan Ayrshire |
| Current status: | Working |
| Geographic Position: | 55° 19.572'N 004° 50.655'W |
| Grid Reference: | NS196072 |
| Ceremonial County: | Ayrshire |
| Appearance: | round masonry tower with lantern and gallery, attached to a two storey keeper's house. Lighthouse painted white with buff trim, lantern painted black |
| Map Link: | Multimap |
| Aerial photo: | |
| Other photos: | |
| Originally built: | 1873 |
| Current lighthouse built: | |
| Height of Tower: | 24 metres |
| Height of light above mean sea level: | 29 metres |
| Character of light: | Flashing White every 15 seconds |
| Character of fog signal: | |
| Range of light: | 24 nautical miles |
| Owned / run by: | Northern Lighthouse Board |
| Getting there: | Access route off the A719 coastal road north of Turnberry on the way to Maidens. |
| Access: | Car park in Turnberry, then it's a walk along the coastline. |
| Website: | NLB |
| Other Useful Websites: | |
| Routes: | |
| Other Relevant pages: | |
| Notes: | |
Please let us know any other information that we can add to the Grid or page and any errors that you discover. Before making a long trip to any location it is always wise to double check the current information, websites like magazines may be correct at the time the information is written, but things change and it is of course impossible to double check all entries on a regular basis. If you have any good photographs that you feel would improve the illustration of this page then please let us have copies. In referring to this page it is helpful if you quote both the Page Ref and Topic or Section references from the Grid below. To print the planning grid select it then right click and print the selected area.
Please submit information on locations you discover so that this system continues to grow.