Corsewell Lighthouse

Stranraer, Wigtownshire

Location Guide
Corsewall Lighthouse is situated on the northern tip of the Rhins of Galloway. One definition of the name Corsewall is the place of the Cross. Another is the Well of the Cross, probably from the original name Corsewall. There are many cross names, Kross in Iceland, Corse and Cross is Orkney and similar names in Shetland.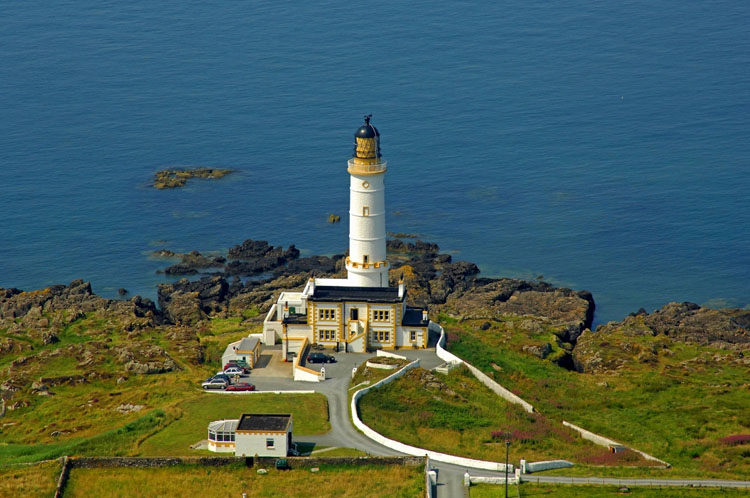 Aerial Photo Marinas.com

(more images available)
As far back as 1814 a Mr Kirkman Finley made an application to the Trade of Clyde for a light on Corsill Point. It was agreed, and the light came into operation in 1817. Shortly after the engineer reported that the Principal Keeper at Corsewall had fallen asleep while on duty, and that the revolving apparatus of the light had stopped for a certain period. He was then suspended from the keeping of the Corsewell light and was sent to the Bell Rock Lighthouse

to act as assistant.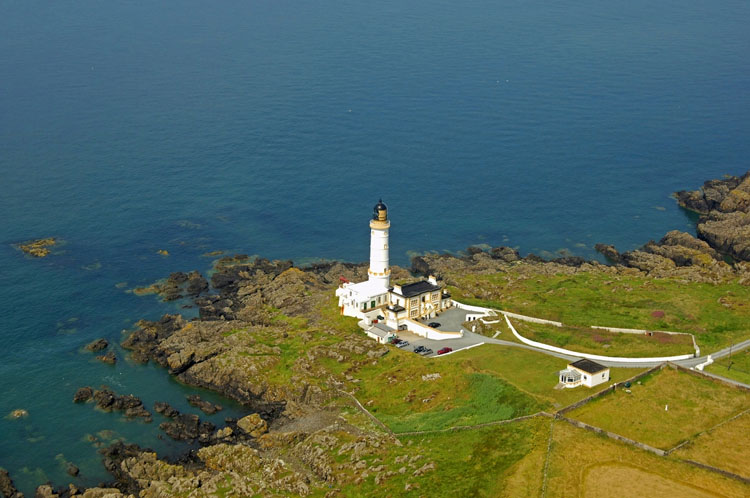 Aerial Photo Marinas.com

(more images available)
In November 1970, Concorde flew over the lighthouse on a trial flight and quite a number of panes of glass were broken. Later flights overhead by Concorde did not result in any further damage.
The Lighthouse was automated in 1994 and is still operated by the Northern Lighthouse Board. The Light is 112ft above water. However the lightkeepers accommodation was sold and is now a hotel, working lighthouse and hotel island location near Stranraer.
Nearby lighthouses are Killantringan Lighthouse,

just 15 miles away and the Mull of Galloway Lighthouse.

---
Lighthouse information Grid

| | |
| --- | --- |
| Name: | Corsewell Lighthouse, Kirkcolm, Stranraer, Wigtownshire |
| Current status: | Working |
| Geographic Position: | 55° 00.429'N 005° 09.564'W |
| Grid Reference: | NW985725 |
| Ceremonial County: | Wigtownshire |
| Appearance: | White tower |
| Map Link: | Multimap |
| Aerial photo: | Marinas.com |
| Other photos: | Geograph |
| Originally built: | 1817 |
| Current lighthouse built: | |
| Height of Tower: | 34 metres |
| Height of light above mean sea level: | 34 metres |
| Character of light: | Flashing (5) White every 30 Secs |
| Character of fog signal: | |
| Range of light: | 22 nautical miles |
| Owned / run by: | Northern Lighthouse Board |
| Getting there: | From Stranraer take the A718 to Kirkcolm and the the B738 to Corsewall and the lighthouse. |
| Access: | |
| Website: | NLB |
| Other Useful Websites: | |
| Routes: | |
| Other Relevant pages: | |
| Notes: | |
Please let us know any other information that we can add to the Grid or page and any errors that you discover. Before making a long trip to any location it is always wise to double check the current information, websites like magazines may be correct at the time the information is written, but things change and it is of course impossible to double check all entries on a regular basis. If you have any good photographs that you feel would improve the illustration of this page then please let us have copies. In referring to this page it is helpful if you quote both the Page Ref and Topic or Section references from the Grid below. To print the planning grid select it then right click and print the selected area.
Please submit information on locations you discover so that this system continues to grow.