Introduction to White Horses and other Hillside Figures
Look at any image of Britain and a few items are likely to stand out, of course we have Stonehenge and Tower Bridge, but we also often have windmills and white horses on hillsides. To many the idealised view of Britain is the countryside with a backdrop of hills and one of these having a white horse carved at some historic time into it.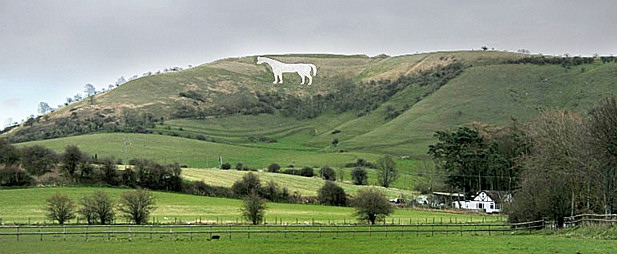 In reality there is one very special white horse, far older than any other, larger and more stylised. Built 3000 years ago by a different process to later ones and because of this, maintaining its shape over the millenniums that have passed. I am of course referring to the Uffington White Horse, now in Oxfordshire but up until the 1970's in Berkshire.
Next door in the county of Wiltshire, white horses have featured on many hillsides over the centuries, currently there are 8 very well maintained, and all of these can be visited and photographed easily in a day. In the south of the county you can also find a range of military badges and other symbols as well. We don't know how far back White Horses in Wiltshire go, but the oldest known is the Westbury White Horse and this is thought to go back to around the year 800 and something, but of course there could have been older versions before this.
Over the centuries many figures have been carved onto our hillsides, most maintained for a period and then allowed to grow over. In some cases a later generation will come along and uncover them or create a new version. Over recent years there have be a number of new figures and at the same time some have continued to grow over, while a decision has been made to abandon others. When you first look at this, it may seem a pity that some historic figures carved in the First World War or before are being abandoned now, but in many ways, it mirrors the concepts of birth, renewal, eventual decay and the possibility of a later rebirth.
Most are on chalk cliffs, where the turf has been removed to expose the chalk below. To maintain, the weeds needs to be kept down and the chalk moved or new chalk added to keep it white. Edges tend to fall apart, be cut back, and the shape over time can change. In years gone by many of us visited white horses, walking on or down them, often picnicking on them, they were often in unfenced fields so grazing animals ambled across them. Today of course many are fenced to protect them from animals, and walking on them is no longer encouraged.
We know why some of the recent ones were cut, and we have legends associated with some others, while the reason the oldest surviving or perhaps original white horse at Uffington was created is unknown although of course there are many theories.
The size varies between the white horses from Uffington at 365 feet down to Pewsey white horse at 66 feet long, Marlborough at 70ft , Broad Town at 80ft and Hackpen at 90ft. As later ones have been created they tend to have got larger, so the earlier Pewsey horse was 43ft long compared with the current 66ft and the Westbury old horse was 100ft while the later one is 170ft.
Most have no rider, the Osmington White Horse near Weymouth however does, was created in 1808, and represents King George 3rd , who regularly visited, but who took offence that the figure was shown going away from Weymouth, and took this to mean he was not welcome so didn't visit again. At 280 feet long this is next to Uffington in length and at 327 feet including rider high is the tallest.
Other hill figures include giants, other animals, military badges and marks that we don't understand. In some places where there is no natural white substance the items have been constructed in other ways. Some have been created as a form of advertising, or as memorials connected with military units, while some others mark specific events in time.
When looking at creating a listing of these, drawing the line on what to include and exclude was not straight forward, for example we have left out floral displays in gardens, and commercial name signs on banks, but included a white horse painted on a rock surface. We have left out all those known to have grown over to the point where you cannot see them on the ground, even though in some drought conditions, from an aircraft, you might still be able to see the outline.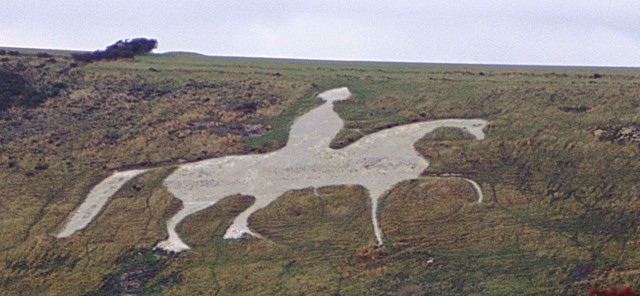 Our listing of hillside figures

in broken into three parts, white horses, other hill features and then a second listing of the white horses but with size information and in order by size, so you can see at a glance how they compare.
Photographing and seeing clearly hillside figures, be it white horses or other items is not difficult but to get the best view, effect or photograph there are a range of factors that have to be considered. So the article on photographing hillside features

is also applicable to those who might just want to see them.
We have location guides, including photographs, on many of these now and hope to eventually have them on all of these and others we have yet to discover as well. These can be found either from the location guide indexes by topic, county, or alphabetically, but also linked from the listing of hillside figures.

We decided not to include information on when they were each last cleaned up, as this information would be unlikely to be accurate or kept up to date. In some cases a small number of volunteers are involved and the process is ongoing, with others there is a larger group making an annual or periodic repair while a few are maintained by organisations with commercial sized budgets.
If you are aware of any others we have overlooked then please let us know. Similarly if you have updated information, or know of other information including local legends then let us also know this.
In the location guide for Uffington,

we look in some depth at the Celtic connections with white horses, and in the Westbury

location guide at the historic basis around white horses being connected with King Alfred's nearby victory over the Vikings in 878, that has come up several times and the more likely connection with the house of Hanover, the UK Royal family from 1714. In many of the others we have either a reason or a number of stories that relate. I have not repeated this all in this article.
I have found out far more than I expected to while researching these guides, as well as spotting other things around them.
As you look through the location guides, you will notice that a significant number are on hillsides under hill forts. It may just be that many of the best sites to put horses happen to also have been used to build hill forts, or there is the possibility hat the two are in some way connected, perhaps with older horses going back further in history than we are aware. You will find there is a history of horses being created, maintained for a period and lost, only to have another version created later at the same place or nearby.
---
See Also:
Introduction to Hillside Figures

How to Photograph Hillside Figures

Listing of Hillside Figures