Westbury White Horse

also known as Bratton White Horse

Bratton, near Westbury, Wiltshire

Featured Location Guide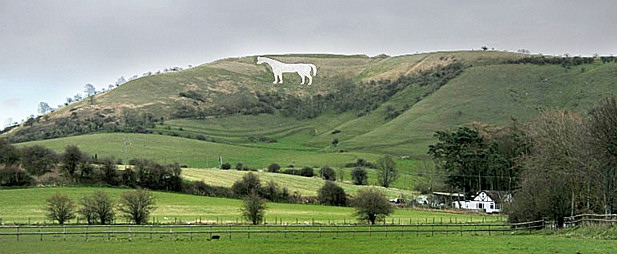 The oldest and largest of the Wiltshire white horses, the current one created by Mr G Gee.

Located on Westbury Hill, on the edge of the Bratton Downs, immediately below Bratton Camp, an Iron Age hill fort, high on a very steep slope and overlooking a panoramic view.

Some complain that the marvellous panoramic view from the site of the horse is spoilt by being dissected by the massive chimney of the local cement works. However this a feature with its chimney and smoke, that is a part of this landscape.

The steward to Lord Abingdon, Mr. George Gee, had the horse re-cut to a design nearer to its present day appearance in 1778. At this time the previous horse had lost its shape. The new horse was constructed at the same place over the earlier one but larger, the earlier one being 100ft long and the new one 170ft.

It has been suggested that the earlier horse was
less horse like, and some drawings show it with a saddle. It was always left facing although there are some illustrations about showing it the opposite way, caused by an engraving or printing error. While the GG design is very horse like, the earlier one may not have been a horse at all.

By 1873 it had started to loose its shape, and edging stones were added to help hold the chalk in place. This restoration, provided the shape of the present horse In the early twentieth century, concrete was added to hold the edging stones in place. In the late 1950's, it was decided that it would considerably reduce the maintenance costs if the horse were covered in concrete then painted white. The concreting was repeated in 1995.

The Older Horse

in "Further Observations on the White Horse and other Antiquities in Berkshire" by the Reverend Wise, published in 1742. The white horse of the title is the Uffington horse, but the author also refers to the Westbury horse. He relates that he was told by local people that it had first been cut in the memory of persons still living or who had recently died, which suggests a date in the late sixteen hundreds.

| | |
| --- | --- |
| | Top 1772, printed wrong way around Bottom 1778 |
One theory is that the the original horse was cut at or soon after 1714, as a symbol of loyalty to the new Protestant reigning house, the white horse was a heraldic symbol associated with the new English Royal family, the House of Hanover.

George 1st, was the first of the house of Hanover, becoming king in 1714. The coat of arms of the house of Hanover is complex, with the white horse featured on the lower quarter. Each element of this coat off arms represents a country or area, the top left is England, top right France, lower left Ireland, and the lower right the Germanic countries this family originated from. The white horse on a red shield was the coat of arms of Lower Saxony, and originates from the arms of the Duchy of Westphlia, one of the three main regions of Saxony.

This is a left facing horse, and all the older Wiltshire white horses were left facing.

| | |
| --- | --- |
| | Coat of arms of the United Kingdom 1714-1801 |

Another story that circulates quite widely is that the Westbury White horse was possibly commemorating King Alfred's nearby victory over the Vikings at the Battle of Ešandun in 878, and while this is not impossible, there is no trace of such a legend before the second half of the eighteenth century. The battle of Ešandun is suggested to have been at Edington in Wiltshire. The Uffington horse, featured in King Alfred's earlier life. He was born not far from Uffington, so he may have had a white horse as a standard, but there is no documentation of this.

A White Horse war standard was associated with the continental Saxons in the dark ages, and the figures of Hengist and Horsa who, according to legend, led the first Anglo-Saxon invaders into England, are said to have fought under a white horse standard, a claim recalled in the heraldic badge of the county of Kent.

| | |
| --- | --- |
| | Coat of arms of Lower Saxony |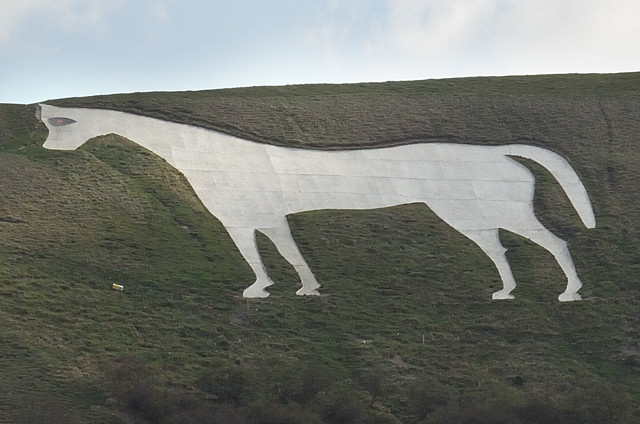 Click on small image to see a larger version
---
.
---
Planning Grid

| | |
| --- | --- |
| Location: | Westbury White Horse, Bratton, near Westbury, Wiltshire |
| Grid Reference: | ST898516 |
| Getting there: | North-East of Westbury and near to the villages of Bratton and Edington. |
| Access: | From paths, and from the car park on the hill. Not well signposted. |
| Parking: | There is a car park with a viewing point on the B3098 just east of Westbury, and a car park above the horse on Westbury Hill. However the lanes up onto the hill are steep and narrow, and are used by horse riders. |
| Facilities: | None |
| Things To Do, See and Photograph: | White Horse, castle, landscape views. |
| What to take: | |
| Nature highlights: | Country location. |
| Address: | |
| Postcode: | |
| Telephone: | |
| Opening times: | Open all the time |
| Charges: | None |
| Photo Restrictions: | None |
| Other Restrictions: | None |
| Special Needs Access: | Can be viewed from the road, and from the cliff top, the cliff is steep, and best not attempted other than by the very fit. |
| Special Needs Facilities: | None |
| Children Facilities: | None, a good site for children but cliff horse is on can be climbed but is too steep for smaller children. |
| Dogs Allowed: | No known restrictions. |
Please let us know any other information that we can add to the Further information and Planning Grids or page and any errors that you discover. Before making a long trip to any location it is always wise to double check the current information, websites like magazines may be correct at the time the information is written, but things change and it is of course impossible to double check all entries on a regular basis. If you have any good photographs that you feel would improve the illustration of this page then please let us have copies. In referring to this page it is helpful if you quote both the Page Ref and Topic or Section references from the Grid below. To print the planning grid select it then right click and print the selected area.
Please submit information on locations you discover so that this system continues to grow.