Tantallon Castle Doocot

Auldhame, East Lothian

Location Guide
Within the grounds of Tantallon Castle stands a Lectern style doocot dating from the 17th century.
The doocot is the only building that remains in the castle bailey (outer court). Originally there would have been other service buildings within this area. It is a 3 stage double lectern dovecote made of Grey green rubble with red squared sandstone dressings. It has a pitch slated roof sloping south, and crow stepped gables. The entry holes for the pigeons/doves are horizontally across the roof. Projecting rat courses divide the stages. The entrance inside is via a doorway with a relieving arch above.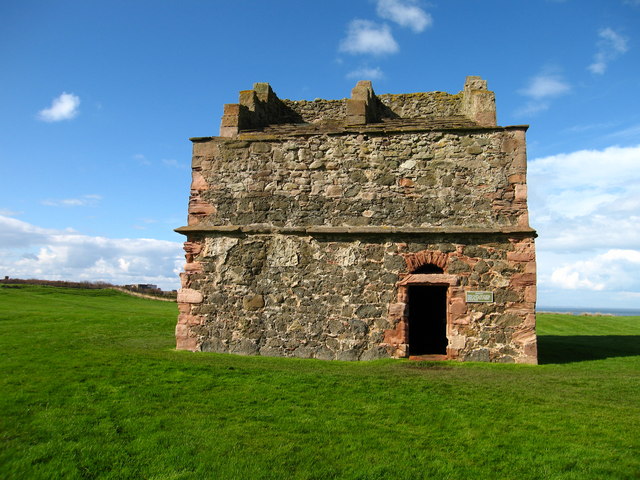 Photo by Lisa Jarvis

Inside it has honeycombed nesting boxes lining interiors, only partially remaining in the west chamber.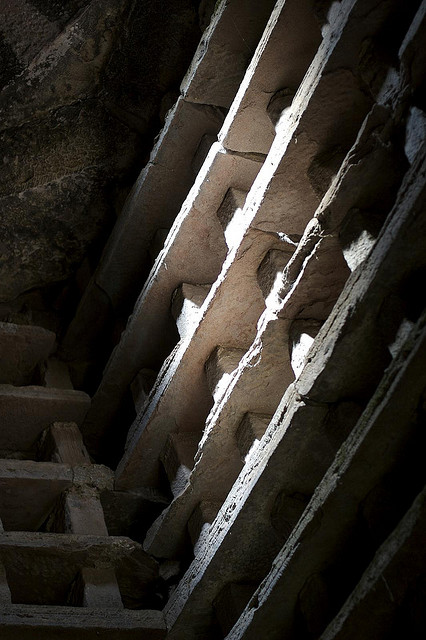 Inside

Photo by Tom Parnell

The Castle sits on a 30m high cliff overlooking Bass Rock. It was once seat of the Douglas Earls of Angus, they were one of the most powerful baronial families in Scotland during the late 14th century, and built this imposing defensive stronghold in 1375. It served as a noble fortification for more than three centuries and has endured frequent sieges. During its last siege, a twelve day bombardment by Cromwell's forces under General Monk in 1651, it suffered some heavy damage and its days as one of the most impregnable castles came to an end, today it stands as a ruin.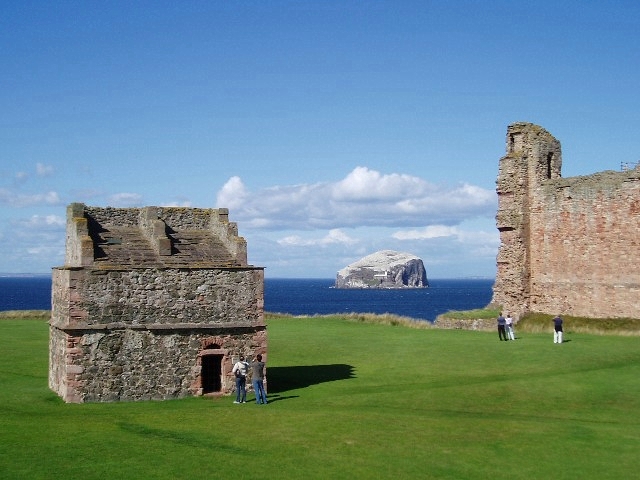 The doocot in the foreground, the castle wall to the right and the island behind is Bass Rock.


Photo by Eileen Henderson

The castle and doocot are now looked after by Historic Scotland and are open for public view.
---
Location: Tantallon Castle Doocot, Auldhame, East Lothian

Grid Reference:

NT595850

Ceremonial County: East Lothian

Map Link: Multimap

Aerial photo: Multimap Aerial

Getting there: From North Berwick take the A198 to Castleton. Go through Castleon heading towards Auldhame, the entrance to the castle car park is on the left.

Access: You can only access it when visiting Tantallon Castle. Access into the doocot is through a small door.
Website: Historic Scotland
Other Useful Websites: Wikipedia Undiscovered Scotland
Email:
Address:
Postcode: EH39 5PN
Telephone: 01620 892727
Opening Times: 1 Apr-30 Sep Daily 9.30am-5.30pm; Oct 9.30am-4.30pm;
1 Nov-31 Mar Sat-Wed 9.30am-4.30pm

Charges: Adult £4.70; Child £2.80; concession £3.80

Nearby Locations: Bass Rock Lighthouse, East Lothian
Other Location Pages:

Other Relevant Pages: Dovecots Dovecots in England Dovecots in Wales

Doocots in Scotland

Notes:
Please let us know any other information that we can add to the Grid(s) or page and any errors that you discover. Before making a long trip to any location it is always wise to double check the current information, websites like magazines may be correct at the time the information is written, but things change and it is of course impossible to double check all entries on a regular basis. If you have any good photographs that you feel would improve the illustration of this page then please let us have copies. In referring to this page it is helpful if you quote both the Page Ref and Topic or Section references from the Grid below. To print the planning grid select it then right click and print the selected area.
Please submit information on locations you discover so that this system continues to grow.