Bass Rock Lighthouse

East Lothian

Location Guide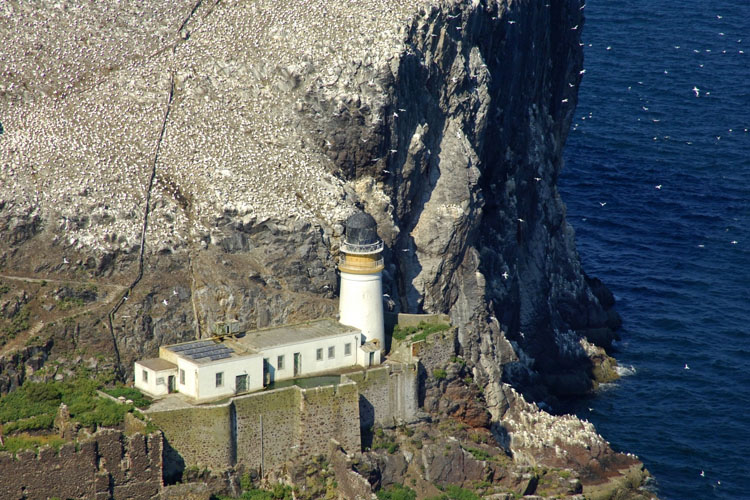 Aerial Photo Marinas.com

(more images available)
Bass Rock is located about 3 miles north east of North Berwick, and is a steep crag on the southern entrance to the Firth of Forth, rising about 350ft above the sea. It is an important nesting ground for seabirds, especially gannets.
Bass Rock is about a mile in circumference. Through the Rock, from the East to West, runs a natural tunnel, but this is not accessible except at low tide. Half way up the rock stands the ruins of a pre-reformation chapel which was consecrated in 1542. It has a long and varied history and is mentioned in writings dating back to around 1316. In 1671 Charles I claimed it as Royal property and later the fortress/castle was turned into a prison, by 1700 however after a number of attempts to claim it by others the fortress was demolished. In 1706 it was sold to Sir Hugh Dalrymple and his descendants still own it today. From 1706 up to the 1st World War it continued to be let out to tenants who earned money by fishing, grazing sheep and making use of the seabirds.
The lighthouse was established in 1901 and is still active today. It was build by David Stevenson, who demolished a 13th century keep, or governors house and some other buildings within the castle to be able to use the stone to build it. It was automated and demanned in 1988 and is now remotely monitored from Edinburgh.
Today the true residents of the island are the seabirds and it is the breeding ground for 30-40,000 gannets. The best way to see the birds and lighthouse is on one of the cruises from the Scottish Seabird Centre

in North Berwick.
Aerial Photo Marinas.com

(more images available)
---
Lighthouse information Grid

| | |
| --- | --- |
| Name: | Bass Rock Lighthouse, East Lothian |
| Current status: | Working |
| Geographic Position: | 56° 04.603'N 002° 38.463'W |
| Grid Reference: | NT602872 |
| Ceremonial County: | East Lothian |
| Appearance: | Round cylindrical tower with 48 steps to the top, lantern and gallery, attached to a 1 storey keeper's house. Tower painted white with buff trim, lantern buff with a black dome. |
| Map Link: | |
| Aerial photo: | Marinas.com |
| Other photos: | |
| Originally built: | 1903 |
| Current lighthouse built: | |
| Height of Tower: | 20 metres |
| Height of light above mean sea level: | 46 metres |
| Character of light: | Flashing (3) White every 20 Secs |
| Character of fog signal: | |
| Range of light: | 10 nautical miles |
| Owned / run by: | Northern Lighthouse Board |
| Getting there: | only by boat |
| Access: | Site and tower closed |
| Website: | NLB |
| Other Useful Websites: | Wikipedia |
| Routes: | |
| Other Relevant pages: | |
| Notes: | |
Please let us know any other information that we can add to the Grid or page and any errors that you discover. Before making a long trip to any location it is always wise to double check the current information, websites like magazines may be correct at the time the information is written, but things change and it is of course impossible to double check all entries on a regular basis. If you have any good photographs that you feel would improve the illustration of this page then please let us have copies. In referring to this page it is helpful if you quote both the Page Ref and Topic or Section references from the Grid below. To print the planning grid select it then right click and print the selected area.
Please submit information on locations you discover so that this system continues to grow.