Duntisbourne Leer Cottage Dovecote

Cirencester, Gloucestershire

Location Guide
This cottage is located in Duntisbourne Leer one of a group of villages and hamlets just north of Cirencester in the Cotswolds known locally as 'The Duntisbournes'. These are Duntisbourne Abbots, the village and largest that has a beautiful church, Duntisbourne Leer, Duntisbourne Rouse and Middle Duntisbourne.
The most well known and photographed of these is Duntisbourne Leer. It appears in most tourist guides and travel books that cover the Cotswolds and as soon as you get there it will be instantly recognisable, having appeared on tins of biscuits and other products. It is in fact a hamlet, and once belonged to the Abbey of Lire in Normandy, France until 1416, when it was given to Cirencester Abbey. It's local parish church is in the nearby village of Duntisbourne Abbots.
As you leave the A417 for 'The Duntisbournes' you come to a fork in the road, keeping to the left fork you will eventually start to go downhill and at the bottom will see a Ford, that crosses the road, with a farm cottage ahead of you, which also has a dovecote on the gable end wall, see Duntisbourne Leer Farm Dovecote.

Take a look to your right and you will see another smaller cottage with it's dovecote access points on the front of the building. This is the one we are interested in, in this guide. It has 34 holes across 3 rows and is very pretty in cotswold stone and makes up many of the pretty little cottages in this Cotswold hamlet.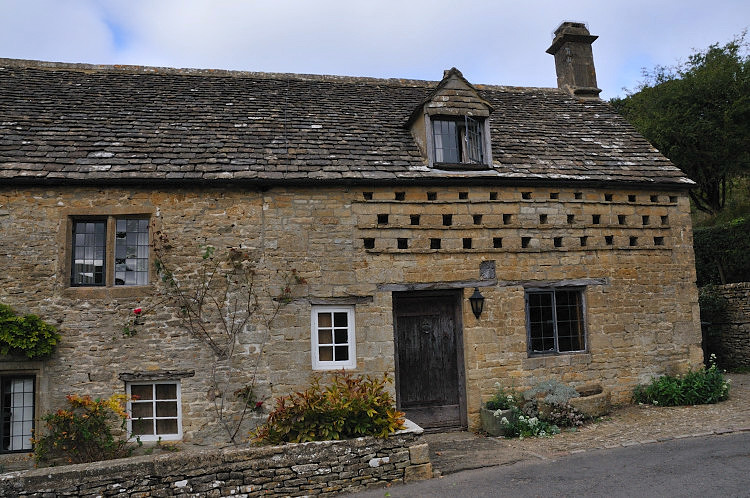 The cottage with dovecote in it's front wall
You can drive through Duntisbourne Leer Ford.

The roads in this area are single track so parking up can be a problem, but as long as you only intend to take a picture and then move on, pulling on the side where the houses park their cars in the evenings is acceptable.
Don't forget to also take the opportunity to photograph the ford while you are here. Going through the Ford, around the sharp lefthand bend, there is a road on the right marked 'unsuitable for motor vehicles' so not a wise move to go down here. The reason for this is that this is a 'Wet Lane', Duntisbourne Wet Lane,

so if you want to photograph this at the same time find somewhere safe to park up and take a walk down the lane. See our location guide on this to see what you will be missing if you don't take the opportunity to see it while you are here.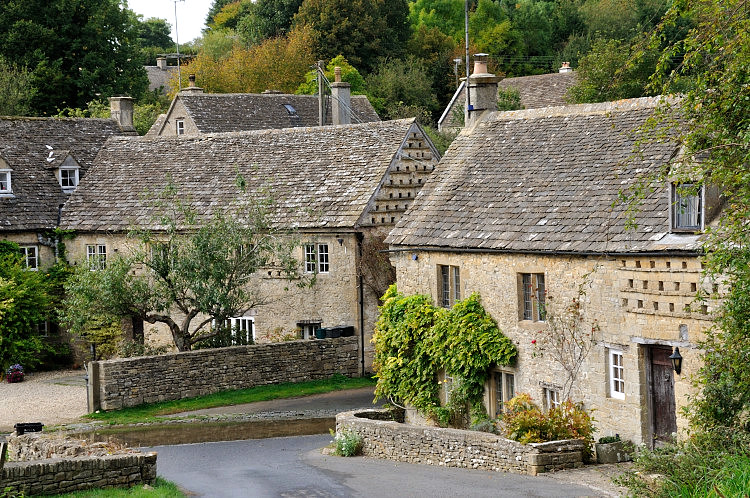 The cottage on your right, the farm and ford ahead of you.
---
Location: Dunstisbourne Leer Cottage Dovecot, Crabtree Lane Gloucestershire

Grid Reference:

SO975076

Ceremonial County: Gloucestershire

Map Link: Multimap

Aerial photo: Multimap Aerial

Getting there: From A417 take the exit to 'The Dunitsbournes', at the first junction take left at the next fork take the left fork, you are now in Crabtree Lane, follow this until you come to the Ford. The cottage with the dovecot on it's front is on the right.

Access: Can be photographed from the road, right next to one of the best photogenic fords.
Website:
Other Useful Websites:
Email:
Address: Crabtree Lane, Gloucestershire
Postcode: GL7 7AS
Telephone:
Opening Times: All reasonable times

Charges: None

Nearby Locations: Duntisbourne Leer Farm Dovecote Duntisbourne Leer Ford

Duntisbourne Wet Lane

Other Location Pages:

Other Relevant Pages: Dovecots Dovecots in England Dovecots in Wales

Notes:
Please let us know any other information that we can add to the Grid(s) or page and any errors that you discover. Before making a long trip to any location it is always wise to double check the current information, websites like magazines may be correct at the time the information is written, but things change and it is of course impossible to double check all entries on a regular basis. If you have any good photographs that you feel would improve the illustration of this page then please let us have copies. In referring to this page it is helpful if you quote both the Page Ref and Topic or Section references from the Grid below. To print the planning grid select it then right click and print the selected area.
Please submit information on locations you discover so that this system continues to grow.