John Constable, View on the Stour near Dedham, Then and Now

Flatford, Suffolk

Location Guide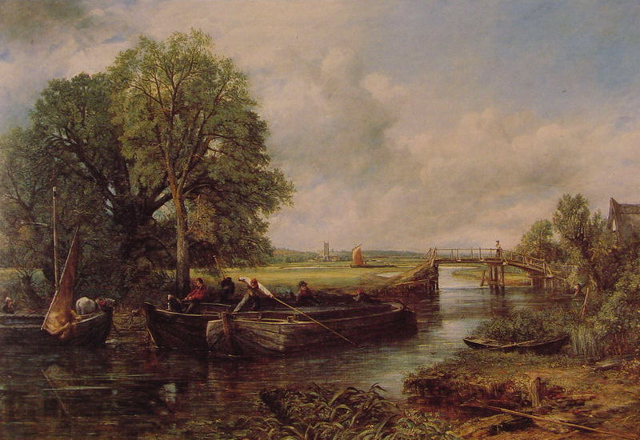 Exhibited first in 1822, it was the fourth of Constables great pictures measuring 51 by 74 inches. It was exhibited in 1824 together with the The Hay Wain

at the Louvre Exhibition in Paris gaining Constable a Gold medal. He put a lot of work into this, starting it in the autumn and painting it over the winter and finishing it in the spring, its based upon a sketch that was altered a number of times.
Full size oil sketch, but unusual as its a mirror view. This image however may be wrong, although I have seen it used this way around in several places, one book I have found it shown the same way around as the final painting.
This image whichever way around showed how Constable worked, first pencil sketches of component parts, then a full size oil sketch getting the perspective, landscape, composition correct, and when he was happy with this, copying it into a very finely painted masterpiece that takes months to produce. Today many in the art world prefer his oil sketches to his finished work, and while it has a more arty effect, I personally prefer his finished works, although the full size sketches are are as good as, if not better than, many others.
This is from a similar position today, Bridge Cottage from here is hidden by trees.
The position Constable and I was at was on the ground next to the boat building place, you can see where he would have stood in the Boat Building near Flatford Mill.

This is Bridge Cottage and the bridge from the opposite side of the bridge, but the mirror view is not this view as Dedham Church shown centre image is behind me at this point.
---
Please let us know any other information that we can add to the Grid(s) or page and any errors that you discover. Before making a long trip to any location it is always wise to double check the current information, websites like magazines may be correct at the time the information is written, but things change and it is of course impossible to double check all entries on a regular basis. If you have any good photographs that you feel would improve the illustration of this page then please let us have copies. In referring to this page it is helpful if you quote both the Page Ref and Topic or Section references from the Grid below. To print the planning grid select it then right click and print the selected area.
Please submit information on locations you discover so that this system continues to grow.