John Constable Painting, The White Horse, Then and Now

Flatford, Suffolk

Location Guide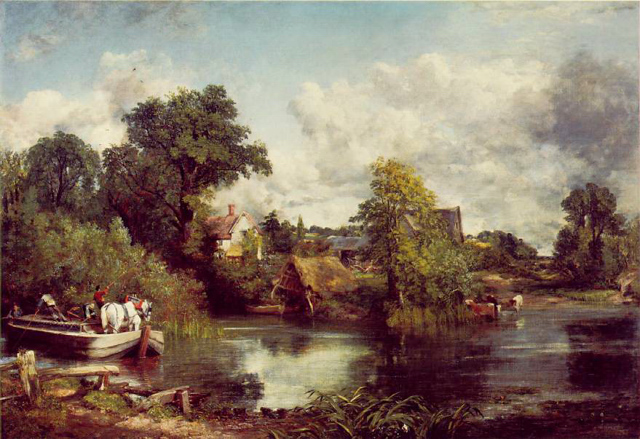 Like many of Constables paintings this iconic image is based on a view very near many of the others. The building on the left is Willy Lots cottage we have seen in the Hay Wain and several others, the channel from the left comes from the lock, and the central one is the route we see in the background of the extension of the rear passage from the The Hay Wain

where the water that has powered the mill re-enters the river. On this side of the river is a clear path that horses can use, it also appears to be a fording point across the river.
Constable really liked this picture and borrowed it back, having sold it, many times, putting it in various exhibitions. It is one of my favourite paintings.
Today its all completely overgrown, weeds, unmanaged trees and without having studied aerial photos and worked out where to stand you would not have a chance of getting to the same position. Given that this is one of Britons tourist attractions that many want to come and see you may be surprised to find the view toady is so polluted with weeds and overgrown trees, to the point that you cannot see it any more.
The view today - weeds and too many trees.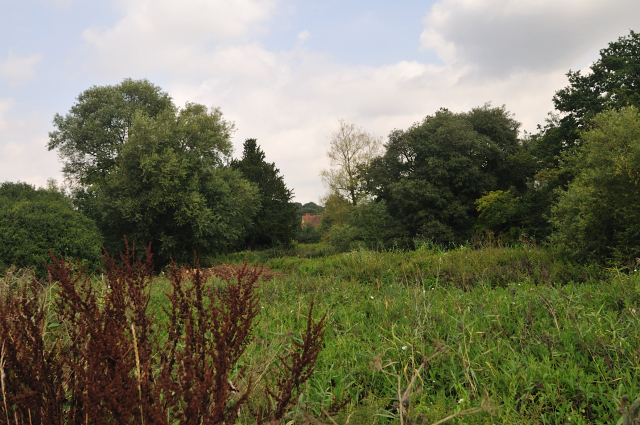 Move a little further down river, (to the left) you can see up the channel to the house and see the house, just.
looking back towards the bridge
The channel to the house goes between the large tree in the centre and the two smaller trees to the right, and the ford somewhere around the right of the two smaller trees.
From the aerial photo and map you can see the remains of the track shown in the photo directly ahead over the ford, this comes down towards the river and then takes a 90 degree turn at grid reference TM077331, running behind buildings and car park to a junction by Willy Lotts house. This track now just goes into a field but if you project it forward it would join up with another track that is pointing towards it at the opposite side of the field, before turning to follow the edge of the field. Beyond this it joins up with a maze of grass lanes.
---
| | |
| --- | --- |
| | |
Please let us know any other information that we can add to the Grid(s) or page and any errors that you discover. Before making a long trip to any location it is always wise to double check the current information, websites like magazines may be correct at the time the information is written, but things change and it is of course impossible to double check all entries on a regular basis. If you have any good photographs that you feel would improve the illustration of this page then please let us have copies. In referring to this page it is helpful if you quote both the Page Ref and Topic or Section references from the Grid below. To print the planning grid select it then right click and print the selected area.
Please submit information on locations you discover so that this system continues to grow.