The Dorset Coast Path is 73 miles long and is now included as part of the South West Coastal Path.

It starts at Lyme Regis and ends at Sandbanks, which means it also incorporates part of the Jurrasic coastline and many other features.
So what flora and fauna are you likely to see along the route. Well the limestone cliffs of the Purbecks are home to Puffins and orchids especially at Townsend Quarry. On the shingle bank of Chesil Beach you can come across sea pea and sea kale, the sand dunes at Studland have their own particular set of plants and insects. The wetland sites at Little Sea on Studland heath and the Fleet have an abundance of birds. Offshore there is a marine reserve at Kimmeridge with marine life particularly noticeable at low tide.
For full details of the path see here.

If you don't feel energetic enough to do the whole route in one go, it can be taken in a number of sections such as:
Lyme Regis to West Bay (10 miles)
Charmouth - see our featured guide on what you can find here by using this link Charmouth

.
West Bay to Abbotsbury (9 miles)
Here you could stop off and see the Swans at Abbotsbury Swannery

or the Sub Tropical Gardens.
Abbotsbury to Weymouth (14 miles), where on route you could take in the sites of:
Chesil Beach Shingle Ridge (aka Chesil Bank)
A well known 18 mile shingle beach stretching from Portland to West Bay. It is separated from the mainland by an area of salen water called Fleet Lagoon. There is also the Fleet Nature Reserve, and a visitor centre at the Southern End of Fleet Lagoon between Weymouth and Portland.
Weymouth to Kimmeridge (19 miles) and stop off to take a look at:-
Durdle Door
Durdle Door is a natural limestone arch on the Jurrasic Coast near Lulworth, between Swanage and Weymouth. Probably the most photographed and painted landmark on the Dorset coast. A walk down to the beach is very steep, or walk around the contour of the hill towards Scratchy Bottom and view it from the high ridge.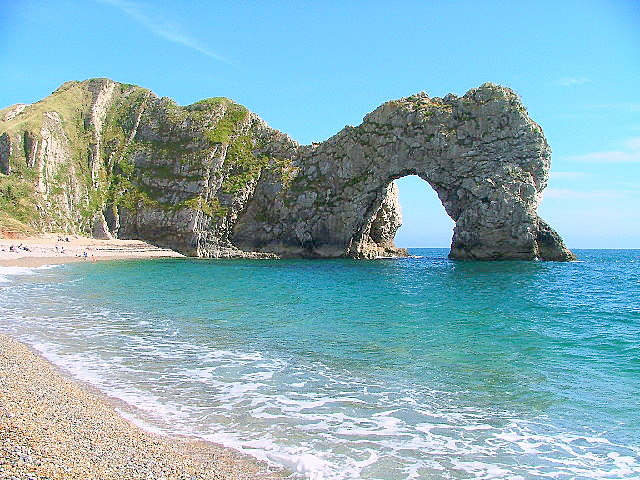 Kimmeridge to Swanage (13 miles)
Swanage
Location: Swanage, Dorset

Grid Reference: SZ034787
Ceremonial County: Dorset
Map Link: Multimap
Aerial photo: Google Aerial Photo

Getting there: From A35 just outside Poole take the A351 through Wareham and Corfe Castle until you reach the roads end at Swanage.

Website: http://www.swanage.gov.uk/

Other useful websites:

Notes:
Swanage to sandbanks (8 miles) taking a stop off at Studland to see Old Harry Rocks and take in Studland Bay.
Old Harry Rock stacks
Chalk stacks located east of Studland, below the cliffs at Ballard Down. The cliff is chalk with bands of flint and have been reduced over centuries by the sea. The downland habitat is home to a variety of chalk flora which is complimented by many species of butterfly including Chalkhill Blue and Adonis Blue.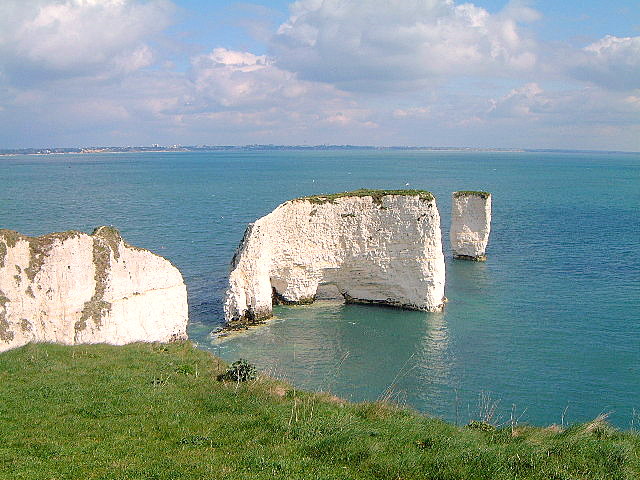 Sandbanks
A small piece of land jutting out at the opening of Poole Harbour is the Sandbanks peninsula . Three miles from Poole town centre. Sandbanks beach is 5 kilometres of golden sand and a Blue Flag beach popular with swimmers and bathers during the summer months. Watersports and other activities also take place. It is connected to Studland via a chain ferry, the Sandbanks Ferry which takes both car and foot passengers across the mouth of Poole Harbour.