Table
Significant Islands in the British Isles
Where the island name is hyperlinked, this links to an article or location page on this site, plus in most cases we have links to pages within Wikipedia. Most Wikipedia pages have a link at the top right to mapping services, that will let you see where the island is, as well as maps and aerial views. If you feel we have missed a significant island then please let us know, the objective has not been here to list every island, there are too many, but to list the significant ones, and those of specific interest. If you have knowledge of an island or photos then consider writing it up for us to add.
97 Scottish islands are populated, of which 92 are offshore islands. 14 islands are populated by over 1,000 people and 45 by over 100. The total population of all the islands in 2001 was 99,739. 5 freshwater islands are populated, 3 of these in Loch Lomond.
Scotland has over 790 offshore islands, plus many small islets and rock outcrops, most of which are to be found in four main groups: Shetland, Orkney, and the Hebrides, sub-divided into the Inner Hebrides and Outer Hebrides. There are also clusters of islands in the Firth of Clyde, Firth of Forth, and Solway Firth, and numerous small islands within fresh water in Scotland including Loch Lomond and Loch Maree.
In total 200 islands are larger than 40 hectares (100 acres), 12 of these being in fresh water. The largest island is Lewis and Harris in the Outer Hebrides, which extends to 2,179 square kilometres, and is a single island with a mountain range dividing it.
Traigh Uige, Isle of Lewis

Anne Burgess

It is estimated that there are 31,460 lochs (mostly freshwater lakes) in Scotland and many of these have islands where both the lochs and/or islands are not named on maps. Loch Lomond has over 30 islands including the largest freshwater island in the UK.
This plus the problem in defining what is an island means that no one has any idea as to the number or islands in Scotland. Governments often like to keep it this way as territorial waters and fishing areas can be affected by sovereign islands, for example Rockall, a small piece of rock that the waves break completely over, and is claimed by a number of countries, see below.
You will follow from this that we have not attempted to list all the islands of Scotland but to identify those that are more significant, this list will be further modified over time.
Scotland
Islands of the Clyde 40 islands plus smaller islets, 6 inhabited Wikipedia

Orkney 70 islands, 20 inhabited Wikipedia wiki list of islands wiki category Orkney islands

Stromness Harbour Hayley Green

Tylona Bay, Iona (Inner Hebrides)

Shetland 300 islands, 35 major islands of which 16 are inhabited Wikipedia wiki list of islands

Rockall A rock 31m (102ft) by 25m (83ft) to the far NW said to be British but also claimed by Ireland, Iceland and Denmark on behalf of the Faroe Isles. The relevance is fishing rights, a UN commission will be looking at this after 2014. The nearest point on land from Rockall is 301.4 kilometres (187.3 mi), or 162.7 nmi, east at the uninhabited Scottish island of Soay in the St Kilda archipelago. The nearest habited area lies 303.3 kilometres (188.4 mi), or 163.8 nmi, east at Hirta, the largest island in the St Kilda group. It is however only populated at certain points of time year-round at a single military base. The nearest permanently habited settlement is 367 kilometres (228 mi), or 198.1 nmi, west of the headland of Aird an Runair, near the crofting township of Hogha Gearraidh on the island of North Uist. Wikipedia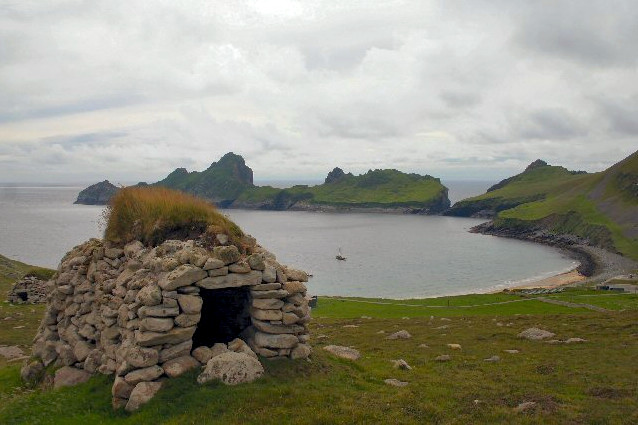 Village Bay, St Kilda

Bob Jones


Island of Soay

North Cullin Ridge from Portree Bay, Isle of Skye
---
See also:
Islands Topic page
Significant Islands of the UK:-
Identifying more islands of Scotland External resources:-
Island of Scotland on Wikipedia

Freshwater islands in Scotland on Wikipedia

List of outlaying islands of Scotland on Wikipedia

Wikipedia category - islands of Scotland


Tobermory, Isle of Mull (Inner Hebrides)