St Kilda

Outer Hebrides, Scotland

Quick Guide
See below grid for details
"A World Heritage Site"
The archipelago of St Kilda is the remotest part of the British Isles, is made up of four main islands and sea stacs and lies 41 miles west of Benbecula in Scotland's Outer Hebrides. It is one of the best places in Britain for diving because of its clear water and its submerged caves, tunnels and arches. It has the highest seacliffs in Britain – 1400ft (427m) and the highest sea stacs.
Its islands with their exceptional cliffs and sea stacs form the most important seabird

breeding station in north-west Europe and is a National Nature Reserve.
St Kilda was bequeathed to The National Trust for Scotland by the 5th Marquess of Bute in 1957. In the same year, it was designated a National Nature Reserve by the Nature Conservancy (now Scottish Natural Heritage

). Just before his death, the Marquess of Bute agreed to lease a small area of land on Hirta to the MoD as a radar tracking station for its missile range on Benbecula in the Outer Hebrides. (The lease was renewed in 1976 for a further 25 years.)
Today, these three organisations, The National Trust for Scotland, Scottish Natural Heritage and the MoD, who work in partnership to further a continuing programme of conservation and research on the islands and to ensure the care and protection of this World Heritage Site.
Other facilities include: TA small museum at House 3 in the village, and a shop and a WC in the village. A self-guiding walk leaflet around the village is also available.
What can you see and When is best to visit.
Spring: Seabirds arrive back to nest, gannets and fulmars arrive first in February, guillemots, razorbills and kittiwakes in March, in April the puffins (roughly 270,000 birds visit) and great skuas. The Soay sheep lamb in April with a few early arrivals in March.
April is also a good time to hear the St Kilda wren.
May: Storm petrels arrive, at night you can hear them calling. A good month for watching for spotting whales.
June: Razorbill and guillemot chicks, a good month for spotting whales.
July: Kittiwake chicks, a good month for spotting cetaceans and basking sharks
August: Puffins leave to spend the winter out at sea. Fulmar chicks visible on their nests.
September: A good month to spot migrant birds passing through: geese, waders and passerines.
October and November: Male Soay sheep rutting. Grey seals have pups.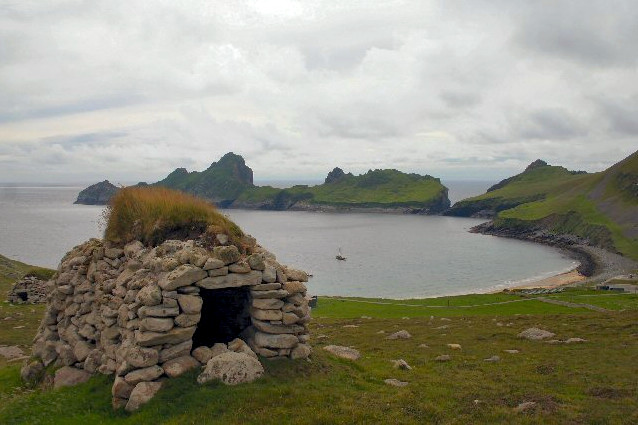 Village Bay, St Kilda

Bob Jones

---
---
This page is a Quick Guide, the idea of Quick Guides is to allow very basic information and linking forward information to be added to the system rather than having to wait until a full location guide has been developed. It should therefore be considered a development stage rather than a finished objective. Once more information is known the objective is to create either a Location or Featured Location page which has two grids and far more information.
Please let us know any other information that we can add to the Grid(s) or page and any errors that you discover. Before making a long trip to any location it is always wise to double check the current information, websites like magazines may be correct at the time the information is written, but things change and it is of course impossible to double check all entries on a regular basis. If you have any good photographs that you feel would improve the illustration of this page then please let us have copies. In referring to this page it is helpful if you quote both the Page Ref and Topic or Section references from the Grid below. To print the planning grid select it then right click and print the selected area.
Please submit information on locations you discover so that this system continues to grow.