Project
A Budget Trip to Photograph Niagara Falls (USA)
This project is a challenge to photograph Niagara Falls within a £400 budget.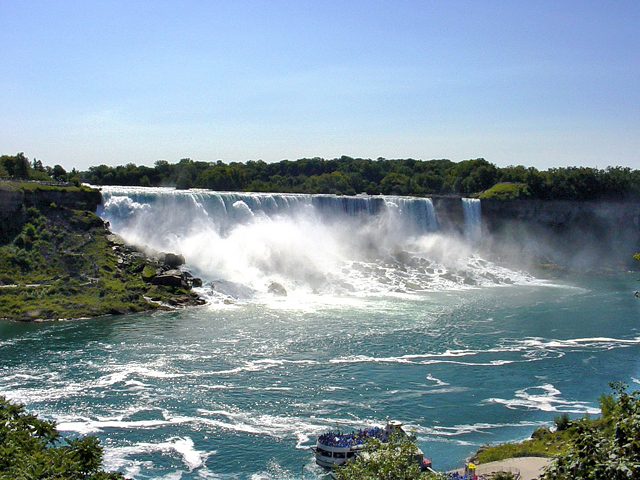 With the world credit and banking crisis in full flow (January 2009), the pound has reached a low at £1.33 to the US dollar, a while ago it was over £2, so many will be ruling out any photo trips at the moment as at this rate, all trips outside Britain will cost about half as much again as before. For this project we have limited the total budget for an overseas trip to under £400. Within this budget we have assumed that the photographer has existing annual travel insurance taken out that will cover this, and that he/she has a current passport. The only other assumption is that they have someone to drop and pick them up from a UK airport. Beyond this they need to be able to cover all costs, air and land travel, accommodation and food, out of the budget.
When travelling in the USA accommodation is available at many budgets, and generally cheaper than in the UK, likewise food is available at a range of prices, and you can get a good meal cheaply. The headline price of car hire is low but there are a number of additional insurances that adds up and car hire can be a significant part of any budget for a trip to the USA. The other major cost is air travel. In cutting our budget to the bone for this trip, we need therefore to give specific attention to the cost of flying and cost of ground transportation.
I want to show you how, in theory, I could achieve this, if I can find a slot available in my diary in a couple of months, I may put this into practice and then produce a follow up report with photographs. It might also bring up the possibility for a second project to see how soon I could get my investment back from the photos and articles I could create from the low budget trip.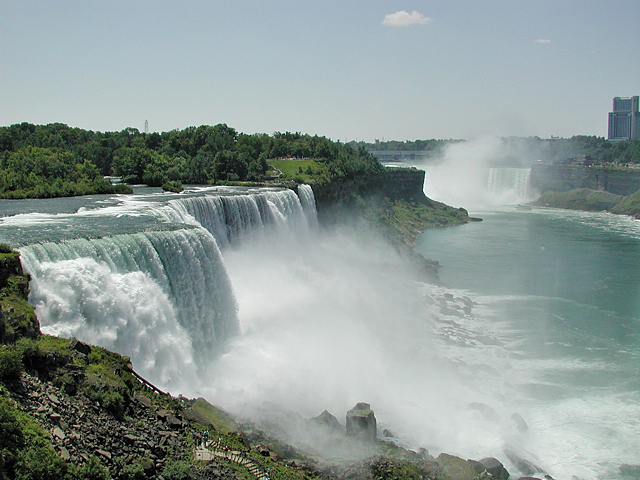 American Falls by Scott Kinmartin


Currently Niagara Falls has snow, and while the falls are attractive with snow and ice, I would prefer to expand my collection of falls photos without this, so I will leave my trip for a couple of months, by around mid March when the snow should have gone. I can easily check on the internet, from live webcams and traffic cameras that I can see online. By this time the UK pound may have recovered or continued its slide and prices on offer may change. At the moment while the currency is low, its the ideal time for people from outside the UK to visit, shop and have their training there.
---
My Solution
Getting to Niagara Falls
To get to Niagara Falls and back we need to get to the UK airport, fly to an international airport in the USA, fly on to Buffalo, get from Buffalo to Niagara Falls and the reverse of this coming back.
If you fly club/business class to Buffalo it costs well over £3,000, but in economy (cattle) class, the price varies greatly. If we book ahead its around £550 each way including taxes, but if we book a late deal, we can get this down. Booking just a few days ahead I found a range of American Airways (AA) flights for £177 out and returning 3 or 4 days later for £111, one was at £103, these included taxes. The return journey was via France so cheaper with three flights and took longer. Discount companies offered fractionally lower headline prices, some saying this included taxes, but from experience you then either have to pay more for using a credit card to book or have to have additional travel costs to visit their office to pay in cash, other methods not being available as the time involved is so short. So I am for this project sticking with the AA price. So air transport is using up £177+£103= £280 of my budget.
Getting from Buffalo to Niagara Falls, I have done a number of times, just by hiring a car at the airport and driving, it's not far, and does not take long if you use the freeway. The cost of this, for the car hire, all the insurance additions, fuel, and freeway tolls etc, is expensive. On this project however I don't have the budget to do this. There are other options including a Metro Service, trains, coaches, buses, etc that work together and this is a low cost and reliable way to get about this area. Getting from Buffalo airport to Niagara Falls (Route 210) costs $2.35 each way, and takes 30 to 40 minutes. The central area of Niagara Falls is not large, and has pavements on all roads, so walking around and to the Falls is not a problem. However if I wanted to move slightly further then buses run regularly on set routes, with each individual element a low fare or you can get a Day All Zones pass for $4 or $7 for a weekend. So ground transportation to and from the Falls area is $4.70, maps of routes and timetables I can print out before I leave, as they are available online.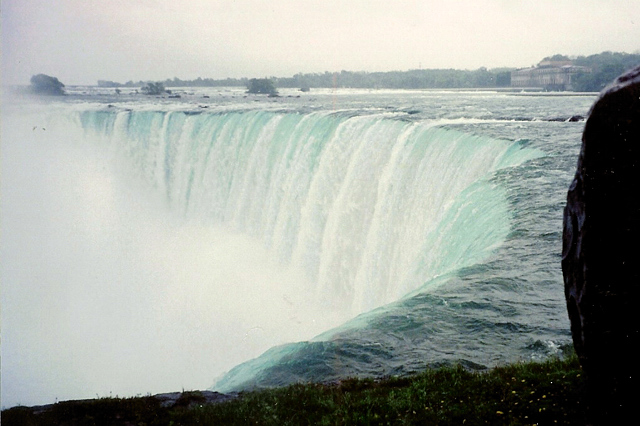 Canadian Falls from Canada

By Ken Lund

Accommodation
Accommodation in Niagara Falls is available at all budgets, and there are a great many rooms available. You have top hotels charging quite a bit, budget hotels, and below this, B&B and hostels. Hostels have either dormitory or individual rooms. As Hotel prices in the USA are lower than the UK, I would normally enjoy the luxury accommodation but as my budget is limited on this project, I am looking at Hostel accommodation but with a room that is locked, as I will have camera equipment with me and would not like the risk of it going missing while I was asleep. So my choice on this occasion is for a private single room with shared bathroom at $18 a night . If I had wanted to use dormitory accommodation both single sex and mixed accommodation is available at a low cost.
Entry Costs
To photograph the Falls does not involve me in any cost, I can do this from public areas. In the past I have also done this from one of the 'Maid in the Mist' boats, but you get quite wet, and also an aerial view from a low cost flight over the Falls in a helicopter. You can also go down a lift and walk out via the small waterfall to get in front of the American Falls. If I wanted to also photograph the Falls from the Canadian side there is a footbridge in the centre of Niagara into Canada. For this project I am looking at photographing the Falls from the American side including the island in the centre, and doing this from public areas.
Photo Opportunities
There are three waterfalls, the American Falls, Canadian or Horseshoe Falls and a smaller one in between. The border of Canada and the USA runs down the centre of the Canadian Falls. The island in the centre being on the American side. Therefore although you can photograph the Falls from either the USA or Canada, you have a wider range of shots available from the American side. Simpler low cost accommodation is available on the Canadian side so a trip with some nights on each side would also be possible.
There are a lot of other photo opportunities, so although not a part of this projects challenge, I would expect to get wildlife photos, other shots of the river and canyon, the whirlpool, boats and a lot more, cultural, transport and many other opportunities also exists.
Total Cost
So transport in the USA and accommodation comes to $4.70 for the transport and 3 nights at $18, a total of $58.70, at the current poor rate of the pound this is £44.14, added to the air costs this comes to £324.14 leaving £75.86 or $100.90 which would be sufficient, if I budget carefully, to eat while in the USA, and I could probably also manage an extra night as well, perhaps in Canada. So at least in theory this project is achievable, so it will be fun to try and put it into practice.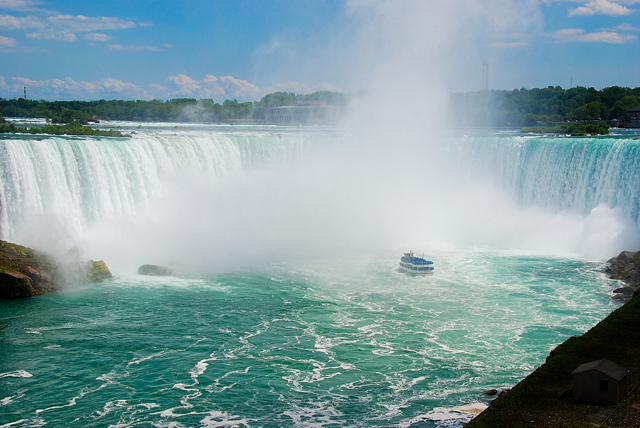 Canadian or Horseshoe Falls


---
See Also:
Air travel

American Airways www.aa.com

Buffalo-Niagara Metro

including prices, routes, maps, timetables metro.nfta.com

Airport service page metro.nfta.com/Routes/Airport.aspx

Route 210 diagram/PDF schedule metro.nfta.com/Routes/Routes.aspx (Seasonal Route)

Budget Accommodation

www.travellerspoint.com/budget-accommodation-en-ci-3593.html

USA Visa and Passport requirements

www.unitedstatesvisas.gov (UK and many others are covered by the Visa waiver Program).
The prices in this guide were valid in 2009. It has come to our attention that the Metro Route 210 which takes you from Buffalo Airport to Niagara Falls now operates during the summer months only (May-October) and the cost is now $1.75 each way. 01/2011
All the external links on this page were last checked and updated January 2012.
---
See Also the Waterfalls Section

for more articles on waterfalls and how to photograph them as well as links to listings of them by country and individual locations guides.