Ingleborough

nr Ingleton, Yorkshire

Quick Guide
See below grid for details
Ingleborough is one of the 'Three Peaks' of the Yorkshire Dales, the other two being Whernside and Pen-y-Ghent. It's flat top of millstone grit sits on top of a carboniferous limestone plateau. The view down Ingleborough and its neighbours Simon Feel and Park Fell is spectacular and a summer sunset will catch the limestone pavement.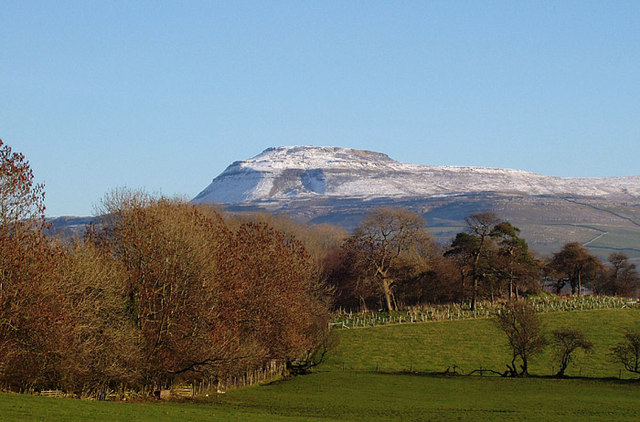 A Winter View of Ingleborough as seen from the A65

by Allister Combe
Streams from the top run down the slopes and disappear underground into a network of potholes and caverns. A visit to Ingleborough Cave

will show how this happens and what affect it has on the landscape.
There are also a range of different waterfalls in this area including the Ingleton Waterfalls Trail,

where on a 4.5 mile walk through woodland you can see 6 impressive waterfalls.
---
---
This page is a Quick Guide, the idea of Quick Guides is to allow very basic information and linking forward information to be added to the system rather than having to wait until a full location guide has been developed. It should therefore be considered a development stage rather than a finished objective. Once more information is known the objective is to create either a Location or Featured Location page which has two grids and far more information.
Please let us know any other information that we can add to the Grid(s) or page and any errors that you discover. Before making a long trip to any location it is always wise to double check the current information, websites like magazines may be correct at the time the information is written, but things change and it is of course impossible to double check all entries on a regular basis. If you have any good photographs that you feel would improve the illustration of this page then please let us have copies. In referring to this page it is helpful if you quote both the Page Ref and Topic or Section references from the Grid below. To print the planning grid select it then right click and print the selected area.
Please submit information on locations you discover so that this system continues to grow.