Ingleborough Caves

Clapham, Yorkshire

Quick Guide
See below grid for details
A wonderland of sculpted passages and cave formations that were unveiled in 1837. It was one of an outflow for the streams that flow through the Gaping Gill Cave system. A concrete path takes you into the mountain and discrete lighting displays allow the stalactites and stalagmites to be viewed. A natural phenomenon which you are guided through by an expert guide.
To reach the cave from the car park there is a signposted route pass a church, an impressive waterfall to an old sawmill building and the entrance to the Ingleborough Cave Estate Nature Trail. There is a small charge for the trail and is a 2km walk passing a lake, through a wooded valley to the entrance of the cave. Allow half an hour for the walk.
Tours are every hour on the hour, but in busy periods can be every half an hour.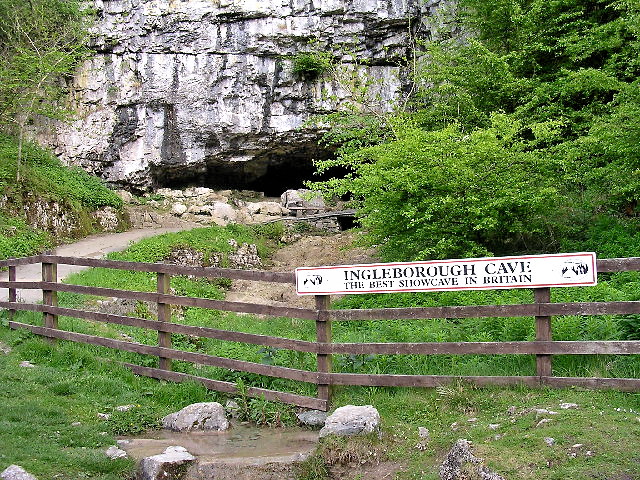 ---
Location: Ingleborough Cave, Clapham, Lancaster, Lancashire

Grid Reference: SD754710
Ceremonial County: Lancashire

Map Link: StreetMap

Aerial photo: Google Aerial Photo

Getting there: Just off the A65 Leeds to Skipton Road. Ample parking in Yorkshire Dales National car park. Following the signed Nature Trail route on foot past to the cave.

Access: No wheelchair access. Slight stooping is necessary in two short areas.
Website: www.ingleboroughcave.co.uk
Other Useful Websites:
Email: info@ingleboroughcave.co.uk
Address: Ingleborough Cave, Clapham
Postcode: LA2 8EE
Telephone: 01524 251242
Opening Times: Every day from February half-term to end of October 10am-4pm. During holiday periods 10am-5pm.

Charges: Adults £7; Chid £3.50, FREE for those under school age; Family (2+2) £18

Nearby Locations: Ingleborough Ingleton Waterfalls Trail, Ingleton, Yorkshire
Other Location Pages:

Notes: Shop at cave entrance. Hard hats are provided during tours.
---
This page is a Quick Guide, the idea of Quick Guides is to allow very basic information and linking forward information to be added to the system rather than having to wait until a full location guide has been developed. It should therefore be considered a development stage rather than a finished objective. Once more information is known the objective is to create either a Location or Featured Location page which has two grids and far more information.
Please let us know any other information that we can add to the Grid(s) or page and any errors that you discover. Before making a long trip to any location it is always wise to double check the current information, websites like magazines may be correct at the time the information is written, but things change and it is of course impossible to double check all entries on a regular basis. If you have any good photographs that you feel would improve the illustration of this page then please let us have copies. In referring to this page it is helpful if you quote both the Page Ref and Topic or Section references from the Grid below. To print the planning grid select it then right click and print the selected area.
Please submit information on locations you discover so that this system continues to grow.