Durdle Door

Nr Lulworth, Dorset

Location Guide
Durdle Door is a giant natural limestone arch on the Jurassic Coast near Lulworth in Dorset. It is probably the most drawn, painted and photographed landmark on the Dorset Coast.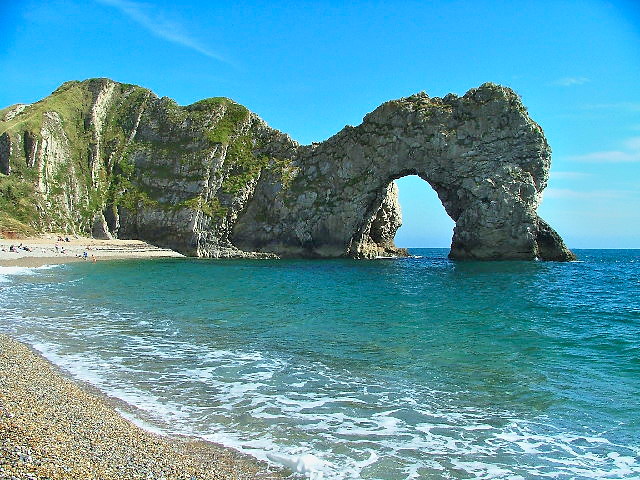 It is situated on the Dorset coastline between Swanage and Wemouth and is a rock arch that has been formed as a result of the softer rocks being eroded away behind the hard portland limestones allowing the sea to punch a hole through them. The offshore stacks and magnificent Portland Stone arch front a rollercoaster of towering chalk peaks and plunging dry valleys. It is an area of outstanding natural beauty.
Below the cliffs is a sweeping beach, which was once 3 coves, suitable for bathing or snorkelling from, caves and rock strata. It is a mixture of sand and small pebbles depending on the winter storms. The eastern end (Durdle Door Cove) is protected by the arch, while the rest of the beach is partially sheltered by a submerged offshore reef. The beach is bounded at the western end by Bat's Head, a chalk headland. All the cliffs backing the beach are steep and prone to occasional rockfalls, so climbing or sheltering underneath them is not advised. The beach shelves quite steeply so it is possible to get close to the water. From the top of the steps you can get views of both bays although a full sweep will probably need a very wide angle lens. There are no facilities on the beach itself, the nearby Holiday park has facilities though.

Access is via the Durdle Door Caravan Park, part of the Lulworth Estate or it can be reached from Lulworth Cove car park by a half-hour walk along the Dorset Coast Path or South West Coast Path. This runs along the clifftop/headland overlooking Man 0'War Bay (enclosed almost as a lagoon by the Man 0' War Rock). It can also be accessed from the sea and there are regular boat trips which take you out to see it in the summer season.
---
Location: Durdle Door, Nr Lulworth, Dorset

Grid Reference: SY809805
Ceremonial County: Dorset

Map Link: Multimap

Aerial photo: Google Aerial Map

Getting there: Take the A352 through East Knighton and then follow the signs to Durdle Door.

Access: From March to October Pay and Display car park at cliff top accessed through the Durdle Door Holiday Park. Out of season small car park by main gate. From car park follow the main chalk track (around a third of a mile) to the 150 steps down to the beach.
Website:

Other Useful Websites: Wiki Jurrasic Coast

Email:
Address:
Postcode:
Telephone:
Opening Times: Any time

Charges: March-October pay and display car park on cliff top

Nearby Locations:
Other Location Pages: South West Coast Path Dorset Coastal Path

Notes: No facilities for refreshments or toilets on the beach itself but there are public toilets in Durdle Door Holiday Park and there is a refreshments van situated adjacent to the path.

---

| | | |
| --- | --- | --- |
| CIN Page Ref: durdle_door | Classification: Beach | Date Updated: 10/2008 |
---
Please let us know any other information that we can add to the Further information and Planning Grids or page and any errors that you discover. Before making a long trip to any location it is always wise to double check the current information, websites like magazines may be correct at the time the information is written, but things change and it is of course impossible to double check all entries on a regular basis. If you have any good photographs that you feel would improve the illustration of this page then please let us have copies. In referring to this page it is helpful if you quote the CIN Page Ref at the bottom of the Planning Grid above. To print the planning grid select it then right click and print the selected area.
Please submit information on locations you discover so that this system continues to grow.