Article
Wildlife Photography in November
November starts with a 'big bang' with bonfire night on November 5th, however this is not a good time for some of our wildlife particularly hedgehogs. Bonfires and fireworks attract us humans in their thousands all over the country to see the spectacular and to be warmed on a cold winters night, however bonfires for hedgehogs is an attractive potential hibernating spot for the coming winter. Therefore if you have a bonfire in your garden and if you have used fallen leaves, please do check before you light it that a hedgehog has not curled up in it's spiky ball beneath your grand creation for his winter sleep.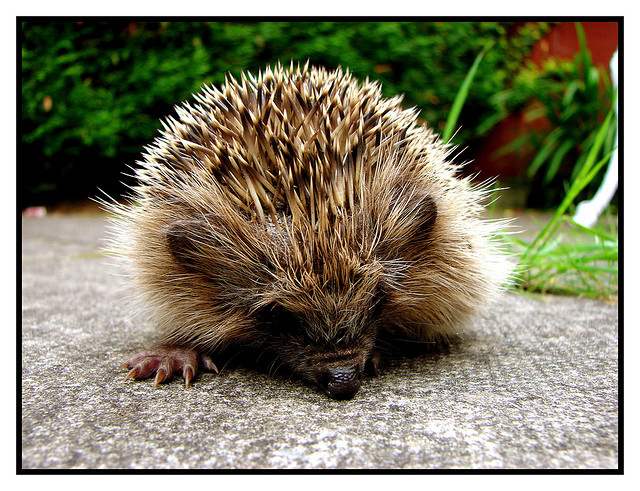 Hedgehog by David Reece

The countryside around us at this time of year has lost most of it's lush spring greens with our tress and woodlands are now in their autumn coats of yellows, oranges, gold's and browns before they all become bare for the winter. Carpets of brown crispy leaves on woodland floors create great habitats for insects, bugs, hibernating hedgehogs and the last of the autumn fungi, mushrooms and toadstools will be on display, such as the Puffball where a single drop of rain can create a cloud of dust/spores, and the sulphur tuft fungus that grows on rotting wood and bracket fungus on tree trunks. If you haven't managed to get out and photograph it during October then do so soon as by the end of this month the trees will have lost their leaves and will be barren until the spring. Trees of note this month includes the Oak tree that waits until November to put on it's best autumn show and its acorns rain down onto the woodland floor for Grey Squirrels

and Jay's to disperse them. Look closely at the bare trees and you may see the occasional Tree Creeper or Nuthatch. Hazel trees produce their catkins and Ivy will produce late yellow-green flowers and will be a source for elusive insects on warm sunny days. In areas where they are present, such as the Northumberland National Park and Formby Point

in Lancashire, Red Squirrels

will also be busy gathering food before they winter in their dreys, they are often easier to see this time of year when there are fewer or no leaves on the trees.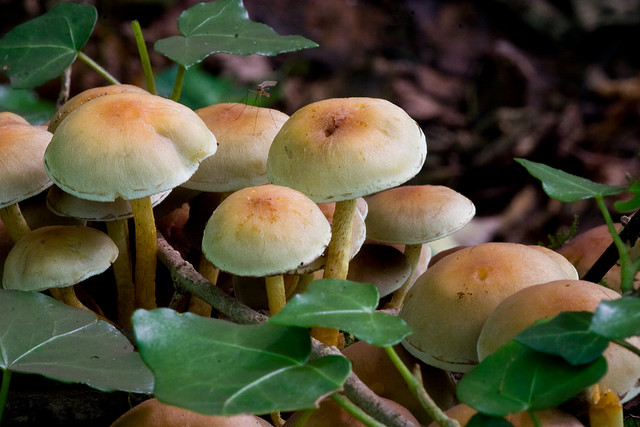 Sulpher Tuft Fungus by Ivan Teage

Rookeries become more noticeable as the trees loose their leaves and communities congregate in their treetop nests. Nest holes of Woodpeckers

are easier to spot in dead or old trees, with rotting heartwood being their favourite places. Owls will also be more noticeable as they have to spend longer in the air searching out their prey as mice and vole numbers fall. The Tawny Owl is also very vocal at this time of year as it tries to attract a mate.
The last of the summer migrants have now left us and with bare trees it is now easier to spot our resident birds and those winter visitors such as Fieldfare

and Redwing.

In the fields you will see flocks of roaming tits and finches such as Chaffinch and Brambling as well as Rooks and Crows and in the towns and cities it is difficult to miss the large Magpie or more colourful Jay. This month is also the start of one of winters highlights, the huge magical formations of flocks of starlings in the evening sky as they mass together to roost. It is a spectacular site as they move around the sky chattering and squawking, eventually seeming to all fall out of the sky in one large mass into their chosen roost below. In towns and cities their roost can be a collection of nearby trees in the countryside it is likely to be reed beds.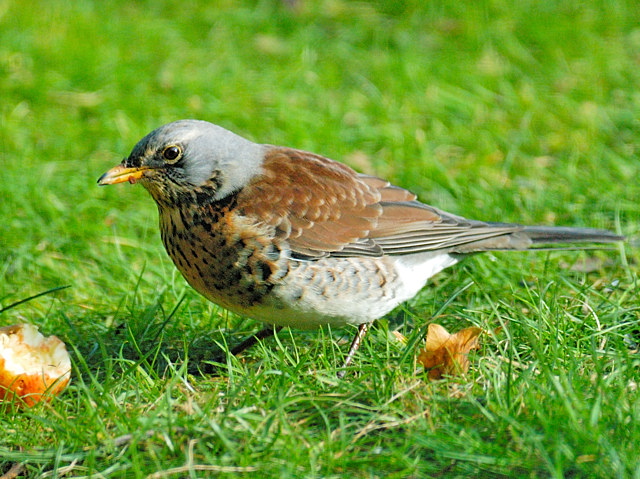 Fieldfare feeding on fallen Apple
In the hedgerows at this time of year traditional country hedges are full of blackberries, elderberries, rosehips, haws and sloes which offers a plentiful food source for birds. The black bryony threads their stems, covered in poisonous red berries in clusters, through the hedges. And the Hawthorn berries are a good winter source of food for the visiting Redwings and Fieldfares. The Old Mans Beard is also finally opening its fluffy seed heads.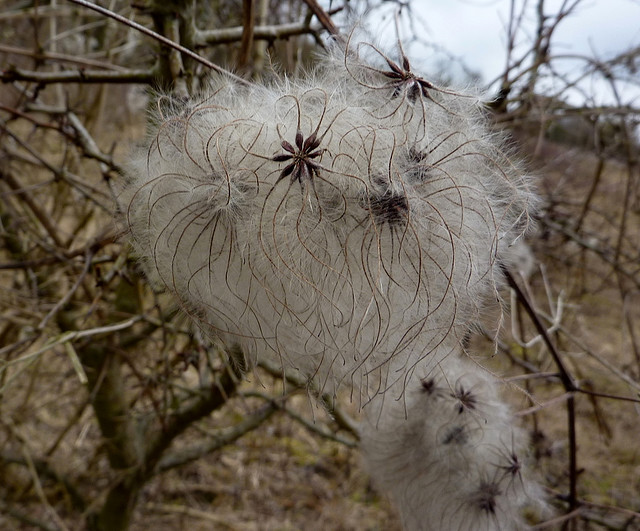 Old Mans Beard by Andrew Hill

Badgers will be continuing to fatten themselves up for the long winter, they don't hibernate as such but do reduce the amount of activity over the winter months spending much more time in their dens. Bats also may be seen at dusk feeding up on the remaining insects of this year. They don't as such hibernate, but reduce their metabolism and body temperature in order to reserve their fat stores, only appearing on warmer days to top up.
In our gardens, especially if you have a bird feeding station, you may see the colour Goldfinch or queues of small flocks of greenfinches, chaffinches and sometimes sparrows as they take turns at the feeders. Also Robins, Wrens, Blackbirds and Song Thrushes will be on the lawns looking for worms and fallen fruit, but also in song on the warmer days. Many insects will now be over wintering however you still may glimpse wasps, ladybirds, earwigs and peacock butterflies in warm nooks where the air is moist but not so cold, such as in your garden sheds, garages or attic spaces.
Probably the most spectacular of the winter visitors can be seen on the lakes, estuaries and wetland centres with the waders and wildfowl, where large numbers having migrated from arctic regions following their breeding season return to our shores. Slimbridge WWT,

in Gloucestershire is already receiving its annual mass of Bewick's Swan,

many of the same characters returning, and during the coming months there are evening lighted feeds on the Bewick's lake. Estuaries will be filling with Wigeon, Teal, Tufted Duck, Shovelers, Lapwing and an array of ducks. Whooper Swan

will also be returning to Ireland, parts of Scotland such as Caerlaverock WWT,

Martin Mere WWT Lancashire

and Welney WWT

in East Anglia.
Geese are also returning and large flocks of Barnacle Geese

can be found in Christchurch and Poole Harbours in Dorset, and over 24,000 of them have been known to roost on the mudflats of the Solway firth and Caerlaverock.

White Fronted Geese

and Greylag Geese

are also returning to their wintering sites throughout the UK, and like the swans they have come all the way from the arctic where they breed during the summer months, to take advantage of our normally milder winters. Ynys Hir Nature Reserve,

in Wales gets a small population of White Fronted Geese

a few Pink Footed Geese

and around 300 Barnacle Geese.

Martin Mere WWT

in Lancashire is the hotspot in England for Pink Footed Geese

with over 36,000 counted in October 2010.
| | |
| --- | --- |
| | |
| | |
Grey Seals

are giving birth to pups around the west, north and north-eastern coastlines. Half the world's population of Grey Seals live around UK shores. They only come to shore for extended periods at this time of year while they are giving birth. They will feed their pups with milk for three weeks and it is during this time that their white fur changes to grey. Once it is old enough, the mother will visit the sea to feed. Pups takes two months to reach an age where it can join its mother at sea. Whilst ashore the females take the opportunity to mate again for next season and on the shorelines you will see bull (male) seals competing with each other for the right to mate, the largest of which usually winning and taking a harem of up to ten females.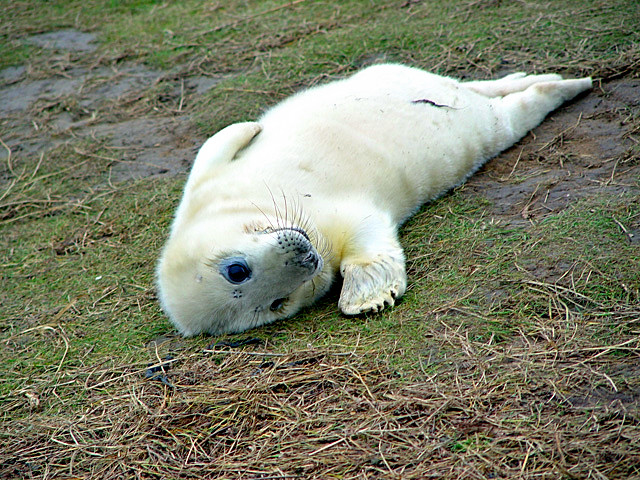 Grey Seal Pup by Peter Church

In Rivers Atlantic Salmon and Sea Trout, are migrating back to the gravely shallows up stream to give birth to their next generation. As they swim against the current the spectacle is when they can be seen leaping out of the water to get over weirs and low waterfalls to reach their final destination. And for the Salmon adults it is their final destination as once the eggs have been laid and fertilised they will die, exhausted but relieved that they made it. Some good places to see this include the River Tyne and River Breamish in the North of England. the River Tweed which marks the border of Scotland and England is probably one of the best places to see migrating Atlantic Salmon with the best place to see them at the River Ettrick tributary where there is a viewing point with live feeds from underwater cameras at Philiphaugh Salmon Viewing Centre.

The best time to see them jumping is after a dry period followed by heavy rain.
In the mountains where the ground is highest and countryside at it's wildest is where you will find Red Deer,

Grouse, Ptarimigan and Mountain Hares foraging for food. In the north of the UK stoats will be moulting loosing their russet summer coats and taking on their white coat for winter camouflage.
Although winter is now fast approaching there is still much going on in our countryside and still much to see and enjoy of the UK's Wildlife and Nature. It is a good opportunity to explore the countryside and get some good photos of what you see.
---
So what else could you photograph this month:-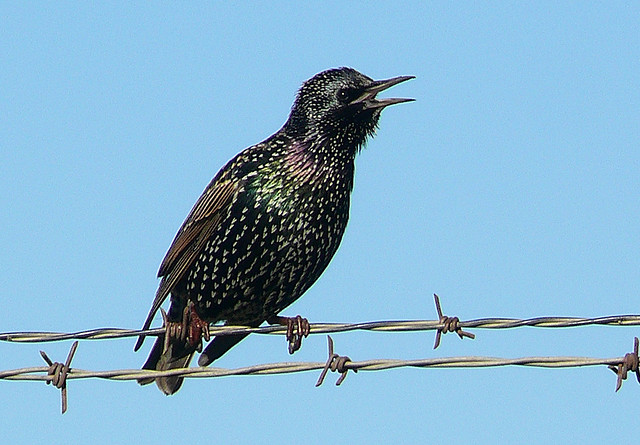 Starling by Linda Tanner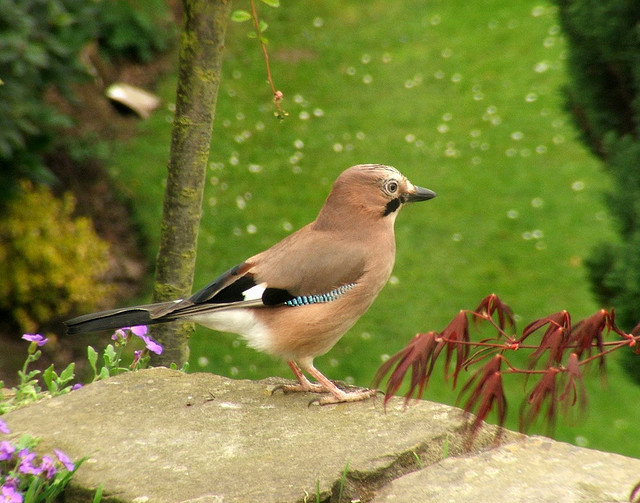 Jay by Richard Lowkes

Share your wildlife photos
Let us expand our coverage of what can be photographed each month by including your photos. - Why not Contact Us.
---
More Information
See also the Nature and Wildlife calendar - November

Other species can be found listed in the Wildlife and Animals

section of the Topic Index and plants within the Nature, Flora and Countryside

section, more lists may be found from the Wildlife & Nature

index page within the reference section. These lists also give you links to other websites allowing you more information on what we have and haven't yet covered.