Maes Howe

also written Maeshowe

Stegness, Orkney, Scotland

Location Guide
"A part of the World Heritage Site - Heart of Neolithic Orkney"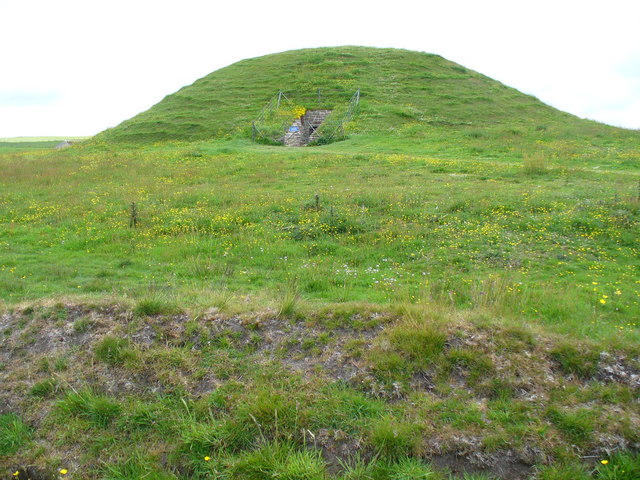 Maes Howe showing entrance Photo By Colin Smith


A chambered cairn and passage grave of a similar design to Newgrange in Ireland. It is a part of the World Heritage Site including a number of Neolithic features on Orkney. These together are said to represent the second most significant collection of Neolithic sites after the Stonehenge
and Avebury
area, in the UK. I think I would need to add Stanton Drew,
however allowing for this and realising Stonehenge and Avebury are some way a part and really two areas, its still the 4th most significant area.
It is a grass mound rising from a flat area at the east end of the Loch of Harrey. The mound is 115ft (35 metres) across and 24ft high (7.3 metres), and 50-70 feet away from the mound is a ditch 45ft across, and banks.
The mound is over a complex of passageways and large stone slabs some weighing up to 30 tons. The alignment is such that at the mid winter solstice (21st December) and 3 weeks either side of it, light goes down the entry tunnel illuminating the rear wall. The same occurs at Newgrange. The sunís rays align with a standing stone, the Barnhouse Stone, standing 800m SSW of Maes Howe.

The entry passage is 36ft long, and about 3ft high, and leads to a central beehive shaped chamber currently 12.5ft high, 4.7 meters across, its said that the original height may have been 15ft or as high as 20ft. It is necessary to stoop or crawl to reach the chamber.

There is a recess in the passage side that contains a blocking stone that would allow those inside to seal off the outside world from view. The blocking stone however leaves a gap 4.7 inches to the top of the passage roof. There are some suggestions that this may have formed a lightbox, and with other parts allowing a camera obscurer like image to be created.

Entry passage from inside

By Bob Burke

The central chamber has square buttresses in the corners sticking into the chamber. The side walls start off upright, as is the whole of the rear wall. There are three smaller side areas off on each side around the centre of the upright sections off the side walls and one off the rear wall.

There are other tombs of a similar type called 'Maeshowe type' on Orkney, but this is the largest and most complex of these.

Central Chamber by Malcolm Morris
There is an optical peculiarity in the geographic location, in that for a period around 20 days each side of the winter equinox the sun sets behind the hill, but then due to its course peeks out again around a lower point before finally setting. This generally occurs on December 1st and on January 10th, the sun disappears for 7 minutes then reappears for a minute.
This dates from Neolithic times around 2,800BC, but was robbed by the Vikings in the about the 12th century, lead by Viking Earl Harald Maddadarson and Ragnvald, First Earl of Mere. Over 30 runic inscriptions on the walls are the worlds largest collection of this writing form.
A Neolithic low road connects it with the preserved village of Skara Brae

passing near the Ring of Brodgar Stone Circle,
and Stenness Stone Circle.
Low roads are often found across Britain connecting ritual sites.
It is thought that there may have been a large stone circle around Maes Howe.

At the standing stones of Stenness there are two large flat stones with gaps between, this aligns so that Maes Howe is in the gap between. Its not known if there is any significance in this.

Maes Howe was taken into state care in 1910 and given a concrete roof and top rounded off, before this it had a different appearance and according to an 1862 sketch had a hole in the roof that people used to access it, before the entrance tunnel was unblocked, the damage being done that created the hole by earlier excavations.

As at 1862
---
Location: Maes Howe, Stegness, Orkney, Scotland

Grid Reference: HY318127
Ceremonial County: Orkney Isles

Map Link: Multimap

Aerial photo:

Getting there: On the main island of Orkney

Access: Public access. Access to Maeshowe is via a 12 metre length narrow passageway measuring 1.19 metres high by 0.7 metres wide.
Website: www.maeshowe.co.uk/

Other Useful Websites: Historic-Scotland. Orkney Wikipedia Geograph Images

www.orkneyjar.com/history/maeshowe/ Orkney tourist board

www.megalithic.co.uk/shop/maes_howe_video.htm

Email:
Address:
Postcode: KW16 3HA
Telephone: (01856) 761606.

Opening Times: Open 9.30am-5pm in the summer months; 9.30-4pm in the winter.

Although the visitor centre closes at 5pm in summer, some tours may also start at this time.

Twilight tours in June, July and August 6PM, 7PM and 8PM

Booking in advance is required

Admissions to Maeshowe are through a timed ticket that gives a set time for the start of the guided tour at Maeshowe. All visitors are required to book in at Tormiston Mill which is the Visitor Centre for Maeshowe.

You may reserve a time in person at Tormiston Mill or by requesting any other Historic Scotland Site to contact them on your behalf.

Tickets can only be obtained on the day from Tormiston Mill Visitor Centre:

Tormiston Mill Visitor Centre on 01856 761 606 or

Skara Brae on 01856 841 815.

Tours are usually on the hour and last an hour, but check for latest details. Maximum number per tour is 20 See tour detail page

Charges: Maeshowe is managed by Historic Scotland and offers hourly tours.

Free to Historic Scotland members.

English Heritage members FREE second membership year plus, 50% off in first year.

Others: Adult £5.20; Child £2.60; Concession £4.20

Nearby Locations: Ring of Brodgar Stone Circle, Orkney

Stenness Stone Circle, Orkney Skara Brae Ė settlement Orkney

Other Location nearby: see tourist board page on this section of the island
Other Relevant Pages: World Heritage Sites in the UK

World Heritage Sites World Heritage Sites - Further Information

Notes: During the winter solstice every year the sun shines down the long entrance passage and lights up the back wall. This occurrence has become so celebrated that it can even be witnessed on the internet at www.maeshowe.co.uk
For parking other than cars call 01856 761 606.
Please let us know any other information that we can add to the Grid(s) or page and any errors that you discover. Before making a long trip to any location it is always wise to double check the current information, websites like magazines may be correct at the time the information is written, but things change and it is of course impossible to double check all entries on a regular basis. If you have any good photographs that you feel would improve the illustration of this page then please let us have copies. In referring to this page it is helpful if you quote both the Page Ref and Topic or Section references from the Grid below. To print the planning grid select it then right click and print the selected area.
Please submit information on locations you discover so that this system continues to grow.