Tregwehelydd Standing Stone

Stryd y Facsen, Anglesey

Location Guide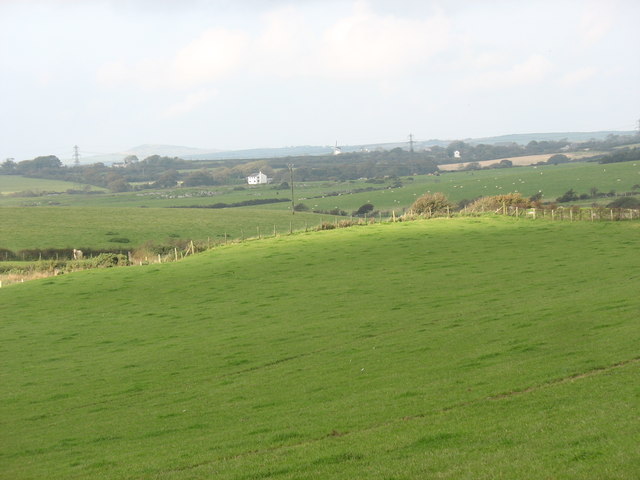 View across grazing lands towards Maen-y-goron

Photo by Eric Jones

Maen y goron (= crag of the crown) is the white house across the valley. The restored
Melin Llynnon Mill at Llanddeusant can be seen middle ground and, in the
background, left, is Mynydd-y-garn (hill of the cairn).
These fields are used mainly for the grazing of sheep.
In this photo the stone should be to the left, and it may be the stone that can be
seen on the left, with two sign board by it, that at first appears to be a cow
A single bronze age standing stone that has split into three sections and is held together by bolts and clamps.
There are no photos on Geograph, Flickr, or Google images, not in Wikipedia, and I can't can see in aerial photos.
The Cadw website

has 2 images of it, but you have to wait long enough for it to load.
It is shown on one site

as flat stone about 5ft high with two metal bands around it.
A CADW book says it is an east west ridge and stands out from surrounding fields.
If you have a photo of this stone please let us have a copy.
---
Location: Tregwehelydd Standing Stone, Stryd y Facsen, Anglesey

Grid Reference: SH340831
Ceremonial County: Anglesey
Aerial photo: Multimap

Getting there: From the A5025 at Llanfachraeth in the village centre take the road to Stryd y Facsen. At the next T junction take a right and then next left along this road get to the entrance of Tregwehelydd Farm on the left.

Access: As the farmer if you can park in his farmyard and from here follow the footpath, keeping close to the field edges for about 700 yards. The monument is ahead of you.
Website: CADW
Other Useful Websites: Geograph
Email:
Address:
Postcode:
Telephone:
Opening Times:

Charges:

Nearby Locations: Prysaddfed Burial Chamber Howell Watermill Llynnon Mill
Other Location Pages:
Other Relevant Pages: Anglesey Attractions Anglesey Attractions Map

Notes:
Please let us know any other information that we can add to the Grid(s) or page and any errors that you discover. Before making a long trip to any location it is always wise to double check the current information, websites like magazines may be correct at the time the information is written, but things change and it is of course impossible to double check all entries on a regular basis. If you have any good photographs that you feel would improve the illustration of this page then please let us have copies. In referring to this page it is helpful if you quote both the Page Ref and Topic or Section references from the Grid below. To print the planning grid select it then right click and print the selected area.
Please submit information on locations you discover so that this system continues to grow.