Howell Watermill

aka Melin Hywel or Felin Selar

Llanddeusant, Anglesey

Location Guide
Howell Watermill also referred to as Melin Hywell is the last surviving watermill and was the last working watermill in Anglesey. It is also known locally as Felin Selar. It is situated in the village of Llanddeusant on Anglesey.
Records suggest there has been a mill on this site for over 600 years, since before 1352. It was renovated in the mid 1850's and what remains today is from this 19th century period.
It is a 3 storey watermill with an overshoot waterwheel which was originally powered by the water down the mill race diverted from the River Alaw, but now this has been routed around the wheel, presumably to avoid damage to it.
Inside it still has most of its internal machinery and it has three huge pairs of grinding stones.
It was restored to a working watermill in 1975 and and opened to the public. However in 2010 it is no longer open and appears, from images I have seen, to be deteriorating in condition again.
For more images see this link.

It is included within a 3 mile local walking trail which starts at the Llynnon Mill

windmill, and if you visit the windmill first you can collect a trail leaflet which gives details on how to get here. The walk will take about one and a quarter hours to complete.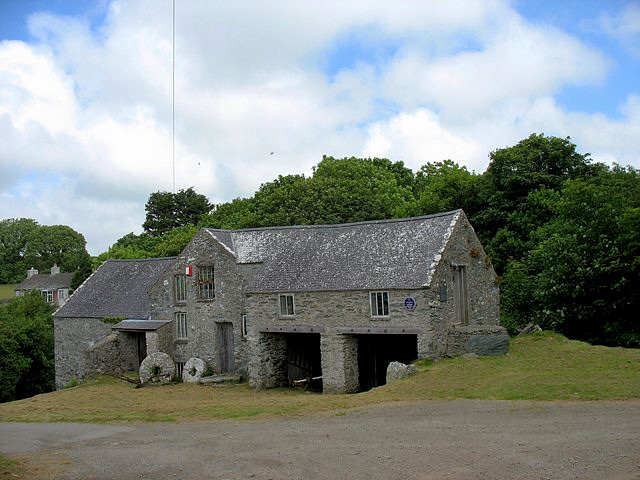 Photo by Eric Jones

(taken 2009)
---
Location: Howell Watermill, Llanddeusant, Anglesey

Grid Reference:

SH350844

Ceremonial County: Anglesey

Map Link: Multimap

Aerial photo: Multimap

Getting there: Turn Right off the A5 at Valley traffic lights, after about 3 miles turn right at the pub in Llanfachraeth, left by a chapel at T-junction, right at the crossroads in Llanddeusant, then first left by letterbox.

Access: The building is not open, but due to it's location it could be visited to be seen from the outside at any reasonable time.
Website:
Other Useful Websites: Geograph
Email:
Address:
Postcode:
Telephone:

01407 730240

Opening Times: Inside is not open but can be viewed from the outside at any reasonable time.

Charges: None

Nearby Locations: Llynnon Mill Prysaddfed Burial Chamber

Other Location Pages:
Other Relevant Pages: Anglesey Attractions Anglesey Attractions Map

Notes:
Please let us know any other information that we can add to the Grid(s) or page and any errors that you discover. Before making a long trip to any location it is always wise to double check the current information, websites like magazines may be correct at the time the information is written, but things change and it is of course impossible to double check all entries on a regular basis. If you have any good photographs that you feel would improve the illustration of this page then please let us have copies. In referring to this page it is helpful if you quote both the Page Ref and Topic or Section references from the Grid below. To print the planning grid select it then right click and print the selected area.
Please submit information on locations you discover so that this system continues to grow.