Ty Newydd Burial Chamber

Llanfaelog, Anglesey

Location Guide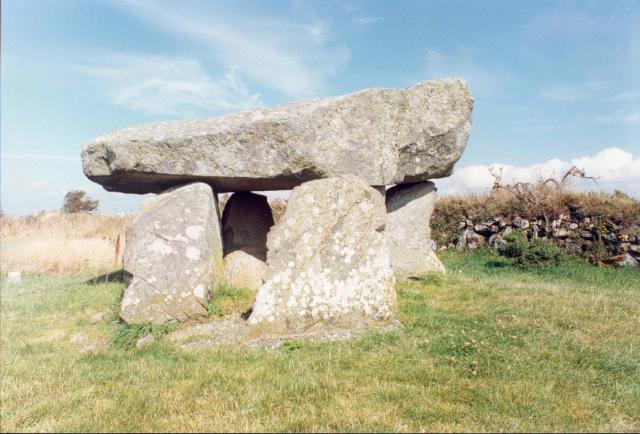 Photo by Paul Allison

Neolithic Cromlech, now extensively restored. The capstone is held up by two brick pillars which cannot be seen in the above photo.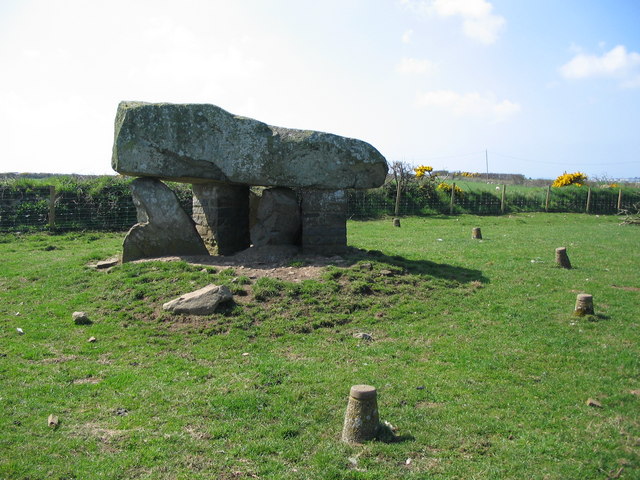 Photo by Phil Williams

This may have been a passage grave or tumuli. Now there are 4 uprights and a damaged capstone, all held in place by two brick pillars. The capstone measures 12ft (3.7m) by 5ft (1.5m), one other stone lays nearby.
It was excavated in 1936, no human bones were found, the original area of the chamber floor contained a layer of charcoal, and they found very little, a beaker fragment, a bared and tinged arrowhead, a flint chip that may have come from a flint axe, these mostly dating from the bronze age, although from the shape and construction its said to be a Neolithic construction.
The small markers around the stones only shows the limit to the protected area, and has nothing to do with the extent of the original mound as some suggest.
---
Please let us know any other information that we can add to the Grid(s) or page and any errors that you discover. Before making a long trip to any location it is always wise to double check the current information, websites like magazines may be correct at the time the information is written, but things change and it is of course impossible to double check all entries on a regular basis. If you have any good photographs that you feel would improve the illustration of this page then please let us have copies. In referring to this page it is helpful if you quote both the Page Ref and Topic or Section references from the Grid below. To print the planning grid select it then right click and print the selected area.
Please submit information on locations you discover so that this system continues to grow.