Steel Rigg

nr Twice Brewed, Northumberland

Featured Location Guide
Click on this image to see a larger version - sectioned version of a panorama photo
One of the best photo points on the wall, easily accessible from Steel Rigg car park.
The landscape here is very similar to several other areas nearby including Cawfields Roman Wall and Milecastle 42

and Sycamore Gap and Castle Nick

in that Hadrian's Wall

follows the high ground, be it up or down, and often one immediately after the other. In this area you have a fairly level piece of wall before it drops down then goes back up a very step and high hill, with more ups and downs running away into the distance. The landscape is so large that you cannot get a good idea from a photograph, although people in the shots may give an idea of scale. The image is also wrapping around you, so from the viewpoint you have a section of the wall behind you, running off and down to your right, before climbing back up and going off to your right with Crag Lough (lake) in the background and the wall snakes on away as far as you can see.
You therefore need a panorama shot to get a wide enough view.
A panorama photograph made from 7 photographs, click on this image to see a larger version. Or click here

to see an even larger version but it may take a time to load, and you then may need to click on the image to make it show full size.
But to give you an idea of scale if we look at another photo of just the slope up and you look very carefully you will see some small coloured marks part way up the hillside.
And blow up this section we see:-
From this you can see that on a video monitor its near impossible to show the detail of what you can see from this viewpoint. You need your magic eyeballs on site to appreciate this.
The image at the top of this page is a panorama made from 3 photos and then the edges removed to concentrate on just over half of the image.
Here are a few more of the many views available-
The lake that can be seen in a number of these photos is Crag Lough, the aerial images below are approaching this lake from the east, or north east and looking west back towards where the pictures above are taken.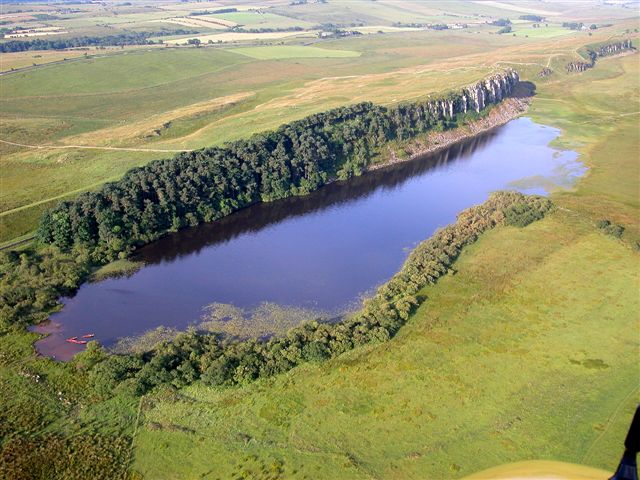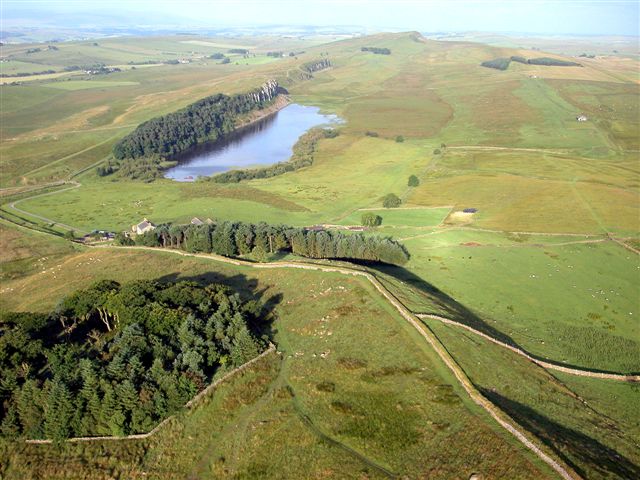 Aerial photos by Simon Ledingham used with permission. Previously on www.visitcumbria.com

---
Location: Steel Rigg, nr Twice Brewed, Northumberland

Grid Reference:

NY755676

Ceremonial County:

Map Link: Multimap

Aerial photo: Multimap aerial

Getting there: the car park is off a small road that runs north from the B6318 at Twice Brewed. The car park is a pay and display. This is a short distance NW of Roman Vindolanda and the opposite way at Once Brewed to the road taken off the B6318.

Access: Access to the viewpoint and wall is through a gate from the car park and is a short walk.
Website:
Other Useful Websites: Geograph
Email:
Address:
Postcode:
Telephone:
Opening Times: Appears to be open at all times, the wall definitely is, not sure about the car park

Charges: car park pay and display, no cost to get to wall or viewpoint

Nearby Locations: Roman Vindolanda and many others which can be found in our list

Hadrian's Wall - Featured Places

Other Location Pages: Hadrian's Wall Route Guide

Other Relevant Pages: Roman Frontiers Hadrian's Wall

Hadrian's Wall - Featured Places

Notes:
Please let us know any other information that we can add to the Grid(s) or page and any errors that you discover. Before making a long trip to any location it is always wise to double check the current information, websites like magazines may be correct at the time the information is written, but things change and it is of course impossible to double check all entries on a regular basis. If you have any good photographs that you feel would improve the illustration of this page then please let us have copies. In referring to this page it is helpful if you quote both the Page Ref and Topic or Section references from the Grid below. To print the planning grid select it then right click and print the selected area.
Please submit information on locations you discover so that this system continues to grow.