Roman Vindolanda

Also known as Chesterholm

Chesterholm, Northumberland

Featured Location Guide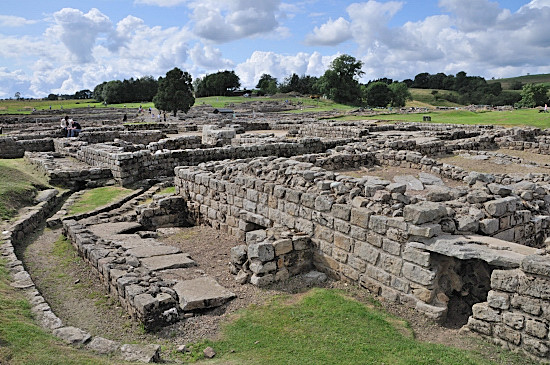 Vindolanda is a large Roman fort and settlement lying just to the south of Hadrian's Wall. Recent excavations have uncovered numerous buildings and some of the most unusual and well preserved artefacts from the Roman world. In the site museum, you can see Roman boots, shoes, armour, jewellery and coins.
It was the longest inhabited fort on or near Hadrian's Wall

and its position, and that of the Stanegate Road it stood on and protected, may have been very influential in the position of the wall.
Some of the most interesting of all roman finds are the Vindolanda Tablets,

these are correspondence written on wooden tablets containing both private and military information. You can see images of the tablets and their contents on an Oxford University

website devoted to this. Some place this as the worlds most important archaeological find in the last 50 years. So far over 2,000 documents have been found.
There is a Full size replica of a section of Hadrian's Wall in both stone and timber, giving the visitor a true idea of the might of the monument.
There are ongoing archaeological excavations at the site. You can also take part in excavations, see their website for details (costs from £70).
This Roman Auxiliary Fort guarded the 'Stanegate', a roman road that ran from the River Tyne to the Solway Firth. This stands about mid way along this vital supply road. The location is mid way along the Stanegate Road with the forts and roman town at Carlisle to the west and Corbridge

and Arbeia

to the east. This would also have made it important in providing supplies to wall forts, maintaining a safe supply chain, as well as reinforcements either way if needed. Other smaller forts and matching camps would have been every days march, about 13 miles along the road.
This fort predates Hadrian's Wall

and was originally built of turf and timber probably from around 85AD. It is thought that the garrison then moved to Housesteads Roman Fort

leaving this site abandoned. Then the site was used for a new fort being built this time in stone.
The site is more complex in that it had many forts built over time, at least 10 of differing sizes. It was the custom of the Romans to lay a fresh layer of clay and turf over remains and rebuild on this, this has meant that an air tight seal was created keeping the remains of each, the museum contains items made of leather, wood, iron and more. The remains are from 2 to 6 meters below the current ground level. Currently some areas have been excavated to 4 meters down and its estimated it will take another 150 years to complete the sites excavation.
A civilian settlement was next to the fort and these continued to be in use until the end of the Roman period around 410AD. Other scattered finds suggest later occupancy, possibly as an early church until the fifth century.
Auxiliary units were not roman legions but recruited locally. From the early 3rd century the occupants of this fort included the fourth cohort of Gauls, and other information suggests this was a mixture of Gauls and English. A Cohort

is 6 centuria, each containing 80 men so around 480, plus some support people, so a little over 500 people. Although not on the line of the wall, it is thought to have had the role of a wall fort when the wall was in use.
The remains of a large roman bath house are south of the fort, and next to the fort is the remains of a civilian settlement. Some of the features of the remains create as many questions as providing answers.
The first record of the ruin was in 1586, with occasional travellers accounts since, these predate a lot of the stone stealing that happened later. The stone bath house for example was still standing and partly roofed when visited in 1702. There are at least 3 bath houses on this site.
This large site has a lot of archaeology uncovered with more being uncovered each year. The main site is on the top of a hill with much able to be viewed, plus a full size reproduction of a section of wall. In the valley in a garden by a small river is a set of reproductions of a roman temple, roman shop, roman house and Northumbrian croft. Next to this is a very detailed museum showing many roman remains. There is more to see at this site than many others, so its both a site to definitely include and also to allow enough time to see.
This site is managed by the Vindolanda Trust established in 1970.

They also run the Roman Army Museum and remains of the still buried roman fort next to it [Carvoran].

See also the gallery
---
.
---
Planning Grid

Location:

Roman Vindolanda, Chesterholm, Northumberland

Grid Reference:

NY772663

Getting there:

A69 - leave following signs for Vindolanda (near Village of Bardon Mill). Approx. 13 miles from Hexham, 35 miles from Newcastle-upon-Tyne (A1), 35 Miles from Carlisle (M6). Alternative Scenic Route: Vindolanda can also be reached from the B6318.

Access:

From own car park

Parking:

FREE car park

Facilities:

Exhibitions, museum, cafe, WC,

Things To Do, See and Photograph:

Roman remains, reconstructions, museum, exhibitions, archaeological dig in action, scenery, garden, more.......

What to take:

Nature highlights:

It is an open location and in theory wildlife will be around although I didn't notice any.

Address:

Vindolanda Trust

Chesterholm Museum

Bardon Mill

Hexham

Northumberland

Postcode:

NE47 7JN

Telephone:

01434 344277

Opening times:

Feb 13th - March 31st: 10am-5pm
April 1st - September 30th: 10am-6pm
October 1st - October 31st : 10am-5pm

last entry 45 minutes before closing

Charges:

| | | | |
| --- | --- | --- | --- |
| £ | Both | Vindolanda | Roman Army Museum |
| Adult | 9.00 | 5.90 | 4.50 |
| Senior/student | 7.50 | 4.90 | 4.00 |
| 5-18 | 5.00 | 3.50 | 2.50 |
| under 5 | free | free | free |
| family 2+2 | £25 | 16.00 | 12.50 |

Photo Restrictions:

None

Other Restrictions:
None I am aware of
Special Needs Access:
This site is not difficult to walk over, and the walk down to the museum is not over steep, but some would not be able to manage it
Special Needs Facilities:
Children Facilities:
An ideal site for children, but they have to stay behind barriers some excavations can have deep holes.
Dogs Allowed:
NO (except guide dogs)
Please let us know any other information that we can add to the Further information and Planning Grids or page and any errors that you discover. Before making a long trip to any location it is always wise to double check the current information, websites like magazines may be correct at the time the information is written, but things change and it is of course impossible to double check all entries on a regular basis. If you have any good photographs that you feel would improve the illustration of this page then please let us have copies. In referring to this page it is helpful if you quote both the Page Ref and Topic or Section references from the Grid below. To print the planning grid select it then right click and print the selected area.
Please submit information on locations you discover so that this system continues to grow.