Roman Army Museum

nr Greenhead, Northumberland

Location Guide
This museum is owned and run by the Vindolanda Trust, that also operates and Fort and museum at Roman Vindolanda.

The contents of this museum is very similar to the contents of the museum at Roman Vindolanda

and while there are differences perhaps noticed more by those deeply into Roaman artefacts, it might be a good idea to visit these two on different days, and if time is short with so much to see in the area, perhaps if you are familiar with the roman period and way of life, this is one of the places I would rate as the lowest priority to include, especially if you are intending to also visiting Roman Vindolanda.

Having said this there are some replicas, and introductory films and as such you could use this site to get a general introduction to the Romans, period in history, and the way they lived in general. It would also be a good introduction to children and people who have not seen many Roman period exhibits before.
Its also a good reserve location for that wet day.
Displays include:-
A collection of replica Roman armour and weapons including shields, swords, body armour, shoes and javelins.

Replicas of two Roman standards, including an eagle standard.

A Roman chariot, a Celtic chariot and a Roman wagon (reduced to ½ its full size).

Reconstructed barrack room.

Listen to Gaius tell you about his Roman storeroom.

Information about the Emperor Hadrian and his life.
There are also two short films:-
Eagle's Eye film. This film takes you on a fabulous aerial journey from Magna, the Roman Fort next to the Roman Army Museum, to Roman Vindolanda, taking in fascinating points of interest along the way. Once you reach Vindolanda, the Roman world is reconstructed before your eyes as the eagle takes you back in time for your return journey to the Roman Army Museum. Film time: 18 minutes. View a short clip here (1.94MB).

Join the Roman Army Film. Centurion Quintus Petronius tells recruits about life in the Roman Army. Everything from their amour and weapons to their pay and what they do in their spare time is explained in this fun and informative film.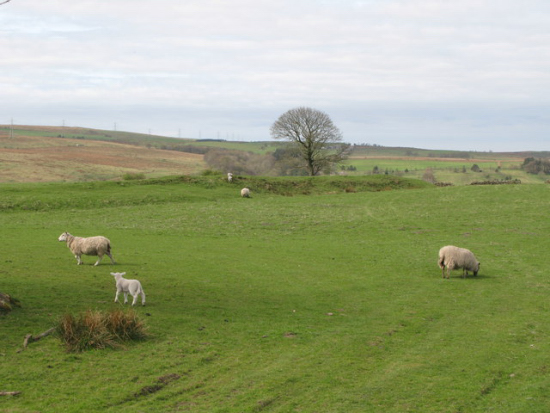 Carvoran (magna) Roman fort. The Fort is 129m by 123m
a little digging to do before anything much can be seen
Photo by Mike Quinn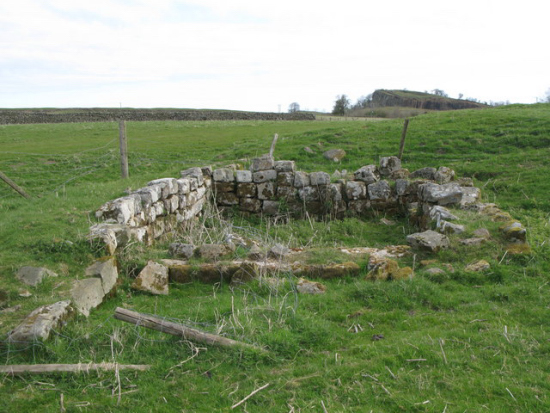 Just a glimpse here and there - this is the remains of a tower in the NW of the fort.
Photo My Mike Quinn

---
.
---
Planning Grid

Location:

Roman Army Museum, nr Greenhead, Northumberland

Grid Reference:

NY667657

Getting there:

A69 - leave following signs for Roman Army Museum (near village of Greenhead). Around 20 miles from Hexham, 42 miles from Newcastle-upon-Tyne (A1), 28 Miles from Carlisle (M6). Alternative Scenic Route: Roman Army Museum can also be reached from the B6318.

Access:

Access from small side road directly into their car park, the museum is next to humps and bumps of a Fort that has yet to be uncovered, which is very near the line of the wall (wall is to the north).

There is no footpath through the field the fort remains are in, but is very near in two other fields.

Parking:

Own car park

Facilities:

Modern museum with full facilities

Things To Do, See and Photograph:

Museum with displays

What to take:

Nature highlights:

None

Address:

Vindolanda Trust

Chesterholm Museum

Bardon Mill

Hexham

Northumberland, NE47 7JN.

Postcode:

Postcode above is not at the museum so cannot be used for satnavs

Telephone:

01434 344277

Opening times:

13 Feb-31 March: 10am-5pm; 1 April-30 Sept: 10am-6pm
1-31 October: 10am-5pm. Last entry 30 minutes before closing

Charges:

| | | | |
| --- | --- | --- | --- |
| £ | Both | Roman Army Museum | Vindolanda |
| Adult | 9.00 | 4.50 | 5.90 |
| Senior/student | 7.50 | 4.00 | 4.90 |
| 5-18 | 5.00 | 2.50 | 3.50 |
| under 5 | free | free | free |
| family 2+2 | £25 | 12.50 | 16.00 |

Photo Restrictions:

Some restriction, call to confirm what they are if you want to take photos here.

Other Restrictions:
Some time scheduling to see films etc.
Special Needs Access:
This has easy access from the car park so is suitable for everyone.
Special Needs Facilities:
Children Facilities:
Generally I would say a good site for children with a lot of exhibits that will make sense to them.
Dogs Allowed:
NO (except guide dogs)
Please let us know any other information that we can add to the Further information and Planning Grids or page and any errors that you discover. Before making a long trip to any location it is always wise to double check the current information, websites like magazines may be correct at the time the information is written, but things change and it is of course impossible to double check all entries on a regular basis. If you have any good photographs that you feel would improve the illustration of this page then please let us have copies. In referring to this page it is helpful if you quote both the Page Ref and Topic or Section references from the Grid below. To print the planning grid select it then right click and print the selected area.
Please submit information on locations you discover so that this system continues to grow.