Birdoswald Roman Fort

Also known as Bana

nr Gilsland, Cumberland

Featured Location Guide
Roman remains and later buildings shown by wooden posts.
Birdoswald Roman Fort and Visitor Centre is one of the most impressive locations for a Roman Fort on Hadrian's Wall. Set on a high spur overlooking the River Irthing the views are spectacular and it becomes very clear why the Romans built a fort on this site. The best preserved defences of any of the 16/17 major forts, the best preserved gateway, and longest continuous stretch of wall.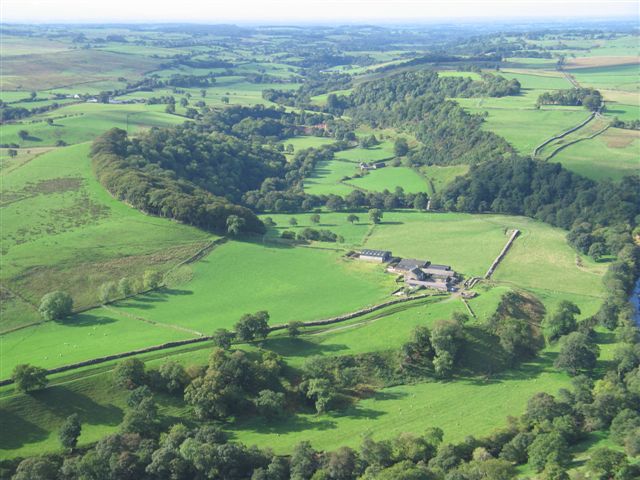 Aerial photo by Simon Ledingham used with permission. Previously on www.visitcumbria.com

The photo from the air above shows Hadrian's Wall and Willowford crossing looking towards the west, where the wall appears to stop in the middle of a field, before the wooded valley is the bridge remains. Birdoswald Fort is further towards the top right, the wood beyond where the wall appears to split into two, is hiding the buildings and open remains, while the perimeter wall can just be seen in the field to the left.
It was known as Bana in Roman times this being Latin for 'Spur' or 'Tongue', so describing its location.
The fort, built soon after 122AD and completed in 138AD, was occupied by Roman auxiliaries from around 112AD to 400AD, near to when Roman rule ceased in Britain. It was linked by a roman road known as the Maiden Way to an outpost fort at Bewcastle, seven miles north, and kept in touch with this by using two signalling towers. Bewcastle was one of three outpost forts north of the wall all on the west side.
A number of alter inscriptions say that the cohors I Aelea Docoram, a thousand strong unit was based here in the third and fourth centuries. Other evidence shows there was also a cavalry unit here for some time in the second century and later, although the design is not consistent with many cavalry forts, suggesting this was never its main use.
Occupation continued, according to finds from excavations on the granary sites, up until around 500AD, then the granaries were replaced with two successive timber halls. These were common in Britain in the 5th and 6th centuries.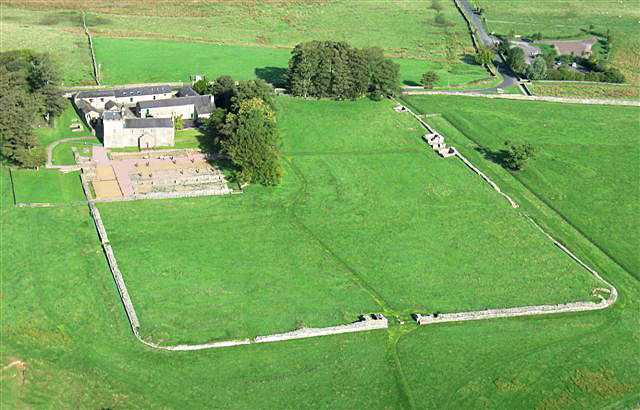 Looking towards the North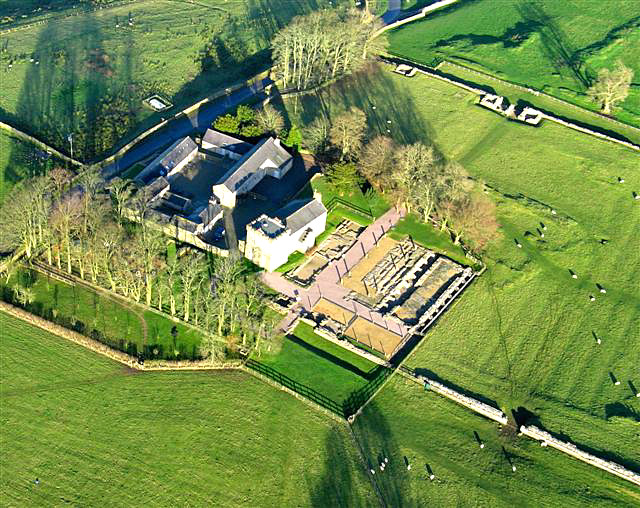 Looking towards the East
Aerial photos by Simon Ledingham used with permission. Previously on www.visitcumbria.com

Today we see the roman remains plus timber posts marking where the wooden pillars for these halls would have been. There is not as much to see here as a number of the other forts, with less excavated, however the main features are the defensive wall, and gateways, both the west and south gates containing ovens. The east gateway is one of the best preserved on the wall, and you can see a lot of detail. The pivot stones being replacements indicating its heavy usage over time.
Hadrian's Wall

was rebuilt in stone in this stretch, having first been a turf wall, but when this happened, the sections near to the castle were built on a new line to the north of the original wall, so remains of both the later stone wall and turf wall remain. This realigned the wall from the fort being mid wall to the fort being to the south of the wall. This is the only known stretch of wall where this occurred. It is thought to have happened in around 130AD.
The fort contains a central headquarters building, granaries, barracks, and unusually for an auxiliary fort an exercise building, probably so as to allow training to continue when the weather was not good. Geophysical surveys have shown that remains under the ground are well preserved and also allowed the bathhouse in river valley. Time Team

(Channel 4 TV programme) also used this data for its dig in January 2000. They excavated the cemetery area that was being damaged now by ploughing. A description of what they did and found is available by clicking on the Time Team link above.
South Gateway
East Gateway
East Gateway from outside
The title of Birdoswold first originated in 1211, after a farmer of the land. You can read more on this by clicking here.

This account states that the west gate was still in use in 1425 but had collapsed by the end of the centuary.
See also the Gallery

From here it is a short walk to Milecastle 49,

Harrow's Scar and over a footbridge to Willowford Bridge.

---
.
---
Planning Grid

Location:

Birdoswald Roman Fort, nr Gilsland, Cumbria

Grid Reference:

NY615663

Getting there:

4 miles west of Greenhead off B6318. Signposted from A69 Carlisle-Hexham road at Brampton roundabout

Access:

Off road with own car park

Parking:

Parking charged (don't know how much) but refunded on admission.

Facilities:

Tea rooms, WC

Things To Do, See and Photograph:

Remains of fort, longest continuous section of wall, scenery, wildlife

What to take:

Full range of lenses

Nature highlights:

Quite a lot of wildlife, more when visitor numbers are low out of main season

Address:

Postcode:

CA8 7DD

Telephone:

016977 47602

Opening times:

1st April-30 Sept 10am to 5:30pm. Last admission 5pm

Charges:

EH Members FREE.

Adults £4.80, Children £2.40, Concessions £4.10

Photo Restrictions:

None known

Other Restrictions:
None known
Special Needs Access:
Disabled access to visitor centre, toilets, shop, tearoom and part of site. Disabled parking on site.
Special Needs Facilities:
Children Facilities:
Good site for children
Dogs Allowed:
Dogs on a lead if you must, but not an ideal site for dogs
Please let us know any other information that we can add to the Further information and Planning Grids or page and any errors that you discover. Before making a long trip to any location it is always wise to double check the current information, websites like magazines may be correct at the time the information is written, but things change and it is of course impossible to double check all entries on a regular basis. If you have any good photographs that you feel would improve the illustration of this page then please let us have copies. In referring to this page it is helpful if you quote both the Page Ref and Topic or Section references from the Grid below. To print the planning grid select it then right click and print the selected area.
Please submit information on locations you discover so that this system continues to grow.