Mizen Head Lighthouse

Mizen Head, Co. Cork, Ireland

Featured Location Guide
On the most south-westerly point in Ireland just west of Barley Cove between Brow Head and Three Castle Head is an old signalling station, a weather station, and a lighthouse are all located here.
There is no lighthouse tower just a lantern on a steel post, originally this was a fog-signal station, established in 1909. It was not until 1959 that a light of some type was installed and lit. The light is displayed from a short mast on top the building and there is an original keeper's house and other buildings If was automated in 1993..
There is also a visitor centre giving the history of the lighthouse, keepers and area. From the visitor centre a reinforced concrete bridge built around the turn of the 20th century links the rock on which the light stands with the mainland. During 2010 this is being replaced with a new concrete version with exactly the same link so that visitors can go across and visit the light.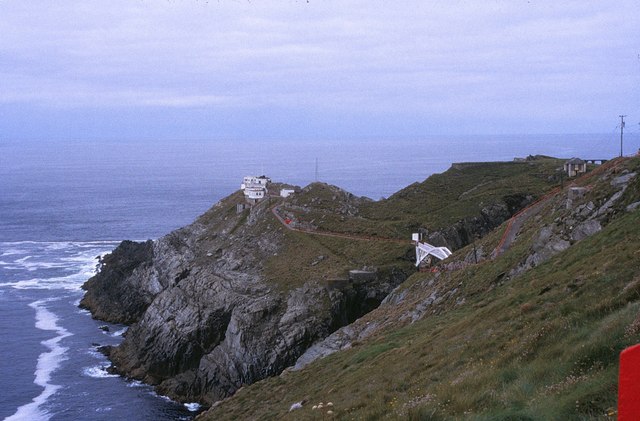 Photo by Nigel Cox

---
Lighthouse information Grid

| | |
| --- | --- |
| Name: | Mizen Head Lighthouse, County Cork, Ireland |
| Current status: | Working |
| Geographic Position: | 51°26.991' North 009°49.225' West |
| Grid Reference: | V736234 |
| Ceremonial County: | Cork |
| Appearance: | octagonal cylindrical stone tower attached to 1-story rectangular fog signal building, all painted white. |
| Map Link: | Maps |
| Aerial photo: | |
| Other photos: | |
| Originally built: | 1905 |
| Current lighthouse built: | 1959 |
| Height of Tower: | |
| Height of light above mean sea level: | 55 metres |
| Character of light: | white light, 2 s off, 2 s on |
| Character of fog signal: | |
| Range of light: | 15 nautical miles |
| How powered: | |
| Owned / run by: | Commissioners of Irish Lights |
| Website: | |
| Other Useful Websites: | Wikipedia |
| Routes: | |
| Notes: | |
.
---
Lighthouse Visit Planning Grid

Location:

Mizen Head Lighthouse, County Cork, Ireland

Grid Reference:
V736234
Getting there:
Access:

Parking:

Address:

Postcode:

Telephone:

Email:

Opening times:

Charges:

Best Times to Visit:

Facilities:

Things To Do, See and Photograph:

What to take:

Nature highlights:

Photo Restrictions:

Other Restrictions:
Nearby Locations:
Other Relevant pages:

For more articles, lists and other information see the Lighthouses Section

Featured list of lighthouses - Ireland
Please let us know any other information that we can add to the Further information and Planning Grids or page and any errors that you discover. Before making a long trip to any location it is always wise to double check the current information, websites like magazines may be correct at the time the information is written, but things change and it is of course impossible to double check all entries on a regular basis. If you have any good photographs that you feel would improve the illustration of this page then please let us have copies. In referring to this page it is helpful if you quote both the Page Ref and Topic or Section references from the Grid below. To print the planning grid select it then right click and print the selected area.
Please submit information on locations you discover so that this system continues to grow.