Langness Lighthouse

Isle of Man

Location Guide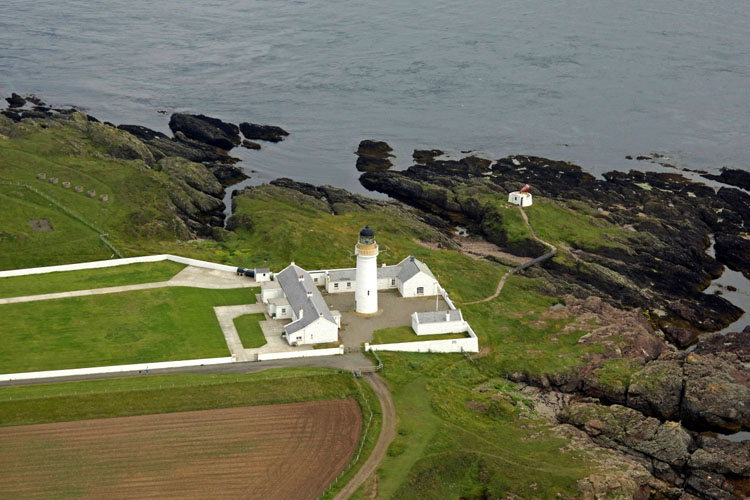 Aerial Photo Marinas.com

(more images available)
Langness is a slender peninsula hanging from the south east corner of the Isle of Man. The name means Long Point.
In 1868 a proposal was put to establish a light at this position because of the large number of wrecks which had taken place and rapid tides in the area made it a danger to mariners. But the most convincing argument for a light here was the fact that the two lighthouses on the Calf of Man

were inefficient due to their tendency to be covered in fog. Requests for a lighthouse here were made on 4 occasions over the next 8 years, all unsuccessful, until in 1874 when tests were carried out on the red light of the Chicken Rock lighthouse,

and it was found to be unsatisfactory in protecting against the dangers around Langness. However it was not until 1878 when the building of the lighthouse here got the go ahead. It was built with a one storey keeper's house and other buildings enclosed by a stone wall. It came into operation in 1880. It was automated in 1996.
The lighthouse is located on the east side of Dreswick Point, the southern point of the peninsula, about 1.5 miles south of Derbyhaven.
British TV personality Jeremy Clarkson owns much of the surrounding land and has attempted to close access to the lighthouse, but in May 2010 he was ordered to reopen the traditional pathways leading to the lighthouse.
---
Lighthouse information Grid

Name:

Langness Lighthouse, Isle of Man

Current status:

Working

Geographic Position:

54° 03.294'N 004° 37.509'W

Grid Reference:

SC282652

Ceremonial County:

Isle of Man

Appearance:

White tower with 77 steps, lantern and gallery. Tower painted white, watch room buff, lantern black.

Map Link:

Aerial photo:

Marinas.com

Other photos:

photo

Originally built:

1880

Current lighthouse built:

Height of Tower:

19 metres

Height of light above mean sea level:

23 metres

Character of light:

Flashing (2) White every 30 secs

Character of fog signal:

Range of light:

12 nautical miles

Owned / run by:

Northern Lighthouse Board

Getting there:

The lighthouse is located on the east side of Dreswick Point, the southern point of the peninsula, about 1.5 miles south of Derbyhaven.

Access:

Site open, tower closed.

Website:

NLB

Other Useful Websites:

Routes:
Other Relevant pages:

For more articles, lists and other information see the Lighthouses Section

Featured list of lighthouses - IOM

Notes:
Please let us know any other information that we can add to the Grid or page and any errors that you discover. Before making a long trip to any location it is always wise to double check the current information, websites like magazines may be correct at the time the information is written, but things change and it is of course impossible to double check all entries on a regular basis. If you have any good photographs that you feel would improve the illustration of this page then please let us have copies. In referring to this page it is helpful if you quote both the Page Ref and Topic or Section references from the Grid below. To print the planning grid select it then right click and print the selected area.
Please submit information on locations you discover so that this system continues to grow.