Smeaton's Tower Lighthouse

Plymouth, Devon

Featured Location Guide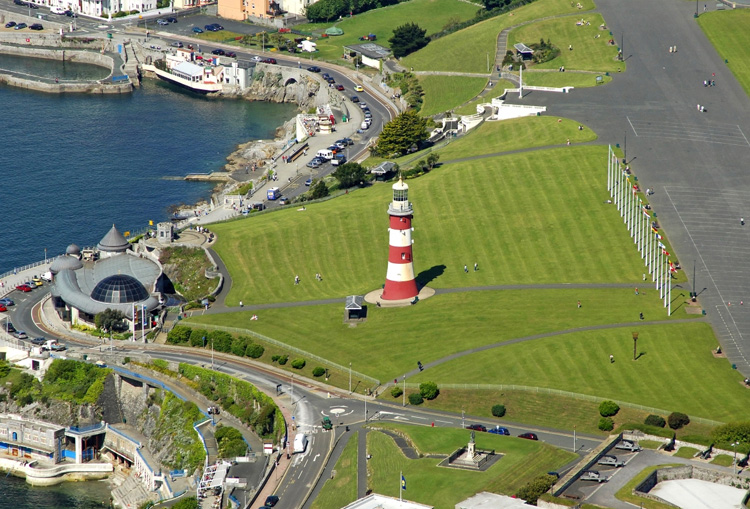 Aerial Photo by Marinas.com

This was the Eddystone Lighthouse

from 1759-1882, built by civil engineer John Smeaton. It was a revolutionary design that greatly changed the development of offshore lighthouses.
Due to failures in the rock under the lighthouse and technology moving and more space being required in the light housing, a larger replacement was built.
The Smeaton Lighthouse was pulled down, except for its base and moved to Plymouth and rebuilt on a new base. The original base is still out by the later Eddystone Lighthouse,

13 miles south west.
Please see the fuller location guide on the Eddystone Lighthouse,

which gives the full story of all 4 versions of the lighthouses that stood on these rocks.
Today
The lighthouse on the mainland at Plymouth, is open to visitors who may climb the 93 steps, including steep ladders, to the lantern room and see the views of Plymouth Sound and the city, all year round (with the exception of Christmas and Good Friday). For details of current opening times, admission prices and access information see the grid at the bottom of this page.
Below are a collection of photos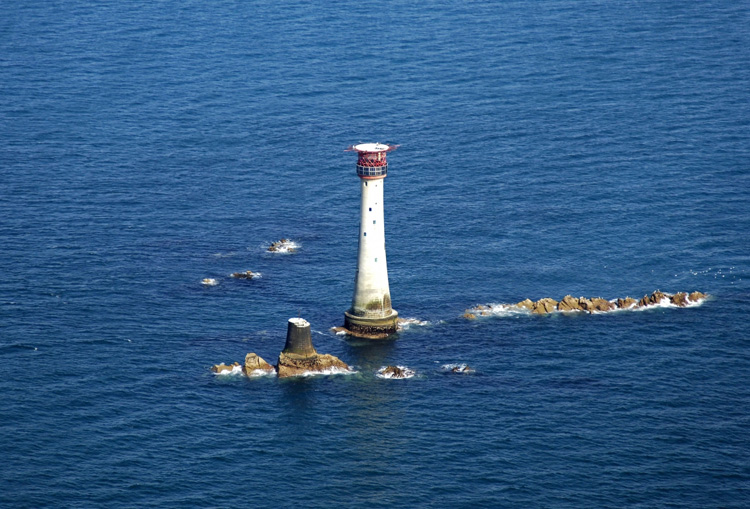 The current Eddystone Lighthouse - Note the old base for the Smeatons tower is still by its side.
Aerial photo by Marinas.com

(more images are available)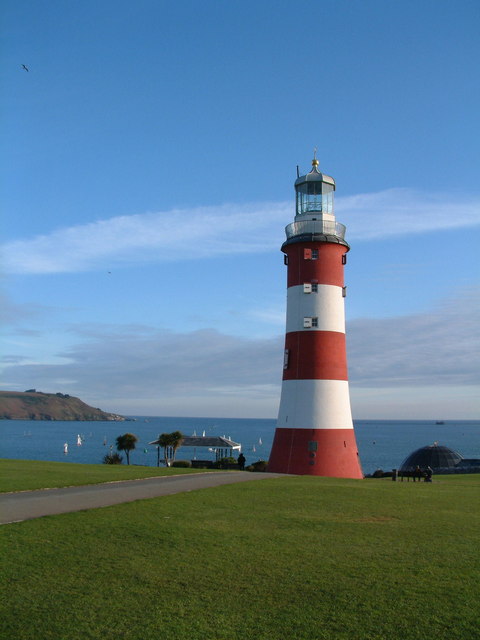 Smeatons Tower

Photo by Dave Skinner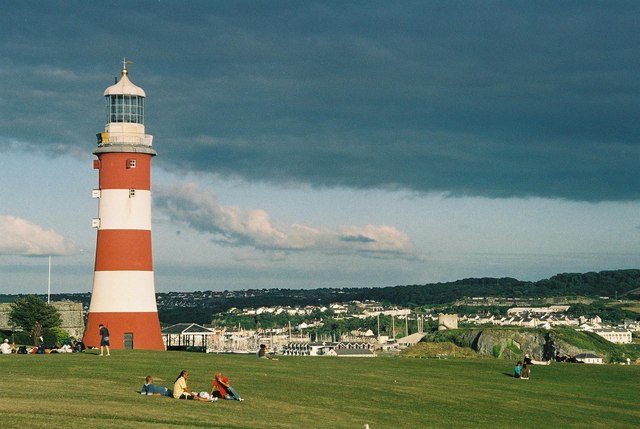 Photo by Chris Downer

From Wikipedia
When it first was built in Plymouth it did not have the red and white bands, it has now, an old
postcard shows it with the same colours as the Douglass Tower that replaced it.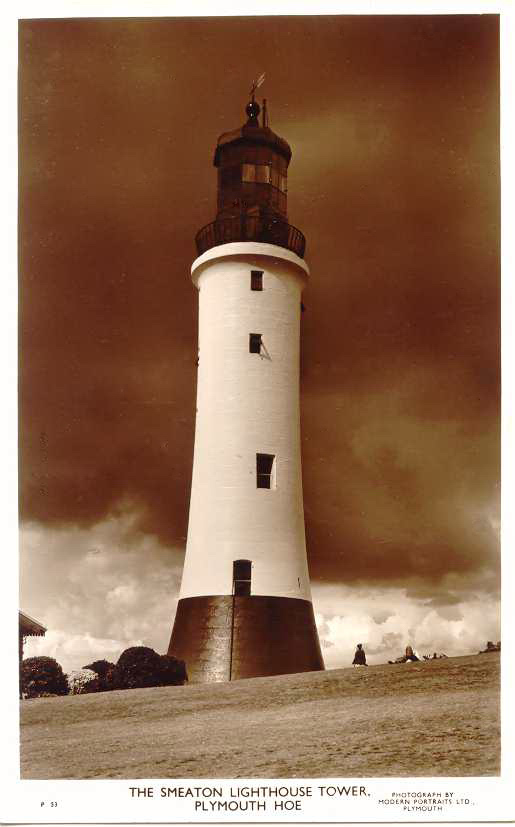 However a little later it had its paint job and was as it is now, the image below was taken probably around 1905.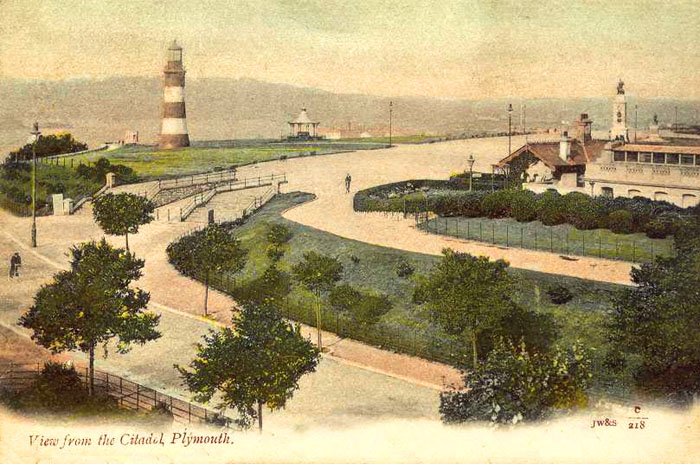 Unless we have these two images the wrong way around and later for a period it was represented the other way.
---
Lighthouse information Grid
Name:

Smeaton's Tower, Plymouth Hoe, Devon

Current status:

Memorial and visitor attraction, open to visitors

Geographic Position:

Grid Reference:

SX477538

Ceremonial County:

Devon

Appearance:

Map Link:

Get-A-Map

Aerial photo:

Marinas.com

Other photos:

Originally built:

Current lighthouse built:

Height of Tower:

Now standing 72ft high, a third is still in its original position.

Height of light above mean sea level:

Character of light:

Character of fog signal:

Range of light:

Owned / run by:

Website:

Own site - local council

Other Useful Websites:

Wiki

Eddystone on Wiki Smeatons Tower on Wiki

Eddystone lighthouses in detail

Routes:
Other Relevant pages:

Notes:
---
Lighthouse Visit Planning Grid

Name:

Smeaton's Tower, Plymouth Hoe, Devon

Grid Reference:

SX477538

Location:

Plymouth

Getting there:
Access:

Parking:

Town parking

Address:

The Hoe

Plymouth

Postcode:

PL1 2NZ

Telephone:

01752 304774

Email:
museum@plymouth.gov.uk

Opening times:

Its run by a council and has unusual opening hours that may vary. At the point of writing this, its Tues-Fri 10am-12noon (last entry at 11.30am) and 1pm-4.30pm (last entry at 4pm)

So start late, finish early and close for a lunch break.

Closed on Sundays and Mondays but may be open on some Bank Holiday Mondays.

They may also close it on Fridays and Saturdays if they want to run events there.

You definitely need to check their Website page or call before visiting.

Charges:

Adults £2, child (5-16), Students and Seniors £1, under 5's FREE plus a number of group and special rates. Some tourism and some council employees from anywhere FREE. Plymouth residents with a special card get 10 pence off, I am sure they will really appreciate this concession) Check their Website page

Best Times to Visit:

Facilities:

Things To Do, See and Photograph:

Lighthouse, coastal, wildlife, plants, possibly ships.

What to take:

Shoes suitable for climbing many steps, small bag with necessary items, Camera, selected lenses and filters.

Nature highlights:

Photo Restrictions:

None Known

Other Restrictions:
None Known
Nearby Locations:
Plymouth Breakwater Lighthouse
Please let us know any other information that we can add to the Grid or page and any errors that you discover. Before making a long trip to any location it is always wise to double check the current information, websites like magazines may be correct at the time the information is written, but things change and it is of course impossible to double check all entries on a regular basis. If you have any good photographs that you feel would improve the illustration of this page then please let us have copies. In referring to this page it is helpful if you quote both the Page Ref and Topic or Section references from the Grid below. To print the planning grid select it then right click and print the selected area.
Please submit information on locations you discover so that this system continues to grow.