Plymouth Breakwater Lighthouse

Plymouth, Cornwall

Location Guide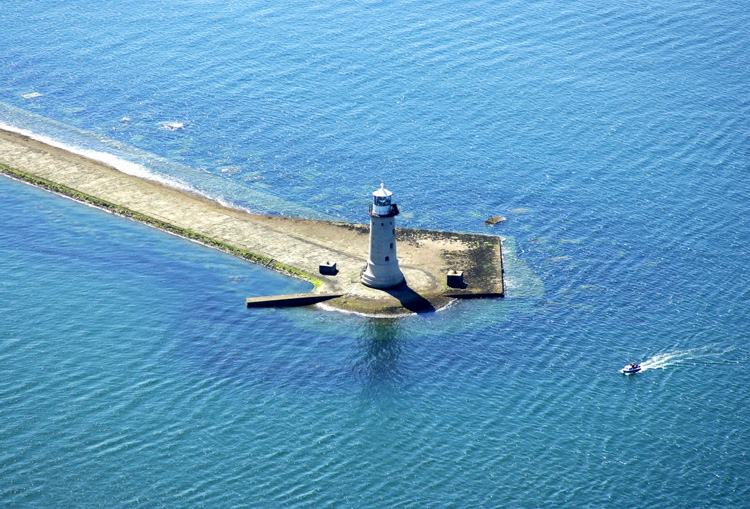 Aerial Photo by Marinas.com

more images available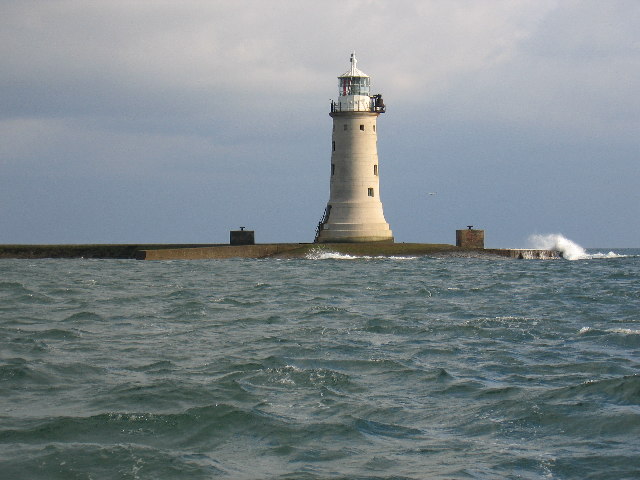 Photo by David Stowell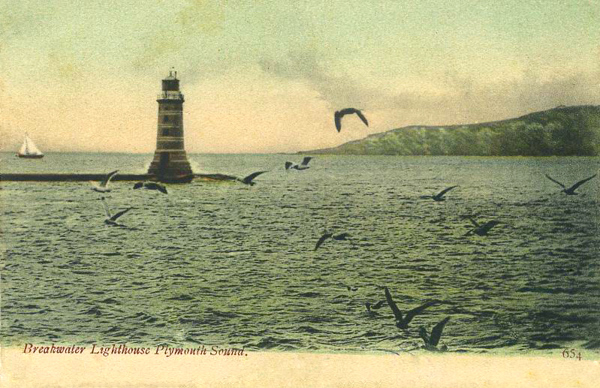 Postcard view from just after 1900
Does this suggest it originally was decorated with bands around it?
The Lighthouse
Designed by Messrs Walker and Burgess and built in white granite from Luxulyan in Cornwall.
Work started 22nd February 1841.
Work Completed 9th November 1842.
Height 78ft on top of breakwater 126ft from sea bed.
Lantern 8ft high and with 18 mirrors in.
First lit on June 1844.
There was originally to be a matching lighthouse at the other end of the breakwater, but a simpler beacon was put there instead. The beacon is a globe on a 17ft oak pole on a 25ft high stepped plinth. This was built in 1845.
On the 23rd July 1844 they took out a bus pulled by two horses, and ran trips up the breakwater and around the lighthouse and beacon for a day.
The Lights
It's been said that the top of the tower is a good 38m (125ft) above the water, casting some doubt on the listed focal plane heights, which I had already started to suspect. The problem is that this is on a detached section of the breakwater 2.5 miles out. So what does the date say about the focal plane (height the light is above high sea level).
It says focal plane 19m (63ft), flash every 10 s, white flashes are shown to the northeast for ships leaving the harbour and red flashes otherwise.

In addition, a white light (2 s on, 2 s off) is shown over the entrance channel south westward from a tower window at a focal plane of 12m (39ft).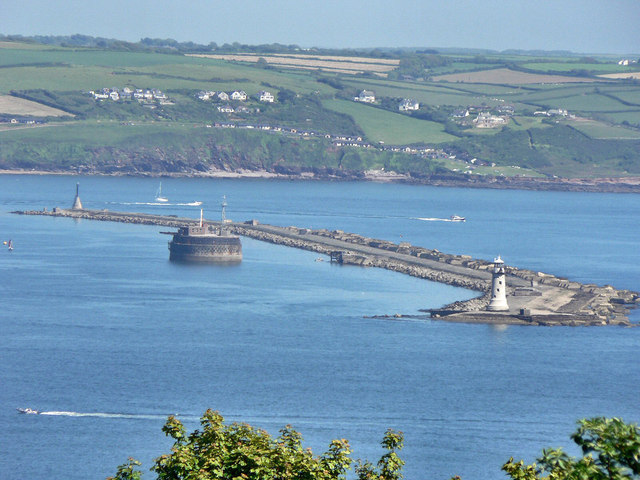 Photo by Mick Lobb

The Breakwater
This was a major construction project of its day, with a number of famous architects involved, as well as a lot of funding. The plans were produced by John Rennie (1761-1821), and completed by his sons, Sir John (1794-1874) and George (1791-1866). Others were also involved.
The breakwater is around 2.5 miles out to sea and the central section is about a 1000yds (300ft) long. Two arms come out from the shore at 350ft long and are at an angle of 120 degrees to the central section. There are gaps allowing two entrances. The breakwater is 80ft deep and 45ft wide. The top of the breakwater is paved. The breakwater cost £1.5 million to produce and used over 4 million tones of stone. 765 men were employed in the construction. Plans to build this started in 1788, and after preparatory work the first stone was put on the sea bed in August 1812. Some of the massive block weighed 7 tones each. They had 10 specially converted sailing barges for the large blocks and 45 smaller vessels.
The paving on the top of the breakwater shows it as being completed 17th July 1837, but some work on the arms was still completed after this. Its said this was 70 yards of the eastern section and required a further 500 tones of stone.
In 1871 a concrete wave breaker was added. From 1928, a further 100 wave breakers were added.
The result of all of this was to convert what was an anchorage which could be subject to bad storms and danger into a large safe area for ships to anchor.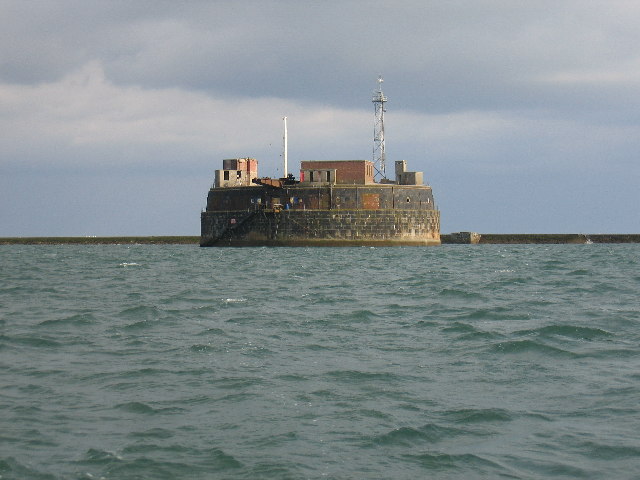 Photo by David Stowell

The Fort
In 1862 they started the build of a fort, known as the Shovel fort, 32yds or 94ft from the breakwater. The walls of the fort are 14ft thick and each of the three floors had fifteen guns. Storage was provided to hold 1,500 barrels of gunpowder, in addition to coal and water storage.
More details on these projects can be found on Plymouth History

and specifically their Breakwater page.

---
Lighthouse information Grid

Name:

Plymouth Breakwater Lighthouse, Cornwall

Current status:

working

Geographic Position:

50° 20" 4' -4° 9" 35'

Grid Reference:

SX464505

Ceremonial County:

Cornwall

Appearance:

Round tower with lantern and gallery

Map Link:

Aerial photo:

Marinas.com Multimap Google satellite view

Other photos:

Originally built:

Current lighthouse built:

1841-4

Height of Tower:

79ft (23.5m) on top of breakwater, including breakwater depth 126ft.

Height of light above mean sea level:

Some sources say 63ft (19m)

Information on its creation says its 79ft over the breakwater, and breakwater 20ft above the high sea level - see also text above

Character of light:

White flash every 10 seconds with red sector
see also text above

Character of fog signal:

Every 15 seconds

Range of light:

It was 8 miles initially.

Owned / run by:

Cattewater Harbour Commission

Getting there:

Need a boat

Access:

Website:

Other Useful Websites:

Routes:
Other Relevant pages:

Notes:

Also near is Smeaton's Tower
Please let us know any other information that we can add to the Grid or page and any errors that you discover. Before making a long trip to any location it is always wise to double check the current information, websites like magazines may be correct at the time the information is written, but things change and it is of course impossible to double check all entries on a regular basis. If you have any good photographs that you feel would improve the illustration of this page then please let us have copies. In referring to this page it is helpful if you quote both the Page Ref and Topic or Section references from the Grid below. To print the planning grid select it then right click and print the selected area.
Please submit information on locations you discover so that this system continues to grow.