Old Hunstanton Lighthouse

Hunstanton, Norfolk

Location Guide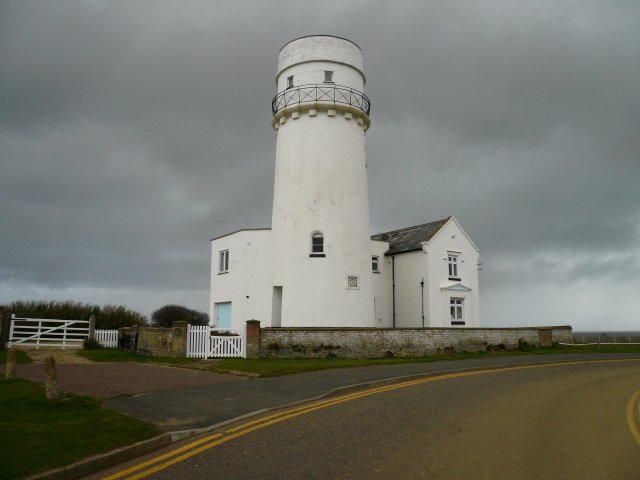 Photo by Craig Tuck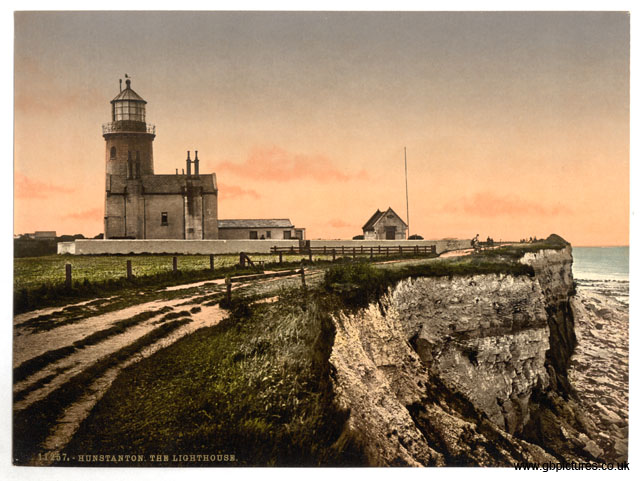 Photochrome from Camera Images GBPictures archive taken around 1905
Old Hunstanton Lighthouse, on St Edmonds Point, near the remains of St Edmonds Chapel, stands at the eastern entrance to The Wash, the large U-shaped bay between Norfolk and Lincolnshire. Its no longer in use as a lighthouse but has been converted to holiday property.
History
For many years lights were shown from St. Edmund's Chapel, which was built in 1272, the remains of the chapel are near the lighthouse. (Photo)

This light was replaced by a lighthouse made of wood in 1666 by Alderman Everard of King's Lynn at a cost of 200 pounds. It was built of wood with an iron basket of burning coals as a light, but this was burnt down in 1777.
There is a story, I came a across, that a hermit by the name of John Puttock is known to have constructed a 100ft high beacon on the Hunstanton cliffs in the 1600s. But the same source goes on to say the first lighthouse was the one referred to above.
A second tower to replace it, was built in 1778, a second wooden lighthouse with oil lamps, and was one of the first lighthouses to use oil.
Trinity House bought it in 1837, and rebuilt it as the current tower in 1840-1844. It was deactivated in 1921 and sold, the lantern house then being removed and an additional storey being added in its place.
By the 1950's it had become derelict and bought for £1,600 and renovated by a Dereham builder. By 1964 it was owned by Hunstanton Town Council who sold it as a holiday home for £4,760.
In 2007 the current owner, 60s rock star Bip Weatherall, placed the lighthouse for sale, and in late 2008 he lowered the price tag to £499,000.
According to an October 2007 online news feature the building is Grade II listed, and even though the building sits on a 60ft cliff, when its stormy, waves can crash into the living room windows. The price in this case is quoted as £695,000. It says that 2 lighthouse keepers used to live there and worked a 12 hour sift pattern. The home has four bedrooms, kitchen, dining and living room and bathrooms, none of which are in the lighthouse tower. This is accessible via a spiral staircase leading up to a viewing area.
The house is now available for weekly holiday rental, and has four bedrooms sleeping 8. I have seen it said that the tower has been opened for climbing, but on checking this out I was informed that this was only available to people who were staying at the holiday property and not open to the public.
Hunstanton Civic Society have put a green plaque on the lighthouse saying it had the worlds first Parabolic Reflector in 1776, but its not clear where this claim comes from as the parabolic reflector was invented by William Hutchinson, and the first lighthouse he put it in was Bidston Hill Lighthouse

in 1771.
Further research
There is a mystery to solve as to what happened to the top section, lantern or lights room. According to the 2007 news report it was taken off in 1922 and sold to the Le Strange Estate, this is not far away from the lighthouse and is based on the large moated house of Hunstanton Hall. From a Google

maps aerial photograph view of Hunstanton Hall, there appears to be a round structure, or room built on the back lawn within the moat. I have contacted a person who lives very near and asked them if they can investigate for me.
From another source I did hear that the top section, when it was taken out of the lighthouse, was taken to a museum the other side of the wash, but nothing more specific. So in Lincolnshire around Boston perhaps. I don't know what it is we are looking for, perhaps a whole light room, or lamp, lens or something. This could be the Light room or perhaps the contents.
The Photochrome above shows you what the top looked like.
Do you know more, or wish to play time detective and solve this.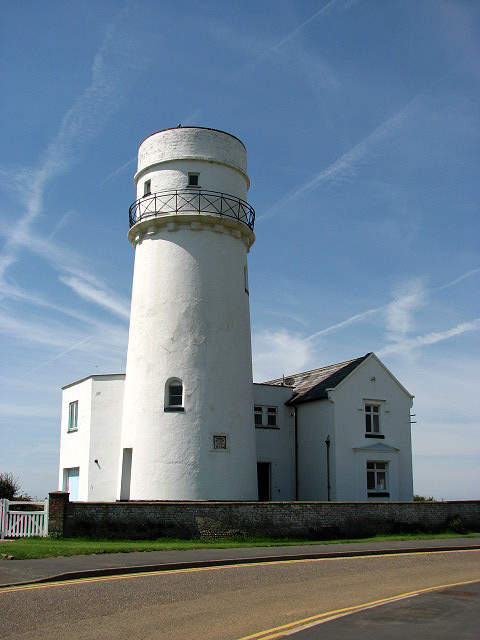 Photo by Evelyn Simak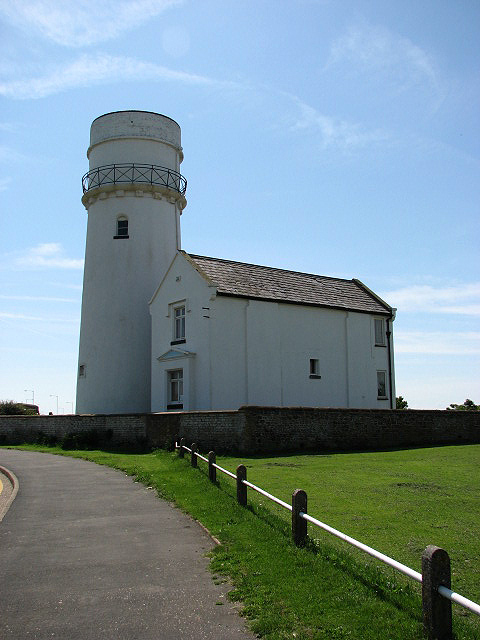 Photo by Evelyn Simak

Viewed from across Lighthouse Close. The first Hunstanton lighthouse was built in 1666, the current building dates back to 1844 and is said to have had the world's first parabolic reflector, which was built here in 1776, although I would dispute this. The present lighthouse ceased operating in 1921 and was converted into a private dwelling.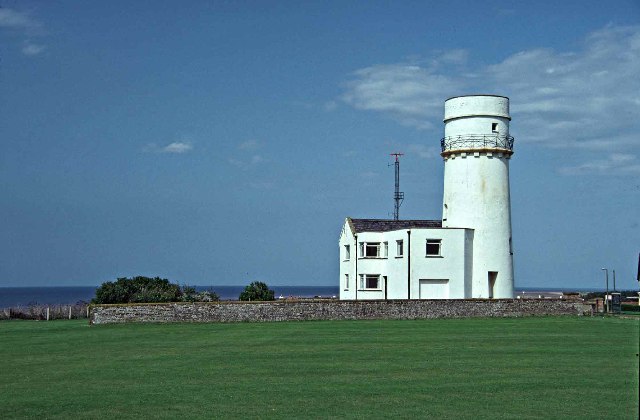 Photo by Christine Mathews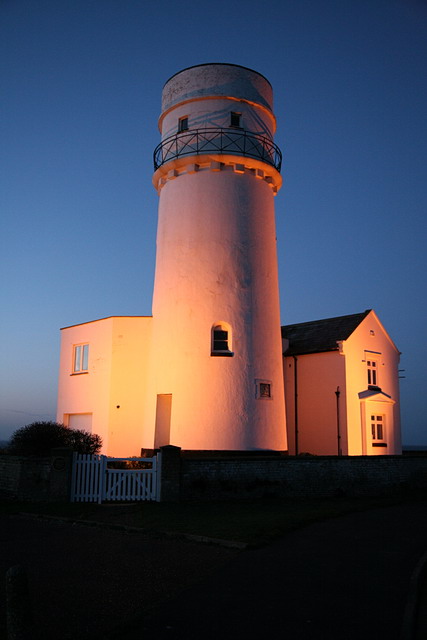 Photo By Rob Noble

---
Lighthouse information Grid

| | |
| --- | --- |
| Name: | Old Hunstanton Lighthouse, Norfolk |
| Current status: | Not in use - converted to a house Inactive since 1921 |
| Geographic Position: | |
| Grid Reference: | TF677419 |
| Ceremonial County: | Norfolk |
| Appearance: | White conical tower, lantern removed. |
| Map Link: | |
| Aerial photo: | Google satellite view |
| Other photos: | |
| Originally built: | 1665 |
| Current lighthouse built: | 1840 |
| Height of Tower: | 61ft 19m |
| Height of light above mean sea level: | |
| Character of light: | None |
| Character of fog signal: | None |
| Range of light: | None now |
| Owned / run by: | Now a private house, used as a holiday let |
| Getting there: | Located on Lighthouse Lane on the north side of Hunstanton, a town about 19 miles (30km) north of King's Lynn |
| Access: | The tower is only accessible to people staying on holiday |
| Website: | Own - holiday letting |
| Other Useful Websites: | Wiki |
| Routes: | |
| Other Relevant pages: | |
| Notes: | A former light keeper's cottage here is now available for rent. The cottage sleeps eight. |
Please let us know any other information that we can add to the Grid or page and any errors that you discover. Before making a long trip to any location it is always wise to double check the current information, websites like magazines may be correct at the time the information is written, but things change and it is of course impossible to double check all entries on a regular basis. If you have any good photographs that you feel would improve the illustration of this page then please let us have copies. In referring to this page it is helpful if you quote both the Page Ref and Topic or Section references from the Grid below. To print the planning grid select it then right click and print the selected area.
Please submit information on locations you discover so that this system continues to grow.