Bidston Hill Lighthouse

Bidston, Cheshire

Featured Location Guide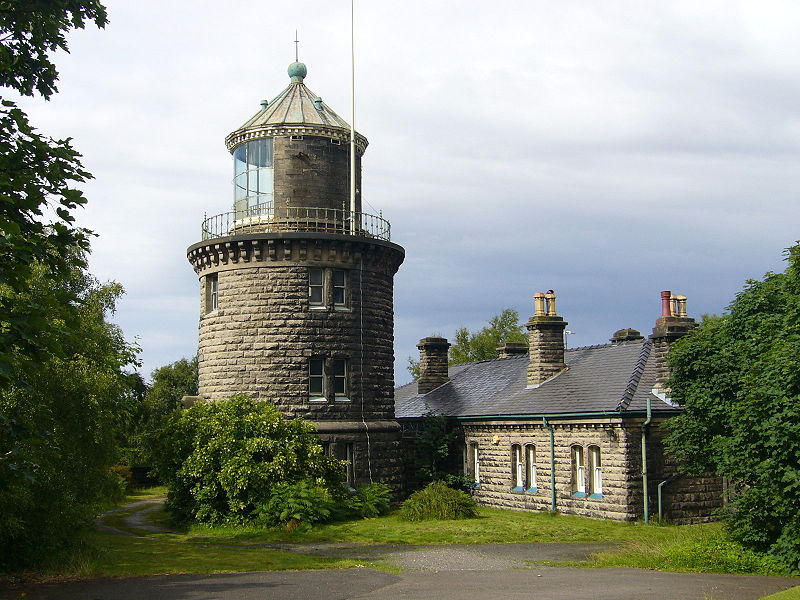 Photo by Roger Haworth

There has been a lighthouse on the hill since 1771. The earlier lighthouse was octagonal, 55ft high and made of sandstone. An image of it is within a painting, see photo on right.

In the lantern room was an oil light said to consume one gallon of oil every four hours, and a single reflector thirteen and a half feet in diameter. Both of these were invented by William Hutchinson. Fumes from the oil were extracted by a flue through a cowl on the roof. The fixed white light, similar to that at Leasowe lighthouse, could be seen for twenty one miles.

This was a part of an earlier system, and another of the group at that time was a quarter of a mile off shore and washed away in 1769.

The 1771 lighthouse in a painting
The present lighthouse was built in 1873 a few yards to the north of the earlier one, which was demolished at this time.
The second, present lighthouse building is circular in design, and is again constructed from local sandstone, with a green conical roof. There are four floors connected by a spiral stone staircase to the third level, from where there is a steep wooden staircase to the lamp room. Here there is a very large window and access to an external railed gallery. The light was provided by a single lamp with an illuminatory power equivalent to 400 standard candles.
It has not been used since 1913. Together with the Leasowe Lighthouse,

it enabled the ships to avoid the sandbanks in the channel to Liverpool. From 1913 they had bouys marking the channel so it was no longer needed.
In 2000, structural work was carried out by Wirral Borough Council, with the aid of Lottery funding, New Opportunities Wirral, COPUS and NERC. Exhibits were created by staff from The Proudman Oceanographic Laboratory and the lighthouse was opened to the public during the Open Days of June and July 2000 and for several days since.
It is likely to be open with free entry on heritage open days so watch our Photographers Diary

pages to see these announced, and links to show what is open and when.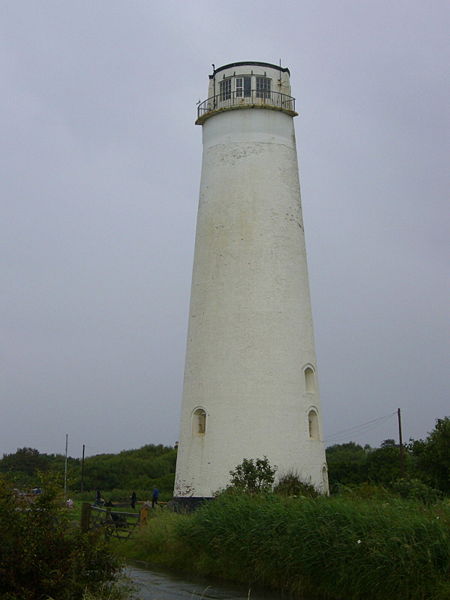 Leasowe Lighthouse

provided a line to navigators
when viewed with Bidston Lighthouse.

Photo by Roger Haworth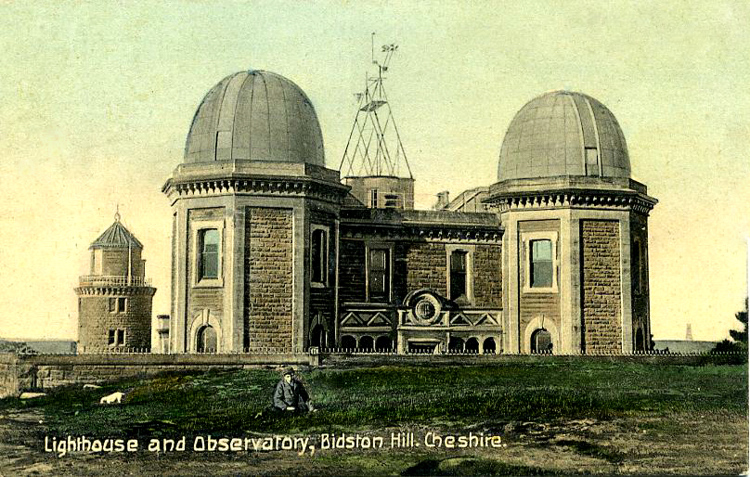 This old photochrome postcard, taken probably soon after 1900, shows the lighthouse on the left,
rather dwarfed by a large observatory.
Bidston Observatory was built in 1866 using local sandstone excavated from the site. One of its functions was to determine the exact time. Up to 18 July 1969, at exactly 1:00pm each day, the 'One O'Clock Gun' overlooking the River Mersey near Morpeth Dock, Birkenhead, would be fired electronically from the Observatory. In 1929 the work of the observatory was merged with the University of Liverpool Tidal Institute. The Natural Environment Research Council relocated the Proudman Oceanographic Laboratory to the University of Liverpool campus in 2003.

The Observatory building still stands near to the lighthouse as can be seen from a recent aerial photo. The two telescope domes survive, although the instruments have been removed.

Recent photo
Nearby is Bidston Windmill, Bidston, Merseyside


---
Lighthouse information Grid

| | |
| --- | --- |
| Name: | Bidston Hill Lighthouse, Bidston, Cheshire |
| Current status: | Not used as a lighthouse since 1913 |
| Geographic Position: | Bistone Hill near Bidston Windmill, Bidston, Merseyside |
| Grid Reference: | SJ285895 |
| Ceremonial County: | Cheshire |
| Appearance: | |
| Map Link: | |
| Aerial photo: | Multimap Aerial Google satellite view. |
| Other photos: | |
| Originally built: | 1771 |
| Current lighthouse built: | 1873 |
| Height of Tower: | 21m 69ft |
| Height of light above mean sea level: | |
| Character of light: | none |
| Character of fog signal: | none |
| Range of light: | none |
| Owned / run by: | National Environment Research Council |
| Getting there: | |
| Access: | |
| Website: | Own page |
| Other Useful Websites: | Wiki (on Bidstone Hill) |
| Routes: | |
| Other Relevant pages: | |
| Notes: | |
Please let us know any other information that we can add to the Grid or page and any errors that you discover. Before making a long trip to any location it is always wise to double check the current information, websites like magazines may be correct at the time the information is written, but things change and it is of course impossible to double check all entries on a regular basis. If you have any good photographs that you feel would improve the illustration of this page then please let us have copies. In referring to this page it is helpful if you quote both the Page Ref and Topic or Section references from the Grid below. To print the planning grid select it then right click and print the selected area.
Please submit information on locations you discover so that this system continues to grow.