Lowestoft lighthouse

Lowestoft, Suffolk

Location Guide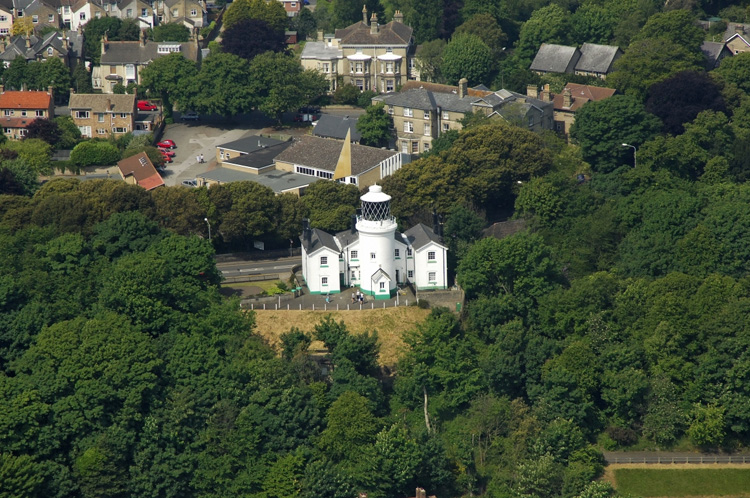 Aerial Photo by Marinas.com

more images are available
The lighthouse we see today was completed in 1874, but before this there was a range of lighthouses undertaking a similar role.
It overlooks Sparrow's Nest Park and the Lowestoft and East Suffolk Maritime Museum,

which sometimes conducts walking tours that include a visit to the light station. One PDF document


on the Trinity House website says its open, but so far it has not appeared in their other listings of open lighthouses.
The History of the group of lighthouses in this area
Before the lighthouses, ship owners and merchants had lost cargoes and vessels on the dangerous sandbanks and shoals around the East coast.
In addition to the lighthouse we are looking at here, there are, in Lowestoft, two pier lighthouses, both exist still and are 30ft tall brick towers, I have not covered them in this location guide.
In 1609 Trinity House responded, in response to requests, and agreed to erect two towers, a high and low light, saying it was 'for the direction of ships which crept by night in the dangerous passage betwixt Lowestoft and Winterton.
Two lighthouses were established on the low lying foreshore known as Lowestoft-ness, tallow candles were used to produce the lights.
When the two lights were in line they led vessels through the Stamford Channel, an inshore passage used by small vessels, which no longer exists today.
The lighthouses were rebuilt in 1628 and again in 1676 when the rear light was erected on the cliff. This light was used by vessels seeking their way along the coast as before, but also by those approaching from out at sea.
The new High Lighthouse, which cost £300, was a substantial building of brick and stone and in order to improve the light the candles were replaced by a coal fire.
In 1706, owing to encroachment by the sea, the Low Light was discontinued. For years afterwards the shipmasters complained of the difficulty in navigating the Stamford Channel during the night time, and eventually, in 1730 it was re-established, as an oil light, burning whale oil in an open flame lamp. The new Low Light was designed to be easily moveable either on account of the encroachment of the sea or a change in the direction of the Stamford Channel.
In 1777 Trinity House experimented with reflector lights at Lowestoft. The coal fire in the high light was replaced by a new glass lantern 7ft high and 6ft in diameter. Inside this was erected a large cylinder covered with 4,000 small mirrors. These reflected the light from oil lamps arranged in a circle around them. The 'spangle light' as it was known was said to have a range of 20 miles, and was welcomed by all who saw it. However, the development of lighthouse optics at this period was making vast strides and by 1796 the spangle light had been abandoned and Argand lamps and silvered parabolic reflectors were installed at a cost of £1,000.
Following experiments with electric lighting at the South Foreland Lighthouse

in Kent, in 1870 the decision was taken to electrify the Lowestoft High Light. The existing tower was not considered strong enough to take the weight of the new equipment and a new tower which still stands today was built at a cost of £2,350. However before the tower was ready to receive the electrical apparatus, paraffin oil became available as an illuminant, and it immediately proved itself to be so economical and efficient that it was adopted for use in the new lighthouse in preference to electricity. At the same time a new optical system was fitted having a revolving lens, and the light, which up to then had always been fixed, was made to flash at half-minute intervals. The rebuilding was completed in 1874.
By the early 1920's the Low Light had ceased to fulfil any useful function due to the disappearance of the Stamford Channel and was finally extinguished in August, 1923.
The High Light was electrified in 1936 and automated in 1975 and modernised in early 1997.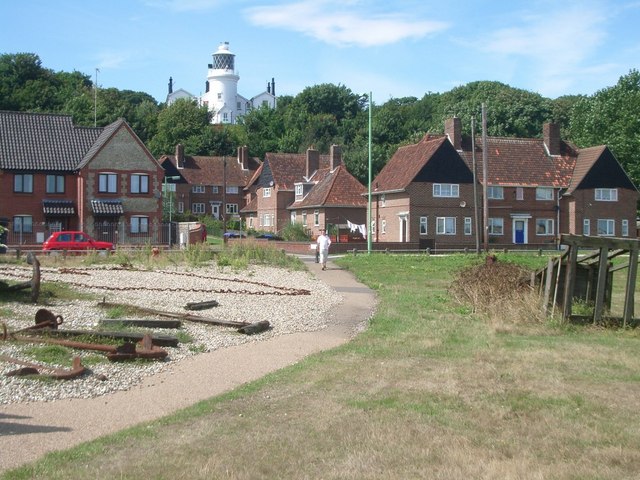 Photo by Andrew Longton

Located now in trees, this may be a difficult Lighthouse to photograph now, although from another of the Marinas.com

views you can see its on a flat grass area and with a wide angle lens it might just be possible inside the tree cover. The rear view I have seen is a photo

is similar to the old postcard below, and again from the Marina views you can see its open at the rear.
In some photos including the one above and one of the Marina shots you can see items used for launching and recovering craft on the beach. As a lot of this material will be reused over time, there is the possibility that you might discover parts of the low light.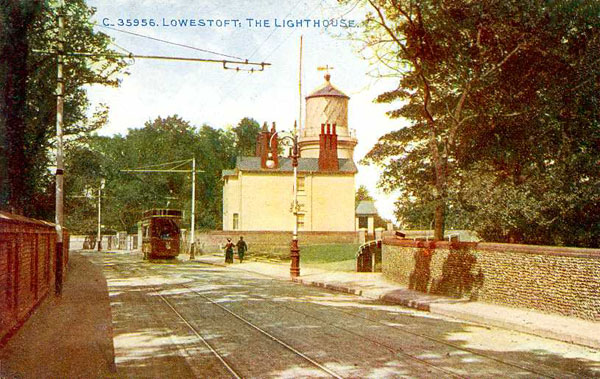 A postcard is probably from the 1920's or 30's, it may be more accurately dated from the tram.
Low light Images
The design of the low lights varied, you can see one design above in use in 1856, while the image from a postcard on the right shows one from probably soon after 1900. Both designs are intended to be movable. The last of these was discontinued and demolished in 1923.
In addition at Lowestoft there are two piers lighthouses, both exist still and are 30ft tall brick towers They are not covered in this location guide.
---
Lighthouse information Grid

| | |
| --- | --- |
| Name: | Lowestoft Lighthouse, Suffolk |
| Current status: | Currently in use |
| Geographic Position: | 52 29'.2 N 01 45'.5E |
| Grid Reference: | TM551943 |
| Ceremonial County: | Suffolk |
| Appearance: | Round brick tower with lantern and gallery, painted white, attached to 2 storey keeper's house |
| Map Link: | |
| Aerial photo: | Marinas.com Google satellite view |
| Other photos: | |
| Originally built: | 1609 |
| Current lighthouse built: | 1874 |
| Height of Tower: | 16m 52ft |
| Height of light above mean high sea level: | 37m 121ft |
| Character of light: | White Flash Every 15 Seconds |
| Character of fog signal: | |
| Range of light: | 23 nautical miles |
| Owned / run by: | Trinity House |
| Getting there: | On Yarmouth Road (A12), on a bluff about 1.5km (1 mile) north of the Lowestoft harbour entrance. On-street parking available. |
| Access: | Site open, tower closed, (see top of this page) |
| Website: | TH |
| Other Useful Websites: | LD |
| Routes: | |
| Other Relevant pages: | |
| Notes: | |
Please let us know any other information that we can add to the Grid or page and any errors that you discover. Before making a long trip to any location it is always wise to double check the current information, websites like magazines may be correct at the time the information is written, but things change and it is of course impossible to double check all entries on a regular basis. If you have any good photographs that you feel would improve the illustration of this page then please let us have copies. In referring to this page it is helpful if you quote both the Page Ref and Topic or Section references from the Grid below. To print the planning grid select it then right click and print the selected area.
Please submit information on locations you discover so that this system continues to grow.