Hurst Point Lighthouse

Hurst, Hampshire

Featured Location Guide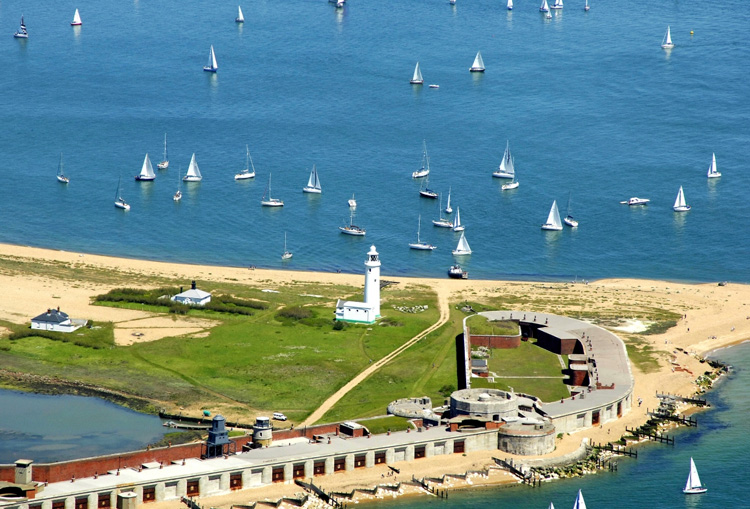 Aerial photo By Marinas.com

(more images are available)
In the photo above, as well as the tall working main lighthouse notice the two others on the castle wall bottom left, these are the

1865 (round grey) and 1911 (squarer blue) Low Lights. When in use the squarer one was painted red and had a distinctive cap shown in the small picture to the right. These lights formerly warned shipping of the shingles near the Needles. This function is now performed by two high intensity beams from the high lighthouse, in addition to its normal light. Closer pictures of these are shown below.

We therefore have three lighthouses on this site and an additional display within the castle containing some additional items.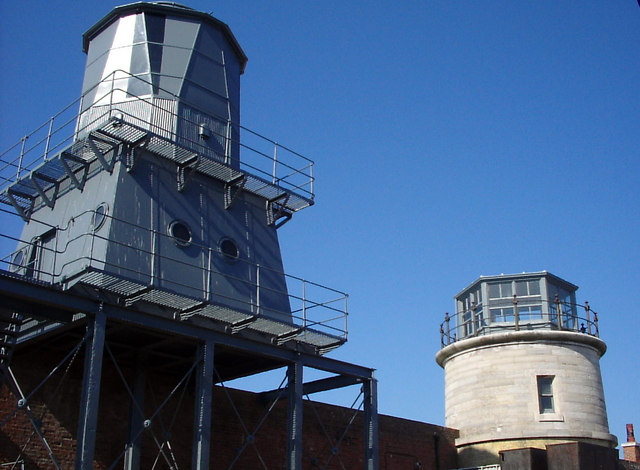 1865 (round grey) and 1911(now blue, or battleship grey) Low Lights, Hurst Castle

Photo by Phil Champion

The current Hurst Point lighthouse (shown right) has been operational since 1867, where it guides vessels through the hazardous western approaches to the Solent, indicating the line of approach through the Needles Channel.

It is said that a light was shown on Hurst Point from 1733, but the first Trinity House record relates to a meeting of shipmasters and merchants in 1781 to approve the terms of a formal petition to Trinity House for lights in the neighbourhood of the Isle of Wight.

As a result, a patent was obtained in January 1782, which stated that:-

"ships and vessels have been lost... and the lives, ships and goods of His Majesty's subjects as well as the King's Royal Navy continue to be exposed to the like calamities more especially in the night time and in hard southerly gales". The patent directed that the lights should be "kept burning in the night season whereby seafaring men and mariners might take notice of and avoid dangers..... and ships and other vessels of war might safely cruise during the night season in the British Channel".

In 1785, 3 designs by R. Jupp, were used by Trinity House to place lighthouses at the Needles Lighthouse, St Catherine's Point Lighthouse and Hurst. The Hurst Tower was placed to the south west of the old Hurst Castle.

Image taken from main entrance to castle and rail lines in the foreground were used to bring goods to the castle

Photo by Chris Downer
.....
Hurst tower was completed and was lit for the first time on 29th September 1786. This however was not completely satisfactory and shipping found that this light was obscured from certain directions and Trinity House then constructed, in 1812, an additional and higher light, both to remedy this defect and to give a guiding line to vessels.

Extensive additions were made to the castle between 1865 and 1873 and for this to happen the lights had to be repositioned. The castle itself is said to date from 1544.

In 1866, a new lighthouse which was called the Low Light, was built to replace the old Hurst Tower. The new lighthouse consisted of a white circular granite tower with a red lantern. This still exists. This light was replaced in 1911 with a new Low Lighthouse, a red square metal structure standing on a framework of steel joists attached to the wall of Hurst Castle, which also still exists today although now painted blue or correctly called battleship grey.

The 1812 High Lighthouse was also replaced in 1867 by the 26 metre tower which is still working today. The other two are no longer working.

A review and consultation, due to increased and changing traffic in the channel, led to a major modernisation of Hurst Point High Lighthouse, completed in July 1997. High intensity projectors day and night mark the channel between the Needles and the Shingles Bank.

The projectors from the service room below the lantern of the High Lighthouse, provide an accurate system of red, green and white directional lights giving precise cut offs over narrow arcs of visibility which can be realigned in the event of movement of the Shingles Bank.

The main light at Hurst High still uses the unusual first order lens, which is separated into sectors of different focal lengths, with a red sector provided by shades inside the lantern. The acetylene light source has been replaced by standard Trinity House electrically powered equipment.

The Low Lighthouse, which was built on the wall of Hurst Castle, was decommissioned and painted grey to match the surrounding background colours in order to eliminate navigational confusion.

Click on image to show
a larger image

A long way up the tower
.......
The two images above and the next up on the right show parts inside the
top light housing of the main tower today.
The smaller photos on this page that have no photo credits are from
a website featuring lighthouses

that gives permission for its images to be used.
Information for this location guide came from a range of websites and sources,
including the one above, Wikipedia, Trinity House and Hurst Castle.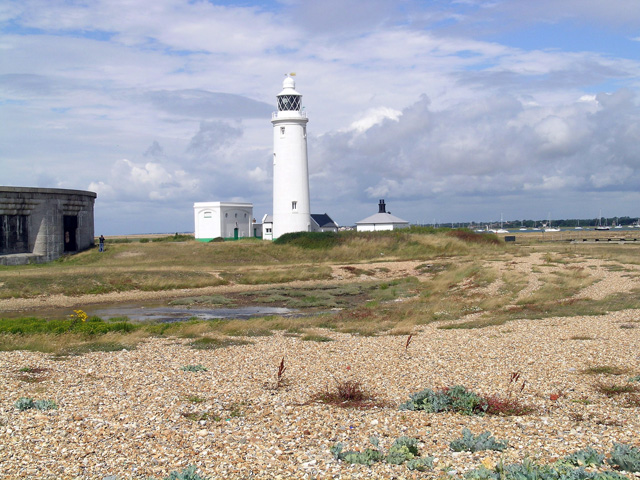 Photo by Steven Muster

Summary of the three lighthouses that still exist at Hurst Point.
Hurst High (the large white tower)
is working

built 1865/1866/1867 (accounts vary)

85ft or 26m tall

owned and run by Trinity House

pictured immediately above

outside accessible, tower OPEN
Hurst Low Round (grey stone)
Not in use, inactive since 1911

Built 1866

Circular granite tower built on the walls of Hurst Castle. The tower is unpainted, lantern painted dark blue or grey

Castle is owned by Hurst Castle lighthouse by English Heritage

Site and castle open (admission fee), towers closed
Hurst Low (square'ish blue or battleship grey structure)
Not in use - inactive since July 1997

Built 1911

Square skeletal platform straddling the castle wall. Entire structure painted blue or battleship grey

Castle is owned by Hurst Castle lighthouse by English Heritage (since June 2010)

Site and castle open (admission fee), towers closed
Some dates you will find do vary a bit, some quote the date it was started, some when it was finished etc.
---
Visiting

Hurst Point Lighthouse is open, as is the castle and its exhibition. The grid below gives information that will get you to opening hours and further information on this.

You can reach Hurst Point, the castle and the lighthouse, by a long walk or by taking a boat trip, you cannot reach it by car. Car parking is available at Milford-on-Sea or close to the boat landing at Keyhaven.

Hurst Castle is accessible by boat from Keyhaven or by foot from Milford-on-Sea.

It cannot be reached by car.

Car parking is available at Milford-on-Sea, or close to the boat landing at Keyhaven.
Hurst Castle houses a display of Trinity House artefacts. The castle itself is worth a visit and this will (at sometime) be the subject of another location guide.
Viewing without Visiting
You can see the lighthouse and castle from some ferries that go to and from the Isle of Wight.
It is also a feature point on the Bournemouth Coast Path.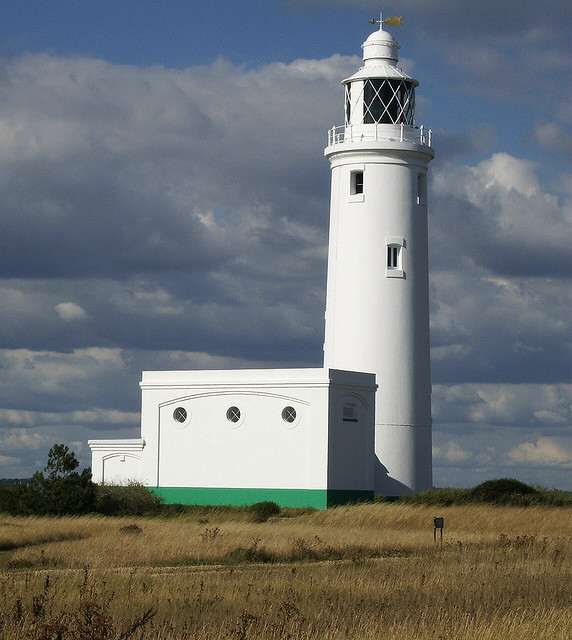 The view from the castle battlements

Photo From Flickr

---
Lighthouse information Grid

Name:

Hurst Point Lighthouse, Hampshire

Current status:

Lighthouse is in use, Open to visitors - see below

Geographic Position:

50 42'. 44 N 01 32'.94 W

Grid Reference:

SZ318899

Ceremonial County:

Hampshire

Appearance:

Round stone tower with lantern and gallery, painted white

Map Link:

Aerial photo:

Google satellite view of low lighthouses

Google satellite view of current high lighthouse

Other photos:

Originally built:

1786/1812

Current lighthouse built:

1867 plus 2 others on castle wall

Height of Tower:

26m 85ft

Height of light above mean sea level:

23m 76ft plus other lights at different levels.

Character of light:

4 White And Red Flashes Every 15 Seconds

Directional lights (added in 1997) are shown from high-intensity projectors mounted in the watch room below the lantern

Character of fog signal:

None

Range of light:

White Light 14 nautical miles, red light 11 nautical miles

Owned / run by:

Trinity House

Website:

TH and TH Open Hurst Castle

Other Useful Websites:

Wiki (very little) LD (Very Good)

Lighthouse depot - Low 1866

Lighthouse depot - Low 1911

Routes:

Notes:

Nearby Hurst Castle houses a display of Trinity House artefacts.

Hurst Castle next to the lighthouse has a display on it.
.
---
Lighthouse Visit Planning Grid

Location:
Hurst Point Lighthouse, Hampshire
Grid Reference:

SZ318899

Getting there:
Hurst Castle is accessible by boat from Keyhaven or by foot from Milford-on-Sea. It can not be reached by car.
Access:
By long walk or can be reached by boat -

not by car.

Parking:

Car parking is available at Milford-on-Sea or close to the boat landing at Keyhaven.

Address:

Postcode:

Telephone:

Hurst Castle on 01590 642344.

Email:

Opening times:

See Trinity House page of when this is open and

Trinity house Lighthouse closure page

Charges:

Adults £3.20, Seniors £3, Children £2

Best Times to Visit:
Check opening, access and tide times.

Facilities:

Things To Do, See and Photograph:

Lighthouse, coastal, wildlife, plants, possibly ships.

What to take:

Shoes suitable for climbing many steps, small bag with necessary items, Camera, selected lenses and filters.

Nature highlights:

Coastal birds

Photo Restrictions:

None Known

Other Restrictions:
None Known
Nearby Locations:
Other Relevant pages:
Please let us know any other information that we can add to the Further information and Planning Grids or page and any errors that you discover. Before making a long trip to any location it is always wise to double check the current information, websites like magazines may be correct at the time the information is written, but things change and it is of course impossible to double check all entries on a regular basis. If you have any good photographs that you feel would improve the illustration of this page then please let us have copies. In referring to this page it is helpful if you quote both the Page Ref and Topic or Section references from the Grid below. To print the planning grid select it then right click and print the selected area.
Please submit information on locations you discover so that this system continues to grow.