Burnham-on-Sea Round Tower Lighthouse

Burnham-on-Sea , Somerset

Featured Location Guide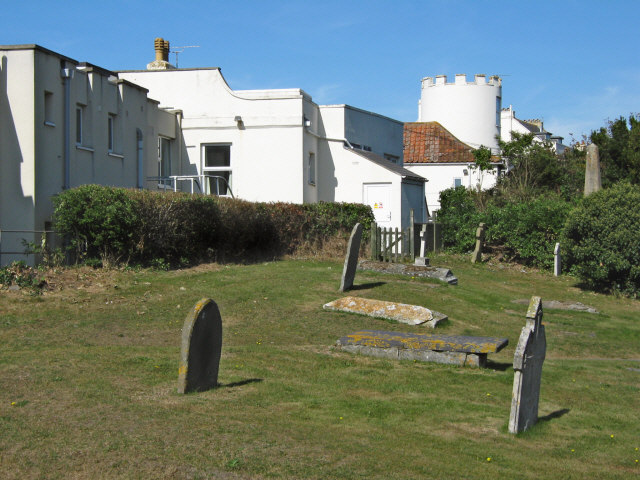 Round tower as seen from the church

Photo by Ken Granger

One of three in Burnham-on-Sea
Burnham-on-Sea Low Lighthouse

is currently in use as a lighthouse the other two are not.
The round tower is the remains of a shortened lighthouse that has not been active since 1832.
It is said to have been originally 4 stories in height, so about half as high as the high tower to replace it.
It is now a house.
There are several versions of the history of this lighthouse. In the location guide on the Burnham-on-Sea High Lighthouse,

we have covered several variations of the history in some detail, that led to this lighthouse being constructed most of the variation the stories are connected with this lighthouse.
A simpler version of this is that during the 18th century a light was placed on the top of St Andrews Church tower to guide fishing boats into the harbour. A local vicar, either John Goulden in 1764 or Walter Harris in 1799, raised a subscription amongst the local population to replace the light on the church.
This was built in 1800 to 1801,when the curate David Davies paid the verger £20 to build the round tower attached to his house. Some funds were raised from local merchants and ship owners, however by 1813 funds were insufficient and Davies was given permission to levy dues to supplement the £135 annual income as this wasn't enough for the lights maintenance. A 100 year lease was attached to the permission to levy fees, however the outstanding 85 years of the lease was sold to Trinity House around 1829.
Funds from the sale were used by the then vicar, Rev David Davies, to improve the area in an attempt to create a spa town.
Trinity House operated the lighthouse until 1832 when it became inactive, and was replaced by the High and Low lighthouses.
Read more on these in the location guides to Burnham-on-Sea High Lighthouse

and Burnham-on-Sea Low Lighthouse.

The tower of the original round tower lighthouse was later shortened from four to two storeys, to prevent any confusion with the High Lighthouse, and battlements were added for the same reason.
---
Lighthouse information Grid

Name:

Burnham-on-Sea Round Tower

Current status:

No longer in use since 1832 replaced by 2 lights

Burnham-on-Sea High Lighthouse

Burnham-on-Sea Low Lighthouse

Geographic Position:

can be seen from the church graveyard

Grid Reference:

ST303494

Ceremonial County:

Somerset

Appearance:

Map Link:

Aerial photo:

Google satellite view

Other photos:

One of Burnham-on-Sea's Old Lighthouses (Geograph)

Originally built:

1800

Current lighthouse built:

Height of Tower:

Not known

Height of light above mean sea level:

Not known

Character of light:

Fire

Character of fog signal:

Range of light:

Owned / run by:

was by Local Church, is now a private house

Getting there:

You can see the remains of the shortened tower from the church yard. Its located on the seafront Esplanade at Myrtle Drive in Burnham-on-Sea

Access:

Now a house

Website:

Other Useful Websites:

Wiki Burnham on sea website page on lighthouses

Lighthouse depot

Routes:
Other Relevant pages:

Notes:
Please let us know any other information that we can add to the Grid or page and any errors that you discover. Before making a long trip to any location it is always wise to double check the current information, websites like magazines may be correct at the time the information is written, but things change and it is of course impossible to double check all entries on a regular basis. If you have any good photographs that you feel would improve the illustration of this page then please let us have copies. In referring to this page it is helpful if you quote both the Page Ref and Topic or Section references from the Grid below. To print the planning grid select it then right click and print the selected area.
Please submit information on locations you discover so that this system continues to grow.