Julian's Bower

Alkborough, Lincolnshire

Location Guide
On the Western side of the village of Alkborough is a medieval turf maze. It was first recorded on this site in 1697 and is known locally as Julianís Bower. This maze lies in a small basin-like depression on a small plateau, where nearby once stood a Benedictine monastery,1080 to 1220 AD.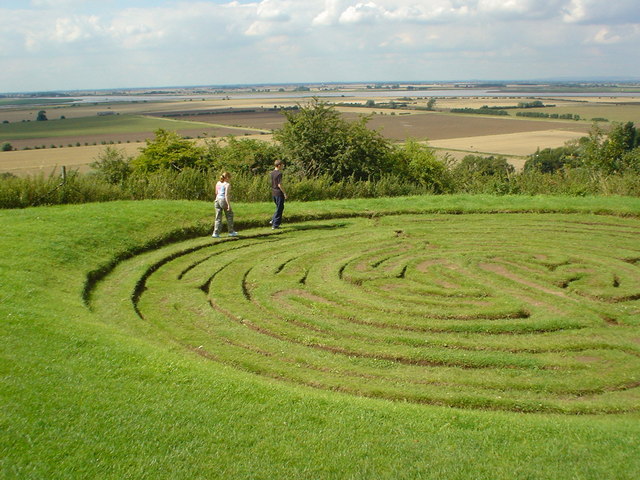 View of the Maze

Mike Fuller

It stands on a hillside overlooking the River Ouse and River Trent, with an earthwork known as Countess Close above it. No-one knows who originally cut this 12 metre maze or when although several theories exist. There is an information plaque in a wall nearby which gives an explanation.
Interestingly, the nearby Alkborough church has a copy of the maze inlaid into its porch floor, and this is used as a template for the periodic re-cutting of the turf. There is also a copy in the east window, while a short distance away in the cemetery a stone cross marks the grave of J. Goulton-Constable which also bears a copy of it.
Whatever its origins it has played an important part in the lives of the locals, and games are known to have been played here on May Eve until well into the 19th century.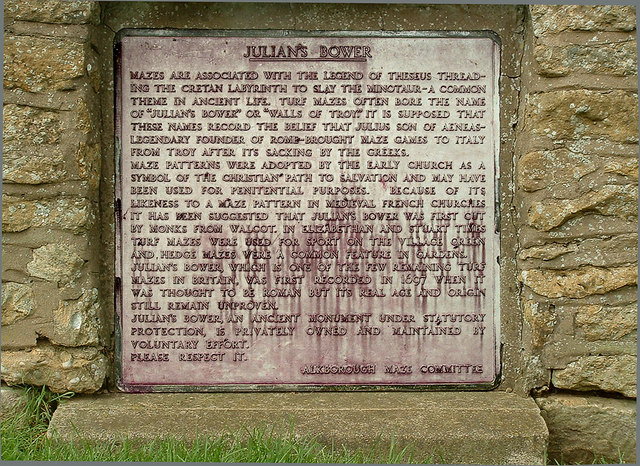 Information Plaque

Gordon Kneale Brooke

---
Location: Julian's Bower, Alkborough, Lincolnshire

Grid Reference: SE879217
Ceremonial County: Lincolnshire

Map Link: StreetMap

Aerial photo: Google Map

Getting there: From the B1430 follow the road to Alkborough, turning left into Tee Lane following the road round, after about 2 miles bear left into Walcot Road, in village through gates off of Back Street.

Access: From the village through a large gate and across a field.
Website: www.stone-circles.org.uk/stone/juliansbower.htm
Other Useful Websites: www.alkboroughandwalcot.co.uk Wiki
Email:
Address:
Postcode: DN15
Telephone:
Opening Times: All the time

Charges: Free

Nearby Locations: Normanby Hall Country Park
Other Location Pages: Lincolnshire's Top Attractions

Notes:
Please let us know any other information that we can add to the Grid(s) or page and any errors that you discover. Before making a long trip to any location it is always wise to double check the current information, websites like magazines may be correct at the time the information is written, but things change and it is of course impossible to double check all entries on a regular basis. If you have any good photographs that you feel would improve the illustration of this page then please let us have copies. In referring to this page it is helpful if you quote both the Page Ref and Classification from the Grids above. To print the planning grid select it then right click and print the selected area.
Please submit information on locations you discover so that this system continues to grow.