Pigeon Tower

aka The Dovecote Tower

Rivington, Lancashire

Location Guide
The Pigeon Tower is located off Belmont Road in Rivington. It is also known as the Dovecote Tower.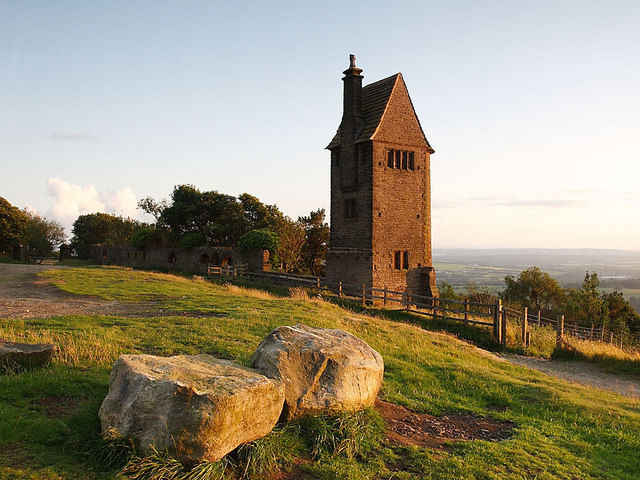 Pigeon Tower

by Mark Sanderson

It was built in 1910 by Lord Leverhulme as part of his Rivington estate in Lever Park and stands at the north west edge of the Terraced Gardens, sometimes referred to as the Oriental Gardens.
The Pigeon Tower is built in gritstone with three storeys, each a single room. It has a steeply pitched roof and a corbelled chimney. On the west side is a semi-circular stair turret with a conical roof. The third storey, a sitting room and Lady Levers sewing/music room, has four light mullioned windows on two sides giving views of the boating lake. The other two storeys are a dovecote and when in use housed ornamental doves and pigeons. On the west wall are square pigeon holes with perching ledges.
The three floors are linked by a solid stone staircase that runs up the semi-circular spine of the building. In the top room the ornate fireplace engraved with the initials of William Heskth and Elizabeth Ellen Lever run in a circular wheel above the family motto, MUTARE VEL TIMERE SPERNO - "To change or to fear I spurn". Over recent years the Tower has been renovated with its floors renovated in 1974, and its roof replaced in 2005.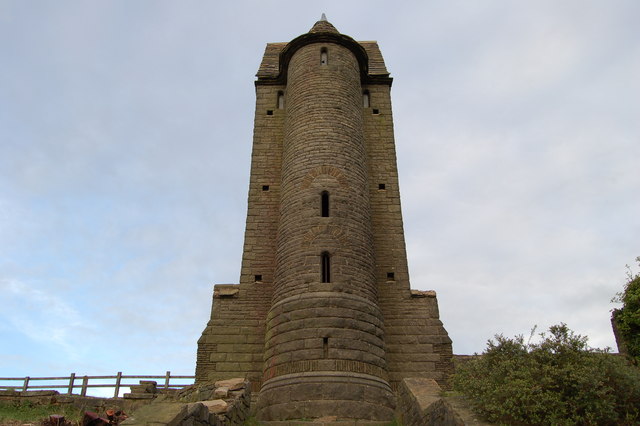 From the other side

Geograph

Whilst structurally sound following renovation work in 2006, the property has not been inhabited for many years, and there is no access to the inside.
Background History
Lord Leverhulme, in 1886 established a soap manufacturing company called Lever Brothers (now part of Unilever). He lived in the Rivington area of Bolton for many years. In 1913, his house there was destroyed by a suffragette, although he was in favour of women's suffrage. He replaced this original home with a large mansion, and turned a large portion of the grounds over to the town of Bolton as a public park, including a small zoo stocked with emu, yaks, zebra, wallabies and a lion cub. His own Japanese-style garden, based on the design of the willow patterned plate, included a lake complete with its own flock of flamingos.
Rivington Gardens was designed by Thomas Hayton Mawson (1861-1933) in collaboration with Lord Leverhulme. Lever bought the site in 1899 as a parcel of land which included the area now occupied by Lever Park to the west. He had already formulated ideas on how the grounds might be developed when, in 1905, he met Mawson who collaborated with him in the design of the gardens over the period 1906-22. Following Lord Leverhulme's death in 1925 the house and gardens were purchased by John Magee. After his death in 1939 the site was acquired by Liverpool Corporation and it passed to the North West Water Authority in 1974 following local government reorganisation.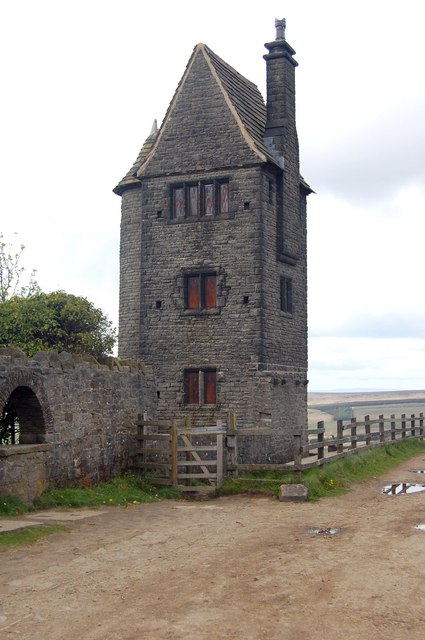 As it looked in 2009

photo by Trevor Harris

Other significant features in the gardens include a sundial, garden terrace, ornamental bridge, a seven arch bridge, waterfalls, gate lodge, and Rivington Pike Tower.
---
Location: Pigeon Tower, Rivington, Lancashire

Grid Reference:

SD639142

Ceremonial County: Lancashire

Map Link: Multimap

Aerial photo: Multimap

Getting there: From M61 J6 take the A6027 towards Bolton at the roundabout take left on the A673 to Horwich then take right into Lever Park Avenue and right in Roynton road go straight over first two forks, keeping right, then take right into Belmont Road at next junction take left.

Access: Via footpaths
Website:
Other Useful Websites: Wiki Pic2 Garden Visit Pastscape
Email:
Address: Pigeon Tower, off Belmont Road, Rivington, Bolton, Lancashire
Postcode:
Telephone:
Opening Times: All reasonable times Daily Dawn to Dusk

Charges: None

Nearby Locations:
Other Location Pages:

Other Relevant Pages: Dovecots Dovecots in England Dovecots in Wales

Doocots in Scotland

Notes:
Please let us know any other information that we can add to the Grid(s) or page and any errors that you discover. Before making a long trip to any location it is always wise to double check the current information, websites like magazines may be correct at the time the information is written, but things change and it is of course impossible to double check all entries on a regular basis. If you have any good photographs that you feel would improve the illustration of this page then please let us have copies. In referring to this page it is helpful if you quote both the Page Ref and Topic or Section references from the Grid below. To print the planning grid select it then right click and print the selected area.
Please submit information on locations you discover so that this system continues to grow.